Rowan research on the road: History professor, students research lynching in 12-day road trip through the south
Rowan research on the road: History professor, students research lynching in 12-day road trip through the south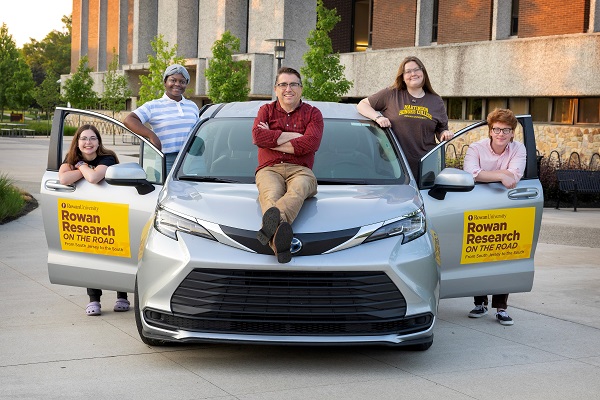 Rowan University History Professor Bill Carrigan (center) is leading students on a 12-day road trip through the south to study lynching. Joining him on the trip are (from left) Emily Schmidt, Joy Acheampong, Abbigail Ealer, and John Reres.
It's not an easy topic. Not by a long shot. But it's also a topic that is vitally important to our understanding of American history.
That's why four students have joined Rowan University history professor Bill Carrigan on a 12-day trip through the south to study lynching.
Traveling with Carrigan in a rented Toyota mini-van, the student research assistants—rising juniors Joy Acheampong, Abbigail Ealer, and Emily Schmidt and first-year graduate student John Reres—are visiting six different archives in the south to search historical records related to incidents of lynching.
Coordinated by Carrigan, their journey, which began May 16 and concludes May 27, is taking them to state archives in Kentucky, Tennessee, Arkansas, Louisiana, Alabama and Georgia. The group also is visiting Texas and North Carolina.
The team's research will contribute to Carrigan's next book project entitled, "Lynching Reinvented: Mob Violence After Reconstruction."
"Our duty is to learn as much as we can about history. And this topic is something we don't talk about enough," says Ealer, of Turnersville, a history major and anthropology and sociology minor who is pursuing the Thomas N. Bantivoglio Honors Concentration in the John H. Martinson Honors College.
"Dr. Carrigan is very sensitive in his research. He does it justice and he really cares."
'Why did ordinary people lynch?'
A native of Texas, Carrigan, a professor in the College of Humanities & Social Sciences since 1999, is an expert in lynching culture and mob violence. His career has been built upon studying lynching and the question, "Why did ordinary people lynch?"
Carrigan is the author of numerous scholarly articles and four books, including "The Making of a Lynching Culture: Violence and Vigilantism in Central Texas, 1836-1916." Published by the University of Illinois Press, the book won the Richard Wentworth Prize in American History in 2004.
At Rowan, Carrigan has taught over 100 courses and thousands of students on topics including Civil War and Reconstruction, the American West and the History of New Jersey.
In 2007, he took three students on a five-day research trip in Texas.
Resume-building skills
Of this year's group, Reres and Ealer are eyeing careers in academia, Acheampong wants to work as a lobbyist or political consultant, and Schmidt expects to pursue a master's degree in history en route to a career as a public historian.
Reres earned his bachelor's degree in May and is now pursuing his master's in history. He was the Senior of Distinction for the history department and has presented his own research at national conferences. Reres studied abroad at the University of Kent in the UK.
Ealer was the recipient of the history department's Marius H. Livingston Award for most outstanding academic performance by a returning student. She and Schmidt both have paid positions working in public history at Red Bank Battlefield Park, which is listed on the National Register of Historic Places.
This year, Schmidt, a resident of Oak Ridge, presented a paper at the Eastern Regional Conference of Phi Alpha Theta, the national honor society for history. She is a history major who is pursuing a minor in anthropology and a concentration in the Martinson Honors College.
An international studies and world religions major, Acheampong is pursuing a minor in women's and gender studies and a certificate of undergraduate study in Spanish. Active in campus activities, Acheampong is co-president of Prism, an educational student organization that provides awareness on LGBTQ+ issues. Acheampong's research into feminist bioethics theory was recently recognized with the Emerging Scholars Award from the New Jersey Women's and Gender Studies Consortium.
From digging into archives to time together in the car to meeting noted scholars to exploring the culture and foods of the south, the trip will benefit the students as they head to graduate school or into careers, Carrigan said.
Students are receiving stipends for the trip, which is funded in part by the Harry Frank Guggenheim Foundation and Rowan's Student Government Association, the College of Humanities & Social Sciences, and the history department.
"This experience will help them with resume building and practical skills," said Carrigan. "It can be a little intimidating going through archives. The whole way in which you find materials is transferrable to many careers. And the other thing that is valuable is the time outside the archive…the hours in the car when the back-and-forth thinking happens. That's where we will discuss the process, regroup and refocus when we need to."
"This experience will definitely prepare me for my career as a historian down the line," Reres said.
Added Acheampong: "I'm very interested to discover more about details that haven't been touched on as much. I'm also interested to see how Civil Rights has evolved over time and to learn about how people have been affected by awful atrocities. Black history is a diaspora."
Robust itinerary
The research team left Rowan's Robinson Hall at 6:30 a.m. on May 16. Their road trip playlist included everything from the soundtrack to the "Rocky Horror Picture Show" and a heavy dose of  '80s music to banjo music—"We mostly added that as a joke," Schmidt laughed—to country legends Willie Nelson and Johnny Cash, both of whom were Carrigan's contributions. Some audio books also are in the mix, including Greek mythologist of the world and a biography of Charlemagne.
The group's stops include meals and visits with scholars, such as: George Wright, historian at the University of Kentucky who has written widely on lynching culture; David Carter and Alan Meyer, historians at Auburn University; James Gillam, retired Spelman College historian; and Dan T. Carter, an award-winning emeritus professor from the University of South Carolina.
The trip also features time for visits to state parks and monuments, including "Lifting the Veil of Ignorance," the statue honoring Booker T. Washington at Tuskegee University, and a historical marker at the Waco Courthouse in Texas, site of a horrific lynching of 17-year-old Jesse Washington in 1916.
Cities on the trip include Lexington, Nashville, Memphis, Texarkana, Baton Rouge, Mobile, Auburn, Decatur, Brevard (North Carolina) and Chalk Bluff, Texas, where Carrigan grew up.
Even with stops for fun, including the Nashville music scene, a barbecue dinner in Texarkana, and even, possibly, the Cameron Park Zoo in Waco,  the seriousness—and importance—of the research team's work is at the forefront of everyone's mind, Schmidt said.
"This topic might unsettle people, but that doesn't make it less important," Schmidt said.