At Rowan, experts discuss benefits, challenges of offshore wind energy in New Jersey
At Rowan, experts discuss benefits, challenges of offshore wind energy in New Jersey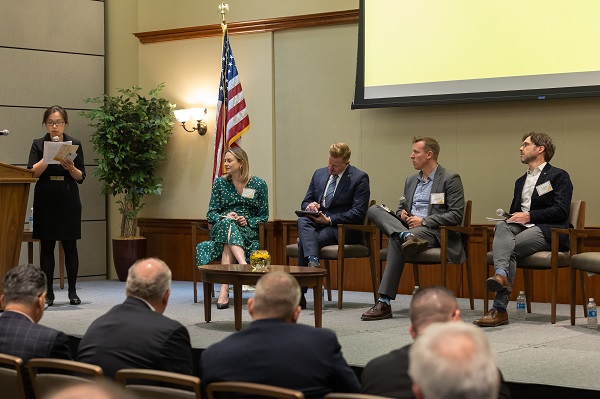 Jie Li (left), professor of electrical and computer engineering, leads a panel discussion on offshore wind energy with (from left) Madeline Urbish of Orsted, Department of Environmental Protection Commissioner Shawn LaTourette, Doug Copeland of Atlantic Shores Offshore Wind, and West Jacobs of Invenergy. The Steve Sweeney Center for Public Policy hosted the discussion as part of a day-long conference titled "Offshore Wind Technology in New Jersey: Sustainability, Emerging Markets and Policy."
New Jersey is leading the East Coast in offshore wind technology, but the challenges that remain span politics, workforce preparation, policy and more. Rowan University will play a critical role in filling the gaps so that offshore wind energy generation may soon produce a third of the state's energy needs.
Industry leaders, government officials, and other experts came together on May 3 to highlight the progress and challenges of making clean wind energy production a reality in South Jersey at a conference hosted by the Steve Sweeney Center for Public Policy at Rowan.
"Offshore Wind Technology in New Jersey: Sustainability, Emerging Markets and Policy" featured among its speakers, including many others, former New Jersey Senate President Steve Sweeney, Congressman Donald Norcross, and Shawn LaTourette, commissioner of the Department of Environmental Protection.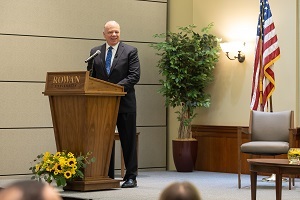 The offshore wind energy industry in New Jersey is still in its infancy, but "we're in a really phenomenal position," Sweeney (at right) said. "New Jersey is going to have the largest wind energy portfolio on the East Coast."
Already, the Paulsboro Marine Terminal in Gloucester County is home to EEW American Offshore Structures, the first offshore wind manufacturing facility in the United States. Construction on the award-winning New Jersey Wind Port facility in Lower Alloways Creek, Salem County, began in 2021. Off the coast of Atlantic City is the Atlantic Shores Offshore Wind farm.
The state's location gives it a major advantage, Sweeney said.
"We have the ability to supply components, not just for the projects in New Jersey, but up and down the coast," he explained.
Achieving wind energy generation goals requires more than the technological components of turbines. It takes buy-ins from companies willing to invest in the efforts, upgrades to existing energy grids and the development of a skilled workforce.
"At the end of the day, this is not just about saving and improving the environment, it's really about boosting the economy," Sweeney added. "We've got thousands of jobs that are going to come to this region because of this industry—New Jersey jobs."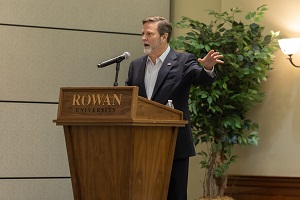 Bringing these thousands of jobs to the state creates its own complications: that of developing a workforce capable of meeting these needs.
"Where is that next generation of those who want to work with their hands and their head?" Norcross said (at left). "This is a challenge for not only us in Southern New Jersey or the East Coast but quite frankly across the nation and around the world." 
In New Jersey, Rowan and its affiliated community colleges are prepared to answer the call for workers at every level of wind energy generation—from design to manufacturing to operations.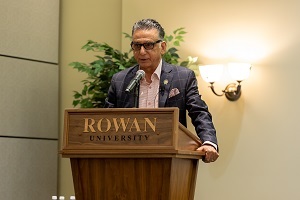 "We are a university for everybody," said Rowan University President Ali Houshmand (at right). Whether the right fit for any given student is the four-year University, one of the affiliated community colleges or a technical school program, Houshmand explained, "who we educate is exactly who our industry and economy need."
Public policy impacts the future of clean energy in so many ways. What Norcross called "historic legislation" at the federal level has paved the way for the planning and building not only of offshore wind components, but also the workforce and supply chain. Incentives encourage companies to pay their workers prevailing wages, buy American-made steel and take other actions that elevate the United States economy.
"What industry needs and what government can provide is a stable ecosystem in which private entities can operate and navigate with a degree of certainty," said the LaTourette, commissioner of the DEP.
Doing so, LaTourette elaborated, is what will establish "the degree of confidence that's necessary to engage consistently, plan and invest" in clean wind energy generation—and avoid the ripple effects that occur throughout the economy when public policy shifts cause developers to lose confidence.
The development of offshore wind technology projects stands to make a massive impact. If New Jersey manages to generate the desired amount of energy over the next decade and a half, LaTourette said, "we would be in a position of generating somewhere between 30 and 45 percent of our consumable electricity from offshore wind sources."