History in the making: Several Rowan University programs graduate first doctoral candidates
History in the making: Several Rowan University programs graduate first doctoral candidates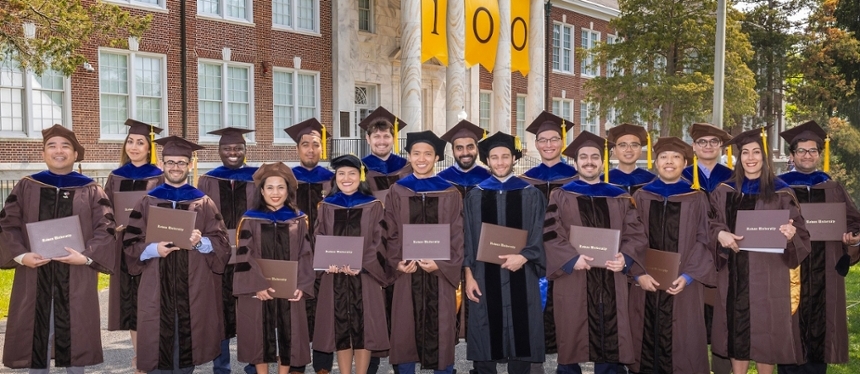 The Class of 2023 includes the first cohorts of several doctoral degree programs. Above, Ph.D. graduates from the Henry M. Rowan College of Engineering celebrate their commencement. Below, Shadi Houshyar Azar, Tarah Trebino, and Alison Yu graduate from the College of Science & Mathematics's Ph.D. program in pharmaceutical chemistry.
Several Rowan University doctoral programs graduated their first students this week, an indicator of the University's fast-growing research activity and academic degree programs. The Class of 2023 includes the University's first Ph.D. graduates in pharmaceutical chemistry and engineering education, as well as the first to graduate with Ph.D. degrees in the specific disciplines of chemical, civil, electrical and computer, and mechanical engineering, rather than in general engineering.
In total, 48 doctoral candidates were eligible to receive their hoods during Commencement ceremonies. Other disciplines graduating doctoral students at Rowan included biomedical engineering; clinical psychology; education; materials science and engineering; and molecular cell biology and neuroscience.
Pharmaceutical Chemistry
Shadi Houshyar Azar, Tarah Trebino, and Alison Yu received their
Ph.D. degrees in pharmaceutical chemistry
. 
Their advisers, Zhihong Wang, Ph.D., and Zhiwei Liu, Ph.D., conduct interdisciplinary research funded by the National Institutes of Health and the National Science Foundation to support the development of novel therapies and technology innovations.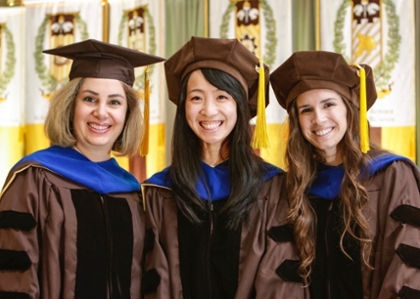 Housed in the Department of Chemistry & Biochemistry in the
College of Science & Mathematics
(CSM),
the doctoral program provides diverse, interdisciplinary research experiences designed to train students to study chemical systems and processes, including disease mechanisms, detection, and drug discovery.
The degree prepares graduates for careers in advanced research in the pharmaceutical and fine chemical industries and government agencies or to pursue a postdoctoral fellowship and a career in academia.
Yu, who grew up in Philadelphia, didn't see a doctoral degree in pharmaceutical chemistry in her future until she realized her passion for research while working for a diagnostic-testing startup. Drawn to both chemistry and biology, Yu focused her research on the protein BRAF, which plays a role in cell growth and division. BRAF mutation can lead to the development of melanoma and other types of cancer, however, there is limited research on the mechanisms that regulate the protein. Yu studied the regulation of the protein in a non-mutated, non-cancerous state to serve as baseline research for developing more effective treatments for BRAF-related cancers.
"Cancer is so mysterious. It's not really a problem one person can solve," said Yu, but as a researcher in this field, she can contribute by "adding a piece to the puzzle."
"The department offers an enriching environment with a focus on mentorship," said Yu. She reflects on her experience at Rowan as being really positive, especially the support for females in the field. "I love being a woman in science," said Yu.
The first class of graduates comes at a time when the demand for highly skilled chemistry researchers  is increasing in New Jersey and nationally, noted Vojislava Pophristic, Ph.D., CSM dean. 
"Given New Jersey is home to many of the largest pharmaceutical and chemical companies in the United States, academic programs in this field are critical for the state's economic and workforce development," Pophristic said. "With this Ph.D. program, and new Ph.D. programs in data science and complex biological systems, Rowan University is filling a need for highly skilled researchers who will advance the field and make critical discoveries in our region and beyond."  
Engineering
Jeffrey Stransky has the distinction of being the first graduate of Rowan University's doctoral program in engineering education. After receiving his bachelor's degree in mechanical engineering from Rowan, Stransky decided to remain in academia. 
Attracted to engineering education, Stransky saw opportunities to improve students' learning experiences and prepare them to be more effective and socially conscious engineers. The engineering education program is in the Experiential Engineering Education Department (ExEEd) and focuses on research in areas related to pedagogy and engineering education. This includes exploring curriculum for students to work on real-world projects, improve their communication and project management skills, and examine an engineer's place in society. 
"This career path allows me to make a huge impact by training engineers to find creative solutions to complex problems that benefit society," explained Stransky. He hopes improved engineering education will help future students "recognize the social impact of engineering in the real world." 
His dissertation research included using game-based learning to teach students how to make good decisions in a crisis. For example, a plant engineer may need to take action during a chemical exposure. Using digital games, students practice making decisions in virtual simulations that help them learn to quickly assess risk and mitigate harm. 
Stransky credited his adviser, Cheryl Bodnar, Ph.D., and other ExEED program faculty for emphasizing a culture of community and well-being, which he believes was critical to his success.
Exceptional faculty are the foundation of the college's doctoral programs, noted Giuseppe Palmese, Ph.D., HMRCOE dean. 
"With a record 21 Ph.D. students graduating this year, we are proud to report graduates in all engineering disciplines," Palmese said. "This is a fantastic accomplishment considering that we celebrated our first doctoral graduates in 2017."