New look, new spaces: Beam signing event marks a milestone in Chamberlain Student Center expansion
New look, new spaces: Beam signing event marks a milestone in Chamberlain Student Center expansion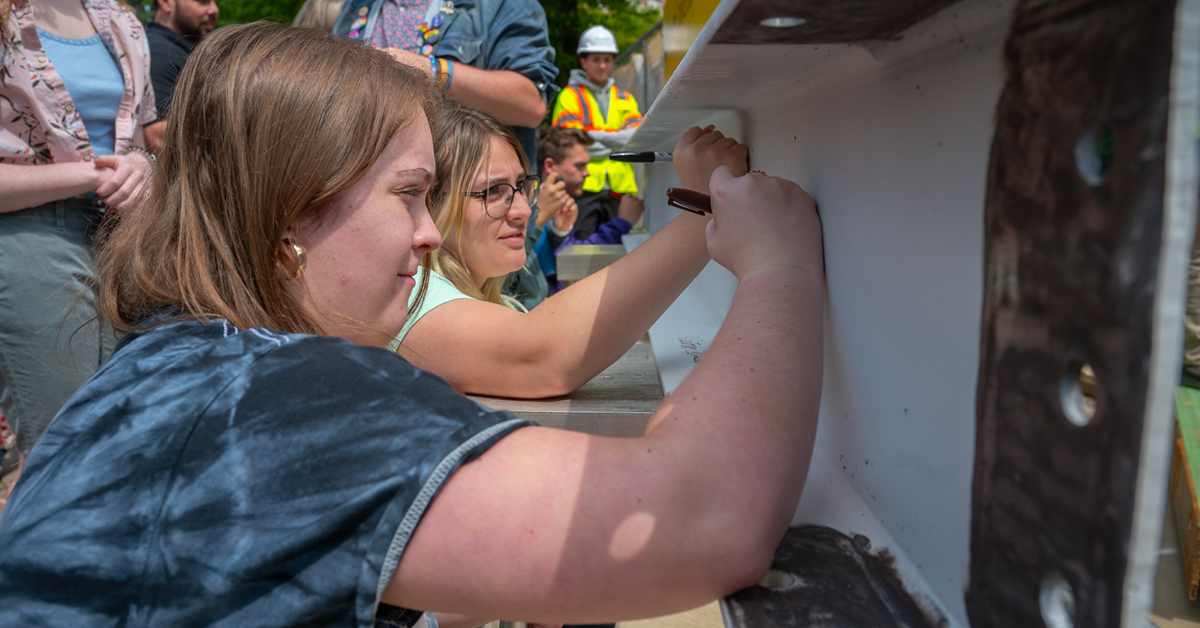 Students and other members of the Rowan University community came together for a beam signing ceremony to celebrate the expansion of the Chamberlain Student Center. The $30 million, 28,500-square-foot expansion will help better serve the needs of today's students.
Rowan University's student center opened in 1974 to serve 6,000 students.
Now, with Rowan University's enrollment at more than 22,000, the Chamberlain Student Center is undergoing a major expansion that will better serve 21st century students as the University marks its Centennial.
Last month, the Rowan community came together to mark a significant milestone in the building's $30 million, 28,500-square-foot expansion. Colorful Sharpie markers in hand, students, administrators and employees signed a steel beam that will become part of the expanded student center.
The beam signing ceremony was a fun, symbolic way to celebrate a project that is designed to serve Rowan's active student body. Construction is expected to be complete in late fall. 
"The expansion is an opportunity to enrich the social and intellectual experiences on campus by providing space to facilitate collaborative working, demonstration and performances of student work, as well as flexible social space to promote interaction and discovery," said Vice President for Student Life and Dean of Students Kevin Koett.
"The expansion also is an opportunity to improve the physical environment of campus by transforming the Chamberlain Student Center into a signature campus facility that serves as the social and intellectual hub of the University."
Modeled after a Greek "agora," where a central gathering place would be full of diverse program interests and activities, and where students, faculty and staff can join together to participate in and promote exploration and discovery through active learning, the expansion includes: a Student Commons with demonstration and performance areas that offer flexible configurations for informal daily use, meetings or dining; a 150-person event area that can be split into two presentation rooms; a seminar room; eight meeting rooms; a coffeehouse; an amphitheater; Student Government Association offices; and collaborative student organization work spaces.
The design by ikon.5 architects is an open concept to allow for collaboration and interaction among Rowan community members, according to Joe Lizza, director of the Chamberlain Student Center & Campus Activities. ikon.5 has designed buildings at Cornell, The Citadel, and Georgetown, among other institutions.
"We're essentially doubling our number of meeting rooms and the open space will allow for further collaboration and interaction," Lizza said.
The outdoor space includes a redesigned outdoor plaza and terrace, while the building's glass exterior will allow for engagement and connection among community members, Lizza noted. According to Koett, the use of glass brings elements of the outdoors into the student center and highlights nearby campus landscape elements, such as Meditation Walk and Chestnut Branch Creek.
"Everything is glass, so we will see a lot more people out along the perimeter enjoying the space," Lizza said. "The building will have a modern, fresh look that today's students look for. Our students are excited about the new space."
The busiest building on Rowan's Glassboro campus, the Chamberlain Student Center hosts as many as 20-plus events daily during the academic year, according to Lizza. Altogether, between 10,000-11,000 individuals use the student center each day, according to Dan Hartman, senior assistant director of student center operations and technology. Additionally, the center hosts close to 5,000 events annually, Hartman added.
The center, named in 2006 for Mark M. Chamberlain, the University's fourth president who was a well-known advocate for students, is a hub for Gloucester County as well. Approximately 100 community groups utilize the space throughout the year, according to Hartman.
After the expansion is complete, the Student Government Association will have additional space in the building. Rowan boasts more than 200 student organizations, according to Paige Bathurst, outgoing president of the SGA who led the beam signing ceremony.
"The current facilities aren't falling apart, but students do view the student center as a little outdated and a little small," said Bathurst. "We're looking forward to having a more modern, revamped space with a nice, open concept."
Rowan's Division of Facilities, Planning & Operations is overseeing the project planning and development. The general contractor is Newport Construction.