CCCA professor edits newly released handbook of disability and communication
CCCA professor edits newly released handbook of disability and communication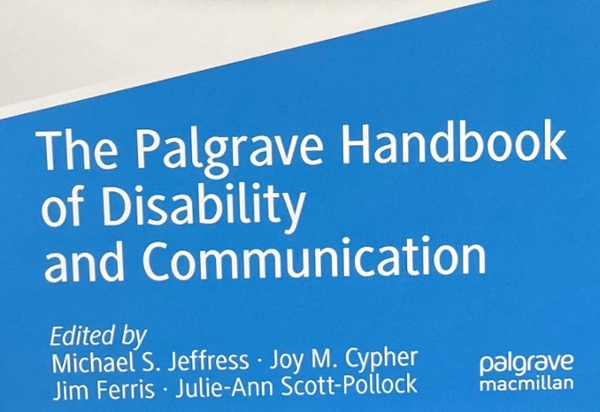 Dr. Joy Cypher, a professor of Communication Studies, co-edited the newly released Palgrave Handbook of Disability and Communication, a collection of essays that, she said, examines "the interconnection between disability and the discourse that makes it meaningful."
Cypher, who is also coordinator of the Health and Science Communication program in the Ric Edelman College of Communication & Creative Arts, said the new tome will serve researchers and graduate students in communication studies through an exploration of such topics as disability and the power of taboo words, microaggressions toward people with disabilities, identity and intersectionality, and online gaming and disability.
Highly topical, the handbook also explores such 21st century subjects as TikTok, Brexit and artificial intelligence in the context of disability communication, areas of study that aspiring scholars are sure to encounter.
"Handbooks are meant to give the lay of the land for a field you're studying," Cypher said. "We look at things like representation in political talk, in social media, and a whole section on advocacy."
Cypher co-edited the book with scholars Michael S. Jeffress of the Medical University of the Americas, Jim Ferris of The University of Toledo, and Julie-Ann Scott-Pollock of the University of North Carolina.
She said a key challenge to editing the handbook, which is a follow up to an edition published in 2000, was narrowing a large field of inquiry into 27 chapters.
"There's so much diversity of study in the field. We wanted to distill out the most representative examples of excellence in scholarship," Cypher said. "Thinking of it as an anthology is helpful because it shows all of the different areas we're trying to address."
The Palgrave Handbook of Disability and Communication is available through Amazon or the publisher, Palgrave Macmillan.