More than 40 graduating nurses receive first Rowan-Virtua pins
More than 40 graduating nurses receive first Rowan-Virtua pins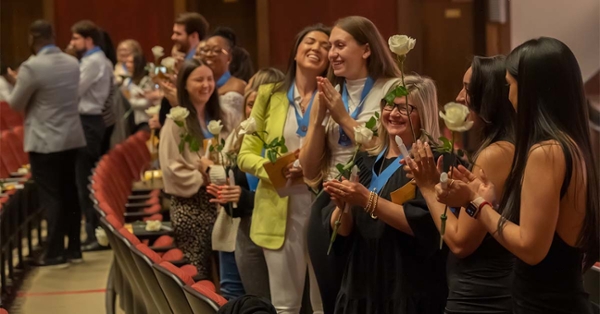 Registered nurses who completed their Bachelor of Science in Nursing receive pins during a special ceremony hosted by the Rowan-Virtua School of Nursing & Health Professions.
In an evening ceremony on Tuesday soaked in symbolism and tradition, more than 40 registered nurses, including Virtua Health employees, received newly designed pins denoting their achievement as graduates from the RN-to-BSN program at the Rowan-Virtua School of Nursing & Health Professions. 
Led by Dr. Mary Ellen Santucci, head of the school's Department of Nursing, the event at Pfleeger Concert Hall included the recitation of the Nightingale Pledge, a tradition in honor of Florence Nightingale, the founder of modern nursing. 
Rowan University offers its RN-to-BSN program in partnership with nearby community colleges and Virtua Health's Our Lady of Lourdes School of Nursing, an arrangement which allows students to begin careers as registered nurses while continuing their education online through Rowan University. 
In total, more than 70 registered nurses are expected to graduate from the program this year, Rowan University's largest class of RN-to-BSN graduates since the program's founding nearly 20 years ago. Tuesday's ceremony was the first such event hosted by the school since it was renamed to reflect the University's unique academic health partnership with Virtua. 
The school is quickly growing and within five years will become "the largest nursing school by far in the region," said Rowan University Provost Tony Lowman. 
Dawn Doyle, a registered nurse at Virtua Voorhees, began working at the hospital as a technician in 2007 and later pursued her nursing education at Rowan College at Burlington County. She worked on her BSN at Rowan University through Virtua's Nurturing Nurses program, which covers tuition costs at Rowan for its registered nurses.
"I wanted to learn as much as I could about being a nurse," Doyle said. "Virtua wants the best nurses. They have the best people working for them and I felt, in order to do that, I needed to get my bachelor's as well." 
The BSN program gave her "more insight into evidence-based practice," Doyle said, as well as ethics, health care policies and procedures. "I feel like I became a more well-rounded nurse because of it." 
Danielle Benton, her father, Danilo Benton, and her high school sweetheart, Andrew Gemino, all received pins at Tuesday's ceremony. The younger Benton and Gemino both work as school nurses for the Burlington Township School District, while Danilo Benton works at Virtua. 
Of graduating together from the same program, Danielle Benton said, "it's the type of opportunity that other people don't get to share." 
After the nurses received their pins, they were each given a candle, symbolizing Nightingale, "lady of the lamp," as well as the light of education and knowledge, Santucci said. They also received a white rose, symbolizing their new life in nursing. 
The pin also denotes that "Rowan is always a resource and is always available for you in your future endeavors," Santucci told the graduates. 
Catherine Hughes, senior vice president and chief nursing officer of Virtua Health, and Dr. Shirley Richardson, dean of Our Lady of Lourdes School of Nursing, congratulated the graduates and urged them to continue their education. Dr. Carmen McDonald, graduate program director for the Department of Nursing at Rowan-Virtua, did the same.  
"As nurses, all of us know how continuously health care evolves," added Dr. Carmen McDonald, graduate program director for the Rowan-Virtua Department of Nursing. "Clinical trials, new research, discoveries, new technological advances are going on as we speak … Staying current cannot be underestimated in this profession."