Partnered with Rowan, esports company Nerd Street opens first collegiate gaming site
Partnered with Rowan, esports company Nerd Street opens first collegiate gaming site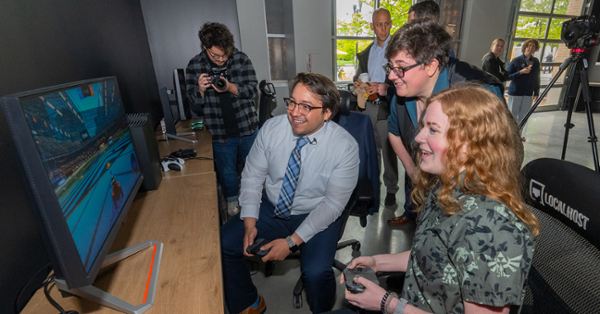 Nerd Street, an online gaming infrastructure company, opened its first collegiate site April 27 in a partnership with Rowan University, an alliance designed to create an interactive entertainment center as well as a high-tech laboratory for computer-based applications.
Philadelphia-based Nerd Street operates gaming centers for casual and competitive gamers in Philadelphia, Denver, St. Louis, Fullerton, Calif., and North Brunswick, N.J., but its Glassboro location, at 109 High Street W. off Rowan Boulevard, is the company's first with a major university.
"We want to give people who want to compete at a high level in esports the same life-changing opportunities afforded to those who grew up competing in youth sports and high school athletics programs," said Nerd Street Founder and CEO John Fazio. "By providing the infrastructure at the collegiate level through state-of-the-art gaming facilities like this one at Rowan, we're making it possible for aspiring esports pros to get a great education and pursue their gaming dreams."
Moments before a ceremonial ribbon cutting, Rowan President Ali Houshmand said the facility provides an infrastructure for online gaming that's immensely popular with students but, perhaps more importantly, a platform to educate them for careers in highly technical, computer-based fields, including networked applications in transportation, agriculture, even the military.
"The entire global economy is going digital, and that's why we're doing it," Houshmand said. "We call it esports but it's really much bigger than that."
At 7,100 square feet, the facility contains 50 PCs on the main floor area, an additional 10 on a stage and 10 more in a private room that will be used by Rowan's esports teams and for private events. There is also a lounge with four stations of next-generation gaming consoles including Playstation 5 and Xbox Series X.
The venue will include a broadcast room outfitted with production and broadcast equipment for streaming. Plus, there will be a mixed-use studio that may be used for interviews and to produce other content.
Students in Rowan's Ric Edelman College of Communication & Creative Arts will use the facility during gaming off-hours for broadcast production and related communication courses.  
Edelman CCCA Dean Sanford Tweedie noted that the University offers a Certificate of Undergraduate Study (CUGS) in Esports Industry & Entertainment Experience, an interdisciplinary program within the college to meet the rising academic demand for esports training. The certificate provides students opportunities to acquire and develop critical communication, collaboration, problem-solving and leadership skills that are necessary for success in esports and beyond.
"This is a learning facility," Tweedie said, "and that's what we're really excited about."
Echoing those sentiments, Rowan esports club president Vic Collinsworth said the University already fields a wide number of competitive esports teams and the skills they develop through online gaming have clear market applications.
"Our teams are already successful, and I can't wait to see what they do with this center," Collinsworth said.