NSF CAREER Award: Dr. Andra Garner, Environmental Science, lands grant to study sea level rise
NSF CAREER Award: Dr. Andra Garner, Environmental Science, lands grant to study sea level rise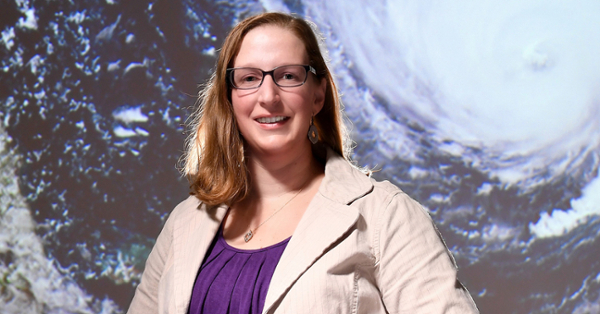 Like many effects related to climate change – from rising air, land and water temperatures to loss of plant and animal species to dramatic and often dangerous changes in weather patterns – sea level rise may be an existential threat to life on Earth.
But the way sea level rise is predicted, and how governments use those predictions, can vary widely, and those variances can make planning for sea level rise, in the U.S. and around the world, difficult and uneven.
Dr. Andra Garner, an assistant professor of Environmental Science in Rowan University's School of Earth & Environment (SEE), secured a National Science Foundation CAREER grant to study the different ways sea level rise is projected and how data from those projections are used.
The NSF funded Garner's study, "Synthesizing Structural Uncertainty of Sea-level Rise Projections to Improve Application in Decision Making," with up to $487,397 over five years.
"This study builds on some of my work published earlier this year in Earth's Future that looked at how communities in the U.S. are preparing for sea level rise," Garner said.
Though techniques and other factors in how scientists measure and project sea level rise vary, the phenomenon of sea level rise is not in question, and scientists attribute most processes driving global changes in sea level to climate change.
While the effects of sea level rise are visible in many seaside municipalities, from Miami Beach to New York City, Garner said varying scientific yardsticks to predict rising seas creates uncertainty, and that uncertainty can confuse policy makers in planning for it.
"We want to understand how some of those different methodological choices affect the different sea level rises predicted," Garner said.
In addition to a range of methods used by different researchers, the variables they focus on, such as projected emissions scenarios and assumptions such as how fast Antarctica can or will melt, also vary, Garner said.
One factor that can complicate local projections is that sea level rise is not the same from place to place. For example, Garner said, tectonic shifts out west have caused some land masses along the Pacific Ocean to rise while, on the East Coast, particularly in New Jersey, some land masses are sinking.
"New Jersey is sinking because during the last ice age there was a very big glacier inland that pushed the land down in that location, but lifted us up," she said. "If you imagine a bowling ball dropped on a mattress, that's where the glacier was—but we were at the edge of the mattress, which elevated. On a geological time scale, it takes a long time for the land to return to the way it was."
With the CAREER grant, Garner will expand her research beyond the continental U.S. to include global projections and said she may extend the timescale of her previous study from 2100 to as far out as 2300.
The study will also include a public outreach component about sea level rise, including in person programming and a new website. Working with other Rowan faculty and students, she will also create a children's book based on her findings.
"One of the exciting things is that all of the analyses, as well as the building of a website, will include students," she said. "On the educational side, I'll work with Johari Sykes-Ratliff in the College of Education in writing the children's book and we'll bring in an art student as well."
SEE Founding Dean Dr. Kenneth Lacovara said the NSF grant will help expand crucial research at a pivotal time in Earth's history.
"Dr. Garner's research offers insights that will aid our state and country in preparing for and minimizing the impacts of rising sea levels," Lacovara said. "Her efforts exemplify the School of Earth & Environment's core mission, which revolves around addressing the challenges posed by the climate and biodiversity crises. The National Science Foundation's recognition of her achievements and potential reflects her position as one of the next generation of scientists who will guide us towards a brighter, more sustainable future for our planet."