Could mindfulness tools improve dialysis care? Rowan researchers explore new ideas with 13 New Jersey Health Foundation grants
Could mindfulness tools improve dialysis care? Rowan researchers explore new ideas with 13 New Jersey Health Foundation grants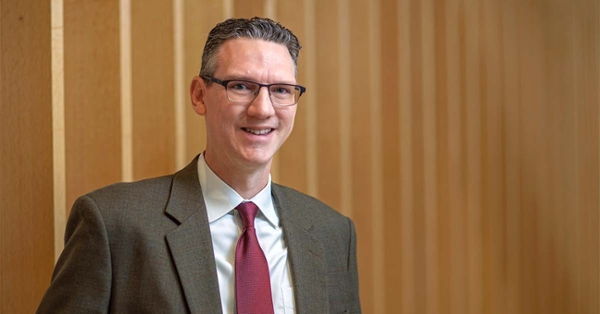 Jeffrey Greeson, Ph.D., and co-principal investigator Lawrence Weisberg, MD, (below) are studying the potential value of mindfulness meditation for patients undergoing dialysis. 
The connection between the mind and body is a fertile area of exploration for health researchers. It's at the heart of at least one new Rowan University study funded by New Jersey Health Foundation (NJHF).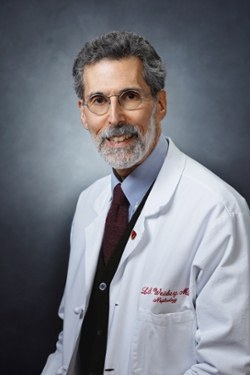 Each year, NJHF awards grants to advance health research and innovation at New Jersey organizations. In 2023, Rowan researchers received more than $409,000 from NJHF to explore 13 new projects related to health and medicine, from stress-induced anxiety in adolescence to stress as a risk factor for Alzheimer's disease.
Jeffrey Greeson, Ph.D., and co-principal investigator Lawrence Weisberg, MD, received a $25,000 grant for a one-year clinical trial to consider the potential value of mindfulness meditation for patients undergoing dialysis. 
Greeson is a health psychologist and associate professor of psychology at Rowan University. Weisberg is a nephrologist at Cooper University Health Care and associate dean for professional development at Cooper Medical School of Rowan University, where he also serves as associate director of the Center for Humanism. 
Greeson explains their collaboration as an effort "to bridge psychology and medicine by integrating mindfulness into patient care. We feel this is one way to bring a bit more humanism into everyday medical practice."
Patients facing chronic and late-stage kidney disease need dialysis every other day (three times a week) in order to survive because their kidneys are no longer functioning. As Greeson describes, "it's stressful, anxiety-provoking and a lot of people don't want to do it."
The pilot will follow 100 patients randomized to listen to one of four 15-minute guided exercises delivered via iPad during dialysis treatments: mindful breathing, the body scan meditation, diaphragmatic breathing/relaxation response breathing, or an audiobook.
The project seeks to consider the benefits of integrating mental health into health care, Greeson said. 
"We need mindfulness and we need medicine," Greeson said. "Integrated health care is team-based care and multidisciplinary, often including a psychologist or a health psychologist on the health care team, whether that's primary care, surgery or oncology." 
In partnership with DaVita Dialysis Centers in Camden County, New Jersey, the pilot project will measure biological factors to see if mindfulness impacts specific health markers. 
While numerous studies support the positive impact of mindfulness on people's lives and emotional well-being, there is far less evidence of biological effects from integrating mindfulness into medical treatment. The dialysis clinics routinely collect important clinical information relevant to the patients' health and well-being, and the study will analyze those data along with patient feedback about the experience, Weisberg said. 
"Dialysis is life-saving for people with kidney failure," Weisberg said. "And it can also be stressful to undergo the necessary dialysis treatments week after week, year after year. We're interested to know whether a mindfulness intervention may make the dialysis treatment less stressful and whether that experiential shift might be associated with important clinical outcomes."
Other Rowan researchers with new NJHF funding include: 
Chen Shen, Ph.D., Mechanical Engineering, for the development of an affordable, focused ultrasound device for preclinical research;

Ben Wu, Ph.D., Electrical & Computer Engineering, for noise-free ultrasound imaging for accurate and early-stage diagnosis;

Amanda Fakira, Ph.D., Biomedical Science, for the study of mechanisms underlying adolescent stress-induced anxiety;

Anne Jones, DO, Family Medicine, for the investigation of the utility of a PTSD-coaching mobile app to address mental health services demand in a primary care clinic;

Ashley Coleman, DO, Department of Medicine, for integrated primary care and behavioral health training;

Daniel Chandler, Ph.D., Cell Biology & Neuroscience, for the study of stress as a risk factor for the acceleration of pathology and cognitive decline in a genetic rodent model of Alzheimer's disease;

Dmitriy Markov, Ph.D., Cell Biology & Neuroscience, for the study of mechanism of mitochondrial RNA processing in pathogenic yeast, Candida albicans; 

Vincent Manna, Ph.D., Molecular Biology, to explore how commercially available, tobacco-flavored e-cigarette aerosols impact human airway mucociliary tissue homeostasis and regeneration;

Christina Simmons, Ph.D., Psychology, for the study of feasibility and preliminary efficacy of virtual parent acceptance and commitment therapy in conjunction with behavioral treatment of severe behavior in children with autism;

James Grinias, Ph.D., Chemistry & Biochemistry, for a portable analysis device for process monitoring of cell therapies;

Jeffrey Hettinger, Ph.D., Physics & Astronomy, to develop a novel spinal cord stimulator with antimicrobial properties;

Nathaniel Nucci, Ph.D., Molecular & Cellular Biosciences, for the development of a GCPR platform for fragment-based development of allosteric drugs.