Competitive NEH grant to support new humanities-focused minor and certificate in Sports and Society
Competitive NEH grant to support new humanities-focused minor and certificate in Sports and Society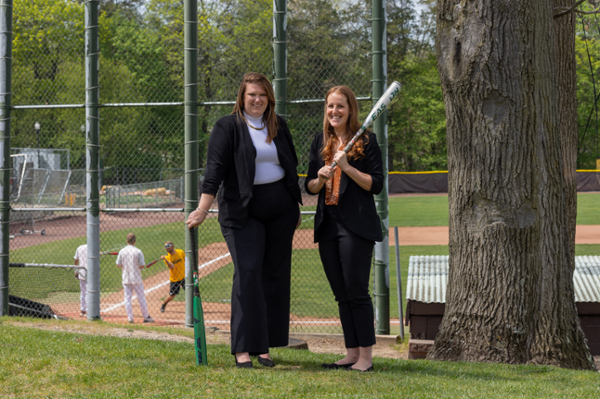 Richmond, on left, and Sharnak to apply humanities lens to the study of sport
The National Endowment for the Humanities (NEH) awarded a team of Rowan University researchers a Humanities Connections planning grant this spring to launch new academic programs for undergraduates that will explore the relationship between sports and society.
Led by principal investigators Dr. Debbie Sharnak, an assistant professor of History, and Dr. Julia Richmond, an assistant professor of Public Relations & Advertising, the team of 11 faculty members secured the $35,000 grant titled "Strengthening Humanistic Literacy in the Study of Sport: Developing a Minor and Certificate in Sports and Society."
Among six core literacies taught in undergraduate programs at Rowan, humanistic literacy explores how experience is informed by a wide range of factors including economic, political, literary, socio-cultural and historical. These perspectives will support the development of several new courses, as well as the redesign of several that are already part of the Rowan curriculum to create an interdisciplinary program for students.
Sharnak said that while there are more than 500 academic sports programs across the United States, and at least seven in New Jersey, they tend to be taught from a business, management or communication perspective.
"Our argument was that in order to understand what's going on in sports, you have to look at it from a broader humanities-based perspective," Sharnak said. "We argue that it's critical to interrogate how sport not only shapes and is shaped by cultural understandings of what it means to be human, but also how sport can serve as a tool for personal and communal identity formation, how it can be a diplomatic instrument in international relations or a lens to reinforce or challenge gender and racial stereotypes."
She said that despite the assertion by many that sports are just games to be won and lost on the field, social and often political factors have always played a role in the experience for players, fans and the societies in which teams compete.
Examples range from the early banning of Black players from Major League Baseball to the influence of colonial Great Britain on the spread of soccer around the world to former NFL quarterback Colin Kaepernick's protest refusal to kneel during the National Anthem, and his resulting inability to get re-signed by a team, Sharnak said.
"The institution of sport is an arena for states to assert their power and cultural influence, but also, and increasingly so, a forum to contest and resist such forces as we have seen through athletes' engagement with Black Lives Matter protests," she said.
She noted that civic engagement by players and fans have had consequences, including the 2022 decision by the Washington Redskins' owners to change the team's name to the Commanders.
In addition to supporting the creation of classes for a new minor and certificate of undergraduate study, the NEH funding will help create opportunities for experiential learning with community partners in South Jersey and Philadelphia.
Once available, the programming will be housed in the Center for Interdisciplinary Studies through the College of Humanities and Social Sciences under the direction of Dr. Emily Blanck and will complement offerings through the Ric Edelman College of Communication & Creative Arts, in particular the Sports Communication & Media major and an evolving e-Sports program.
"There is a sense that when you step onto a field or arena there is an environment in which all of the social issues have gone away, but that's an illusion," Richmond said. "Through the new programming, students will examine the role of power, privilege and inequality in sports."
Though Sharnak and Richmond are the co-principal investigators, key contributors for the grant application include Lauren Banko in Economics; Dr. JoAnne Bullard in Health and Exercise Science; Dr. Jane Hill in Sociology & Anthropology; Dr. Chanelle Rose in History and Africana Studies; Marybeth Foyle in English; Dr. Susana Santos in Entrepreneurship and the School of Innovation & Entrepreneurship; Kate Harman in Communication Studies and the Center for Sports Communication and Social Impact; Dr. Jessica Mack in History; and Dr. Emily Blanck in History and the Center for Interdisciplinary Studies.