She wants to make things better. Biological sciences major heads to Cooper Medical School
She wants to make things better. Biological sciences major heads to Cooper Medical School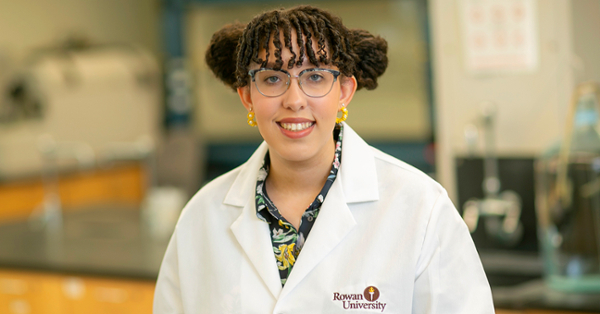 Jaden Johnson of Bridgeton, N.J., is an alumnus of the Premedical Urban Leaders Summer Enrichment program at Cooper Medical School of Rowan University.
Jaden Johnson was still in high school the first day she spent watching surgeries, including one involving the removal of a cancerous organ. She was a biological sciences undergrad in Rowan University's College of Science & Mathematics when she first dissected a human cadaver. 
And though Johnson is not yet a doctor, one of her biggest cheerleaders says she already possesses the qualities that make for a great physician.
This summer, the Bridgeton, New Jersey, resident will move an hour north to Camden, where she will join the Class of 2027 at Cooper Medical School of Rowan University (CMSRU). An alumnus of the school's Premedical Urban Leaders Summer Enrichment program (PULSE), Johnson is among 112 first-year students selected from a pool of more than 4,500 applicants across the country.
The Camden school's commitment to community service and its student-run health clinic for uninsured patients sparked Johnson's interest in applying. The city and its socioeconomic condition reminded her of her hometown. Last year, she shadowed her own primary care provider, a longtime Bridgeton doctor who held evening office hours each week for uninsured migrant workers who needed medical care. 
"I want to make an impact wherever I live," said Johnson, who lives in the rural outskirts of Cumberland County's seat. "I want to be able to see the injustices and disparities that I've felt and seen—and work to fix them … I just want to make things better." 
The daughter of Rowan alumni, Terence Johnson M'04 and Danna Johnson '97, Johnson attended elementary school in Bridgeton, where her mother grew up and now helps students as a school social worker. She later attended Cumberland Regional, a majority white high school, where her father is the assistant principal. 
To overcome any educational gaps, her parents gave her extra assignments over the summer and encouraged her to follow her interest in medicine.
"I got the math-and-science gene," Johnson joked. "They don't know where I got that from."
After graduating at the top of her high school class, she chose to study at her parents' alma mater, a 40-minute commute from home. After her first year at Rowan, Johnson enrolled in PULSE, a rigorous, six-week summer program at CMSRU focused on supporting underrepresented and disadvantaged students interested in medicine. 
More than 500 students have participated in the program since its founding in 2011 by Dr. Jocelyn Mitchell-Williams, the medical school's senior associate dean for medical education. 
"The PULSE program was one of the best things that could have happened to me," Johnson said. She met high-achieving students interested in medicine like herself and met physicians of color who shared their own experiences in medicine.
PULSE is designed to address the lack of Black and Hispanic physicians in the United States, said Taruna Chugeria, assistant director in CMSRU's Office for Diversity and Community Affairs. The program provides students with advising, resources and training they might not be able to afford or access otherwise.
"When we look at patient populations and the physicians serving them, there's a disparity," Chugeria said. "It is important for us as a collective to work to diversify this health care workforce."   
Johnson performed so well in the program that Chugeria invited her to teach biology and biochemistry in the program's preparation course for the MCAT, the medical school entrance exam. 
"I'm not someone who is easy to please," Chugeria said. "I have nothing but good things to say about Jaden. She's one of those students who is confident and driven. That's the kind of doctor I want. She's a genuinely good person and I'm proud of her for everything she has accomplished." 
An active member in the Martinson Honors College, Johnson co-founded its Defining Diversity Honors BiPOC group, where she worked to educate her peers about the need for diversity and inclusivity in education, while learning to examine her own biases. Self-described as once "very shy," Johnson said the experience strengthened her leadership and public speaking skills.
She also tutors students in organic and biochemistry and serves as a mentor in the Cumberland Bridge to Rowan program, where she provides assistance and advice to underrepresented students in STEM at Rowan College of South Jersey. 
"Before college, I didn't really have too many mentors in my field that I could relate to," Johnson said. "Once I started at Rowan, I was able to start finding these mentors and realizing how many benefits that come with mentors … that was something I wanted to give back to." 
In April, Johnson received the Dean's Outstanding Student Award for Biological & Biomedical Sciences. Jason Heindl, Ph.D., an assistant professor in the department, was among her nominators.
"She is super gifted intellectually, but also a great person," Heindl said. "She clearly has the skills and mindset to become an excellent doctor." 
Shelly Thomas, another faculty member who nominated Johnson for the award, praised the student's optimism, dedication to excellence and maturity. 
"She's just stellar," said Thomas, who referred students to Johnson for tutoring. "She's the kind of person whose leadership pulls others forward with her." 
Every spring, Rowan University highlights one graduating senior from each school and college. Read more stories about this year's featured graduates.