Stepping up: Melvin Ways envisions a future in psychiatry, teaching
Stepping up: Melvin Ways envisions a future in psychiatry, teaching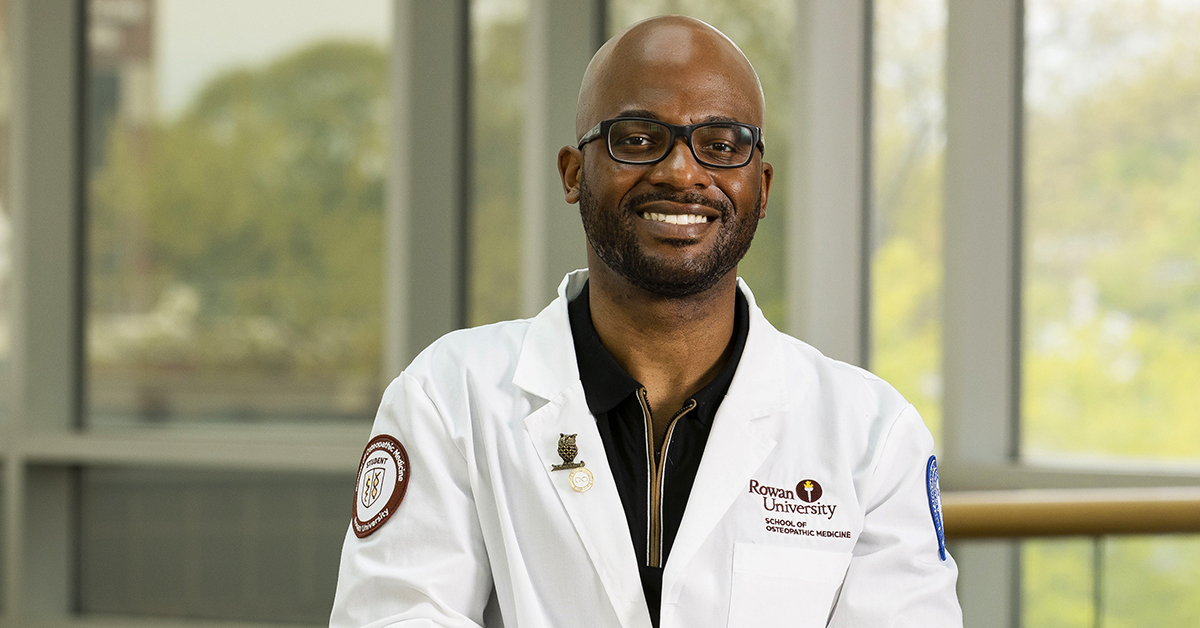 Success begins with a single step. Nobody knows that better than Melvin Ways Jr.
"The one thing that drives me is getting people to take that one step to improve their lives," says Ways. "As long as you can advance in the direction that you're trying to go, it doesn't matter where you start or where you think you ought to be. My personal mission is to help people take one step forward."
Ways, who will graduate with his Doctor of Osteopathic Medicine degree from the Rowan-Virtua School of Osteopathic Medicine on Thursday, May 11, knows that small steps can lead to big accomplishments.
When he was growing up in Camden and surrounding South Jersey communities, becoming a physician wasn't on his radar. In fact, he didn't know it was within the realm of possibility.
"I loved science as a kid. In the third grade, I asked my mom for a microscope for Christmas," he says.
But a new vision clicked into place when he met the man who would become his stepfather and eventual mentor, Troy Randle, D.O., a Virtua Health cardiologist.
"He introduced me to the idea that a physician is a type of scientist and I could pursue that as a field of science," Ways says. "I really attached to that as a teenager."
Until he met Randle, Ways had never met a Black doctor.
"If I never saw him as a doctor, I probably wouldn't have thought this was possible," he says. "And if I never had him as a mentor, this definitely wasn't something I could accomplish by myself."
New epiphanies
Both realizations changed his future.
Ways earned his bachelor's degree in public health from Rutgers University and his master's degree in biomedical sciences from Rowan's Graduate School of Biomedical Sciences.
He fully immersed himself in medical studies at Rowan-Virtua SOM and planned to pursue cardiology, as his stepfather and other mentors had. He also worked for a cardiology group as a scribe and served as president of the Rowan-Virtua SOM Cardiology Club.
But a new revelation was in store.
His first clinical experience was in psychiatry.
"I did very well with it. I picked up everything quickly and enjoyed it. I started to realize the importance of treating these patients and the change that psychiatry can make in people's lives," said Ways, who, last month, matched for his psychiatry residency at Rowan-Virtua SOM.
He witnessed first-hand, he says, the dramatic impact psychiatrists had in treating his family members who had mental illness.
"I felt like it was a calling," Ways says. "Not only did it improve my life and the lives of people I care about, but I feel like people need to have more exposure to this and be more comfortable with it."
'He tears down barriers'
"Melvin's commitment to service has been so incredible," says Paula Watkins, assistant dean for admissions. "It's a dedication. It's a quiet humility. He's very committed to becoming a great osteopathic physician."
Patients will feel comfortable with Ways as their physician, Watkins says.
"He looks like them. He tears down barriers. He has the ability to connect with people who sometimes don't feel comfortable with the healthcare system," she says.
Watkins noted that Ways, a Mullica Hill resident, attended middle school a few short miles from the newest Rowan-Virtua SOM campus at Rowan College of South Jersey.
"He's home grown and one of the best leaders that I think Rowan-Virtua SOM has seen," Watkins says. "It's who we are as an institution, trying to develop future physicians from the community who are more likely to go back into the community and serve the community."
In addition to managing his academic and clinical responsibilities, Ways has served Rowan-Virtua SOM in numerous ways. He is student director of the New Jersey Association of Osteopathic Physicians and Surgeons Board of Directors, student advisor of the Rowan-Virtua SOM Diversity, Equity and Inclusion Committee and chair of the Rowan-Virtua SOM Black Collective.
He is dedicated to increasing the number of underrepresented students in medicine and better understanding the obstacles they face in becoming physicians.
"Having more of us in the teaching space, having more of us engaged in teaching roles, having more of us engaged in the field period, will help all of the fields and especially help patients who look like me and other minorities," says Ways.
Choosing to begin
His belief in small steps toward improvement applies to his own life, Ways says. While an undergraduate, he struggled as some of his family members coped with mental illness. But his partner of 13 years has been a solid source of support, he notes.
"She said, 'You've taken all of the steps but need to take the steps that really matter. If you want to go to school, if you want to be a worker—whatever you want to do—set your mind to it and do it,'" Ways says.
"Top-tier athletes don't make leaps and bounds into being strong or fast," he continues. "It's all small steps."
As a graduate student, Ways stayed focused, making the dean's list while working full time as a scribe. Then, came a big step: His acceptance into medical school.
"I tell people every day I'm in my happy place," he says "I smile every day on campus, and I truly mean it. I'm learning things that I want to learn. I'm with people who are brilliant, and I have mentors at my disposal who are teaching me what they do. Living that every single day is so rewarding."
He also praises the Rowan-Virtua School of Osteopathic Medicine.
"We really invest in people," he says. "Having that medical school experience makes them the best person they can be, makes them the best doctor they can be."
Expanding impact
Ways not only wants to treat patients. He also wants to teach their physicians.
"One of my mentors told me a doctor is going to impact thousands of patients, but if you teach, you are impacting that many more patients," Ways says.
"Every doctor that you teach is going to impart something that you gave them, that you taught them, that you showed them. They're going to use it to help patients hopefully. I hope to have that ripple effect."