Biomedical engineering junior awarded Goldwater Scholarship
Biomedical engineering junior awarded Goldwater Scholarship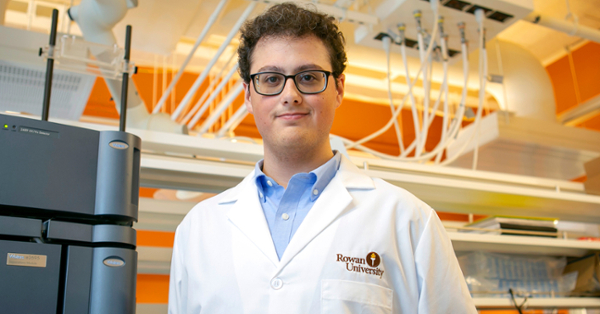 Brendan Connor is a 2023 Goldwater Scholar in biomedical engineering.
Many scientists say a personal calling led them to their research specialty. Brendan Connor, a junior biomedical engineering major at Rowan University, is no different. The 21-year-old has spent the last year in Dr. Mark Byrne's Biomimetic & Biohybrid Materials, Biomedical Devices & Drug Delivery Laboratories researching novel drug delivery systems with fewer side effects, especially for cancer-fighting chemotherapeutic drugs.
"I've had grandparents on both sides of my family succumb to cancer," said Connor, a native of Washington Township, New Jersey. "I found that to be extremely motivating in the work that I've done in Dr. Byrne's lab."
As a testament to his focus, Connor was awarded the prestigious 2023 Goldwater Scholarship. The Barry M. Goldwater Scholarship and Excellence in Education Program is awarded to college sophomores and juniors who intend to pursue research careers in the natural sciences, mathematics and engineering. The scholarship provides partial tuition and fees for his senior year. 
Of the 413 Goldwater Scholars named this spring, from an estimated pool of more than 5,000 nominees nationwide, only 57 are majoring in engineering. Connor hopes to earn a Ph.D. in biomedical engineering and continue research in novel methods for therapeutic drug delivery.
"Getting the scholarship reinforced my will to pursue a doctorate degree," Connor said.
Although the scholarship is awarded to undergraduates who plan to continue their careers in the lab, Connor was initially intimidated by research. With guidance from Byrne, the founding dean of the Rowan-Virtua School of Translational Biomedical Engineering & Sciences and professor of biomedical engineering, Connor gained confidence in the laboratory. 
"The preconception that you can't do anything wrong made me think that there was no room for error," Connor said, "but in fact, failures are part of the scientific process."
"Brendan is a top student and highly motivated toward making a difference, creating new therapies and answering big questions," said Byrne. "He learns quickly and is naturally inquisitive, excels in the lab, and has a bright future in research ahead of him. He is in the category of young researchers that I have mentored who have gone on to become major research leaders in industry or academia.
"At Rowan, we work diligently to offer novel learning opportunities for students and I am thrilled Brendan joins our five biomedical engineering Goldwater winners in the last seven years." 
"Brendan is a rare type of scholar," added Dr. Mary Staehle, interim head of the Department of Biomedical Engineering in the Henry M. Rowan College of Engineering and the Rowan-Virtua School of Translational Biomedical Engineering & Sciences. "He has a great ability to synthesize information across a wide variety of areas and that leads to innovative thinking in and out of the research lab."
These skills have also helped him excel in the Martinson Honors College, the engineering honor society Tau Beta Pi, and the Rowan chapter of the Biomedical Engineering Society.
After he earns his doctorate, Connor hopes to continue his research in therapeutic drug delivery or regenerative medicine.