Big league bound: Communication grad leverages education, experience to launch sports media career
Big league bound: Communication grad leverages education, experience to launch sports media career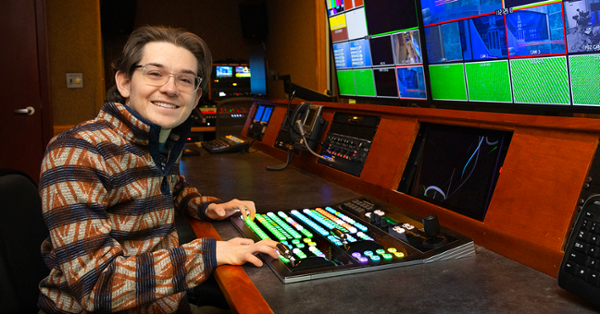 Pitts graduates with a record of achievement and experience that can nearly fill a ballpark.
An all-star student with impeccable working credentials, Alex Pitts is ready to launch the career of his dreams in sports production.
Pitts, a Sports Communication & Media and Radio, Television & Film double major from Nazareth, Pa., entered his final semester in the Ric Edelman College of Communication & Creative Arts with a stellar GPA and a record of achievement that can nearly fill a ballpark.
Building undergraduate experience, Pitts worked with the Rowan Television Network and University of Pennsylvania Athletics while maintaining a 3.785 GPA. He secured and excelled in competitive professional work experiences including a production position with the Phillies Triple A affiliate, the Lehigh Valley IronPigs. And, this past fall, he was a TV production crew member with the Delaware Blue Coats, an affiliate of the Philadelphia 76ers, where he recently started directing games for broadcast on ESPN+.
During the spring semester, Pitts applied for and landed two highly competitive internships, one with the Phillies and the other with NBC Sports Philadelphia, either of which can be a potential employer after he graduates.
For Penn Athletics alone, Pitts said, he's directed some 20-30 games and events.
"When you direct a game, you're in charge of picking what goes up on the screen," he said. "You're telling camera operators what shots to get. Working with the technical director, you say what to put up on the screen and when, what replay to show, all of it. You're telling the story the best way possible as it's happening live."
Pitts said commitment to his work often means long hours – sometimes 13 or more in a day – and there's little room for error as he calls action to be captured and aired from a digital board in the broadcast booth.
Pitts discussed his college career and ever-expanding resume during baseball spring training and said he was especially excited for the opportunity to work for the Phillies as the team attempts to repeat last year's storied season. Though the Phillies did not start 2022 especially strong, the team came alive during the playoffs and made it to the World Series, losing in game six to the Houston Astros.
"For both the Phillies and NBC Sports Philadelphia, having hands-on experience was the most important part" in securing an internship, he said. "They want people who know what they're doing, who know what goes into a broadcast."
As for the frenetic pace it took to earn two undergraduate degrees, maintain a high GPA and build deep experience simultaneously, Pitts said it all comes down to commitment.
"You just need to make time to get your work done," he said.
Regarding his future, Pitts sees himself in the producer's chair for a major network or ball club.
"Being producer essentially means helping to plan a show," he said. "It's making sure graphics are done, that the talent knows what they're going to talk about… As producer, you have to think about how you want to tell the story. Audio and video are the most important parts. You're showing the score, the batter stats, the different story lines. Everyone is important and it's the producer's job to guide things along and make sure people know what's happening."
Every spring, Rowan University highlights one graduate from each school and college. Read more stories about this year's featured graduates.