Customizing treatments could improve gut health
Customizing treatments could improve gut health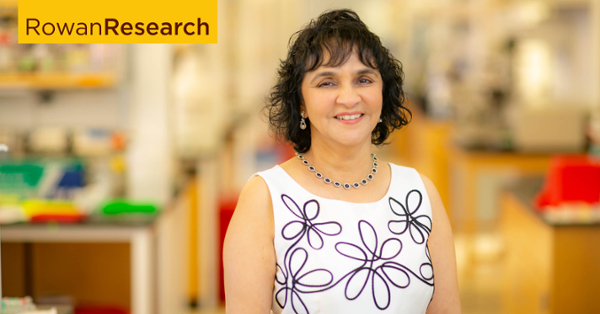 Dr. Sangita Phadtare seeks to improve scientific understanding of the gut microbiome and improve nutritional education programs for underserved communities at-risk for gastrointestinal diseases.
Since her arrival at Cooper Medical School of Rowan University in 2014, Dr. Sangita Phadtare has focused her research on advances that will directly help patients suffering from Helicobacter pylori infections, as well as those with irritable bowel syndrome (commonly called IBS). Her commitment to training clinicians is central to both studies.
"These studies make medical students aware of what are the problems that are predominant in our community in Camden. We are training tomorrow's physicians. We don't want them to learn anything in isolation," said Phadtare.
sangita phadtare, Ph.D.
Microbiologist
Areas of expertise:
Helicobacter pylori and irritable bowel syndrome
More information
Helicobacter pylori infects about half of the world's population. It is the bacterium that causes peptic ulcers, non-ulcer dyspepsia and gastric cancer. It may also increase colorectal cancer risk.
Phadtare explains, "As H. pylori infection is observed to be significantly associated with communities predominant in ethnic minorities and lower economic status, our work has potential to help address health disparities."
Current treatment involves traditional courses of antibiotics, which has become less effective due to increasing resistance to antibiotics. Phadtare hopes to improve outcomes by customizing treatment regimens based on each patient's gut signature.
Phadtare is also working to improve treatment for IBS, "a chronic and debilitating gastrointestinal disorder that affects 10-15% of the worldwide population. It is often accompanied by psychological comorbidities such as anxiety and depression."
Stress and diet can worsen IBS symptoms. There are no satisfactory treatments for the condition due to the multifaceted nature of the disease from patient to patient.
Low-income, underserved communities are at greater risk for IBS, since they often have less access to fresh produce. Diets with high fructose corn syrup and additives worsen symptoms and the condition overall. Phadtare's team hopes to improve scientific understanding of the gut microbiome, as well as improve programs to educate the most at-risk communities about nutritional options to help treat IBS. 
Collaborators on these studies include Dr. Joshua DeSipio, associate professor and gastroenterologist for Cooper University Health Care and Dr. Lark Perez, professor and chair of Rowan University's Department of Chemistry and Biochemistry. 
Rowan University researchers are passionate about what they do. Find more at Meet Our Researchers.