Rowan-Virtua SOM Match Day: "A day to soak in the joy of this moment"
Rowan-Virtua SOM Match Day: "A day to soak in the joy of this moment"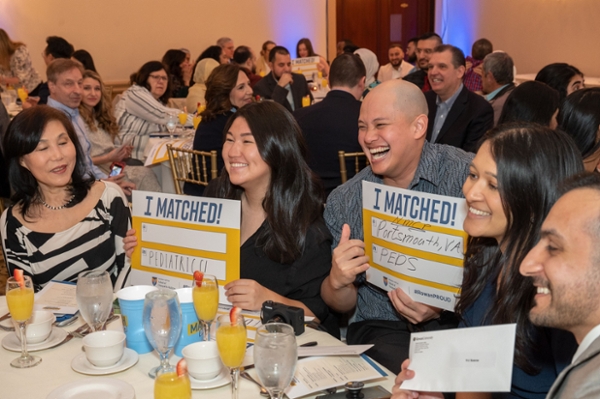 Rowan-Virtua SOM Match Day
The students in the Class of 2023 at Rowan-Virtua School of Osteopathic Medicine (Rowan-Virtua SOM) have been looking forward to this day since their journey in white coats began four years ago. Each year, during Match Day, graduating medical students eagerly open envelopes that hold the key to their future. On Friday, March 17, the 199 members of this year's graduating class, along with thousands of their peers across the country, discovered where they were "matched" for their residency training that will launch their professional lives as doctors. 

Rowan-Virtua SOM students and their families gathered in the banquet room at Lucien's Manor in Berlin the morning of the eagerly anticipated Match Day ceremony. Before the customary distribution of envelopes, each of which held a student's residency destination, school administrators addressed the excited crowd.
On Match Day, the Rowan-Virtua SOM Class of 2023 carried on a legacy of excellence that spans several decades. The school's impressive 99 percent match rate was significantly higher than the national average match rates for medical school graduates this year. 
In his comments to the students and their guests, Virtua Health College Senior Vice Provost Dr. Thomas Cavalieri encouraged the students to, "soak in the joy of this moment and every minute of this day" and expressed his confidence in their ability to excel in their chosen field.
"I know this because I have seen the success of all our alumni before you, in all areas of medicine, throughout New Jersey and the nation," Dr. Cavalieri added. "They have become leaders in their field, at hospitals, and in our nation's military and in major medical groups. I know that you will continue this tradition of excellence during your residency and beyond." 
A moment four years in the making
Of course, the most exciting moment of the day arrived later in the program when the students were called to an adjacent room to retrieve the envelopes that held news of where they would begin their careers as physicians. Then, with loved ones and guests by their side, the SOM students anxiously clutched their envelopes and waited until Associate Dean for Student Affairs Dr. Kathryn Lambert led the entire room in a loud and enthusiastic countdown of the final five-second until the students could open their envelopes together. 
All at once, family members, loved ones, and students embraced one another in celebration as the room echoed with the cheers of the future physicians, more than a few of whom shedding tears of joy. 
Later in the event, Rowan-Virtua SOM Interim Dean Dr. Richard Jermyn addressed the students, recounting their success that day. He noted that the students matched to highly competitive programs across the country while also sending a large number to residency programs in New Jersey. Among the class highlights Dr. Jermyn mentioned:
99% match rate!
117 students matched into primary care programs (FM, IM, Peds and Ob/Gyn)
93 students electing to complete their training in NJ
4 students in Military Match
And the top specialty matches for the class were in Internal Medicine (63 students), Family Medicine (33 students), Emergency Medicine (22 students), followed closely by Pediatrics with 17 students. 
"Remember that your match is not only a triumph for you," Dr. Jermyn said, "It is also a triumph for your family, friends, and supporters that took this journey with you and stood by your side through early mornings, late nights, and long weekends of studying and stressing. At this time, please join me in a round of applause in appreciation for their continued support." 
In addition to those who will continue their medical training at New Jersey-based residencies, members of the Class of 2023 secured residency positions at such prominent national programs as Children's Hospital of Philadelphia, Dartmouth University, Emory University, Georgetown University Hospital, Johns Hopkins Hospital, Kaiser-Permanente (CA), and the University of California – San Diego, and the University of Pennsylvania.
This year, more than 42,900 graduates of medical schools applied for a match to one of the 40,375 positions available through the National Residency Match Program.