Justamere Foundation funds scholarships for students completing 3 + 1 degree programs in nursing, law and justice studies
Justamere Foundation funds scholarships for students completing 3 + 1 degree programs in nursing, law and justice studies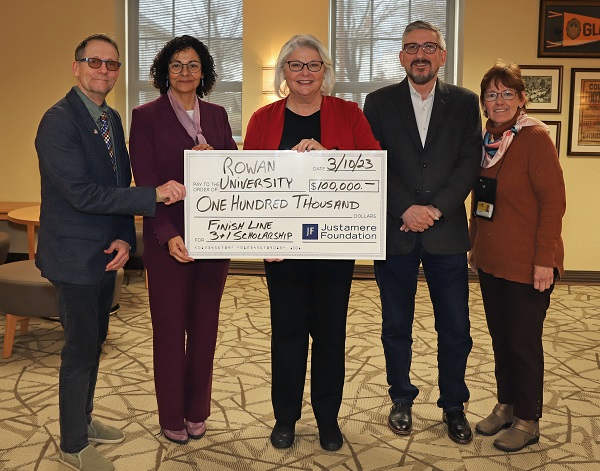 Lori Cushman (center), president of the Justamere Foundation, celebrates the foundation's $100,000 gift to support scholarships for students in the University's 3+1 programs in nursing and law and justice studies with (from left) Peter Rattigan, dean of the Rowan-Virtua School of Nursing & Health Professions, Nawal Ammar, dean of the College of Humanities & Social Sciences, Jeff Hand, senior vice president for Strategic Enrollment Management, and Mary Ellen Santucci, department chair of nursing.
Together, Rowan University and the Justamere Foundation are making it easier for students to earn their bachelor's degree through the University's 3 + 1 degree completion program. To ensure students have the resources necessary, the Justamere Foundation has provided $100,000 to support scholarships for students in nursing and law and justice studies programs.
Rowan University, in collaboration with Rowan College of South Jersey (RCSJ) and Rowan College of Burlington County (RCBC), offers accessible, affordable pathways to a bachelor's degree in high-demand fields. Through this model, students can pursue a bachelor's degree at a highly reduced cost, completing three years of study at either RCSJ and RCBC and then their final year at Rowan University.
Participating students benefit from a range of accessible delivery models and can save thousands in tuition costs. With the support of the Justamere Foundation, selected students will be able to continue to pay the community college rate while completing their fourth year.
"We were impressed by the innovative, accessible 3 + 1 model, which provides an affordable pathway for individuals to find careers with sustainable income," said Lori Cushman, president of the Justamere Foundation.
"Our mission is to impact generational poverty through grants for career education and support programs. We know that financial hardships can often interrupt students pursuing their education and felt that a partnership with Rowan University would enhance both of our organizational missions."
Rowan's 3 + 1 programs are administered by the University's Division of Global Learning & Partnerships (Rowan Global). Programs are selected for development based on employer and workforce needs.
"Rowan, RCBC and RCSJ have developed these programs to ensure the residents of South Jersey have access to the credentials they need to thrive in the modern economy," said Jeff Hand, Senior Vice President for Strategic Enrollment Management at Rowan. "We are grateful that the Justamere Foundation has recognized the value of these programs and are excited to be able to provide even more financial support for students in these programs."
Students will be able to apply for funds this spring for the 2023-'24 academic year.