Day of Giving 2023 raises nearly $315,000, crushing previous totals
Day of Giving 2023 raises nearly $315,000, crushing previous totals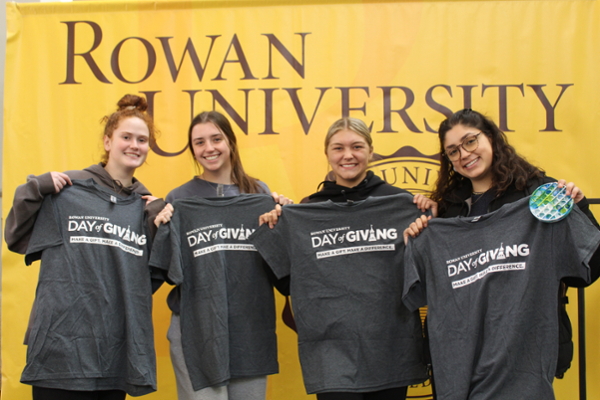 Rowan University's Day of Giving, a 24-hour fundraising sprint, generated $314,672—and counting!— from individual gifts, topping last year's total by nearly $40,000.
The 9th annual event, held this year on March 8, is a Rowan community fundraiser that enables donors to give to specific programs, teams, clubs and other areas that mean the most to them. In all, 2,326 gifts were received from students, faculty, staff, alumni, parents and friends of the University.
Organized by the Division of University Advancement, this year's Day of Giving continued a tradition of special challenges throughout the day in which fundraising goals, once met, unlocked additional funds that were provided by donors once goals were achieved.
"Day of Giving is much more than a fundraiser; it's a celebration of members of the Rowan Community investing in and helping each other," said Jesse Shafer, vice president for University Advancement and executive director of the Rowan University Foundation. "It's also a team sport. It only works because of the efforts of the many Day of Giving champions and ambassadors that Advancement mobilizes from virtually every academic and administrative unit in the University, including students, board members, coaches, deans, administrators and many others."
This year, 76 members of the Rowan community served as Day of Giving ambassadors, raising almost $20,000 from 489 gifts through peer-to-peer outreach.
"Like last year," Shafer continued, "we're especially grateful to members of the Rowan University Foundation Board of Directors, who contributed a total of $45,000, much of which was in the form of challenge grants that spurred giving from stakeholders who are passionate about their various Rowan causes."
Though donors contributed online, organizers held a Day of Giving celebration in the Student Center Pit where Rowan Radio WGLS-FM broadcast live and 14 campus organizations provided information about activities and ways to get involved.
One of the organizers, Assistant Director of Alumni Engagement Carly Samuels, said many students who stopped by throughout the day contributed to a favorite campus cause or completed an act of service, like assembling disposable utensil kits for the Cathedral Kitchen, a community food provider in Camden.
"Philanthropy in all forms is important," Samuels said. "For students, making a monetary gift may not be an option right now so we offer other ways to participate."
Campus organizations represented during the event included the colleges of Education and Humanities & Social Sciences as well as the Unified Sports club and the Autism PATH program.
Grace Fenton, a sophomore psychology major who volunteers with the office of Student Support Services, encouraged classmates to take advantage of her program's offerings.
"We focus on all aspects of wellness," said Fenton, who volunteers as a success coach. "It's important to educate yourself not only through academics but in other aspects of your life like financial well-being."
Stephen Fleming, associate dean for the College of Humanities & Social Sciences, and Professor of History James Heinzen attended the program in part to raise awareness about various centers and institutes supported by the college.
Heinzen noted, for instance, that the Hollybush Institute for Global Peace and Security, named for the campus landmark and former presidents' home, explores issues of global importance. Hollybush was the site of the 1967 summit between President Lyndon B. Johnson and Russian Premier Alexei Kosygin.
Stay tuned in 2024 for more history in the making as we celebrate 10 years of Day of Giving alongside the University's year-long Centennial celebration!
The Day of Giving may be over but it's not too late to make a difference. Learn more.