Chronicling a blockbuster: Prof pens official movie keepsake book
Chronicling a blockbuster: Prof pens official movie keepsake book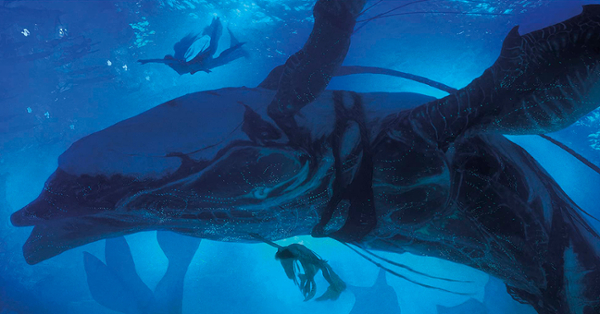 From "Avatar: The Way of Water." Credit: Dylan Field @ Lightstorm
In February, "Avatar: The Way of Water," became the third highest grossing moving ever, surpassing the epic box office draw of "Titanic."
Superstar director James Cameron created both blockbusters, one of which now has a direct connection to Rowan University – alumna and professor Tara DiLullo Bennett. Her official movie keepsake book, "The Art of Avatar The Way of Water," published in December.
A highly prolific chronicler of some of Hollywood's biggest movies and TV shows, Bennett, a 1995 graduate who teaches in the Ric Edelman College of Communication & Creative Arts, worked directly with Cameron to represent the beauty and narrative of "The Way of Water" in print.
Which is no easy task. Widely recognized as one of Hollywood's greatest and most demanding talents, Cameron is also, according to Variety, an auteur responsible for making the first, third and fourth biggest movies ever.
Variety reported Feb. 19 that "The Way of Water," with $2.2433 billion in global box office sales, had superseded "Titanic" ($2.2428 billion) in sales and follows only Cameron's original "Avatar" ($2.92 billion) and "Avengers: Endgame" ($2.7 billion) among all-time box office leaders.
Bennett, who teams with her husband and writing partner Paul Terry on some of her projects, has authored or co-authored some 30 official movie and TV series books including "The Story of Marvel Studios: The Making of the Marvel Cinematic Universe"; "The Lost Encyclopedia"; "The Art of Rio: Featuring a Carnival of Art From Rio and Rio 2"; "The Art of Terminator Salvation," and "Sons of Anarchy: The Official Collector's Edition," a New York Times bestseller.
Bennett said the books she and Terry produce, together and separately, extend the viewing experience, enabling fans of the shows and films they write about to enjoy more of what they already love, whether it be a behind the scenes look at the criminal, though family-like motorcycle culture, of "Sons of Anarchy," or a deep dive into the fantasy world beauty of "Avatar: The Way of Water."
"They're letting us into their world and giving us exposure to everything," Bennett said. "My long history with confidential properties has allowed me to go to the next show, the next movie."
After writing dozens of books about Hollywood's biggest shows and blockbusters, Bennett said she and Terry have reached the enviable place in their careers where they can be selective in the projects they take on. Some, like "The Story of Marvel Studios: The Making of the Marvel Cinematic Universe," can run hundreds of pages and take a year or more to complete.
"Our mandate has always been that we're fans first," Bennett said. "The things we write about are things that inspire me. So, if we say we're going to make something, it has to be something we'd buy."
Building a career
Now based in Los Angeles, Bennett since 2007 has taught Applied Media Aesthetics and Episodic Screenwriting I at Rowan, classes she now teaches virtually. A proud Rowan alumna, she's friends with or professionally in touch with a wide circle of Edelman CCCA graduates who, like her, headed west to pursue TV and film industry careers after graduating.
But success didn't come easy, as it rarely does, and it did not come overnight.
A lab supervisor for TV I and TV II  who participated in an array of internships as an undergraduate, she found mentors and friends in Radio, Television & Film like Ned Eckhardt, now a professor emeritus, Joe Bierman and Keith Brand, chair and former chair of the RTF department.
Within two weeks of graduating, Bennett landed a position with a corporate filmmaking firm started by two Rowan alumni in Princeton where she applied many of the skills and lessons she studied in college. She parlayed that position into a job with Comcast in Philadelphia, which enabled her to hone and expand her skillset, from story development to interviewing.
When cutbacks at Comcast resulted several years later in the loss of her job, Bennett embraced the opportunity to begin freelance writing and that eventually brought her to Hollywood.
Her first solo book was the official companion guide to the hit show "24," and that led to book projects for the shows "Lost," "Outlander," and dozens more, including the 512-page Marvel Studios tome.
The book on Marvel, which has made some of the biggest films in history including the "Ironman," "Black Panther" and "Guardians of the Galaxy" series, included working directly with studio head Kevin Feige, but she was ready.
Her previous positions, including her work at Comcast, helped Bennett polish interviewing skills – including a one-on-one she once had with then-Senator Joe Biden – and that helped her to be comfortable when she sat down with Feige.
"Any new client or project can make you nervous," she said, "but a big part of what we do is walk in a room and be respectful. My job is to be prepared, to know what I have to ask, and to be present in the conversations. With Kevin we just went in, sat down, and began asking questions."
All comes back to teaching
She said Feige, who like many in the business launched his film industry career as an entry level production assistant, is perhaps the best example she knows of major success in a highly competitive field that started humbly.
"Kevin said he knew he had to be the best PA possible, that if he couldn't get someone's coffee order right, why would they trust him to do something else? Now he's literally the head of Marvel Studios, the biggest studio in the world," Bennett said.
Among her many classroom lessons, Bennett requires students in Episodic Screenwriting to produce a pilot script for a new show, an experience that many find terrifying. But she said it challenges them and helps prepare them for the highs and lows that make up any successful career.
"As Kevin Feige knew, a great PA is someone who will offer their skills because doing so endears you to people around you," Bennett said. "I tell students, especially early on, to just say yes to everything. You'll get opportunities to do something and even if it doesn't seem like something you want to do, give it a try, be positive and be enthusiastic."
Through her teaching, Bennett shares some of the same lessons and advice that she received as an undergraduate and she sees the results.
"One of the by-products I receive as a teacher is watching students become what they want to be," Bennett said. "They're out there grinding like the rest of us."