Rising in research: Program boosts underrepresented students in STEM
Rising in research: Program boosts underrepresented students in STEM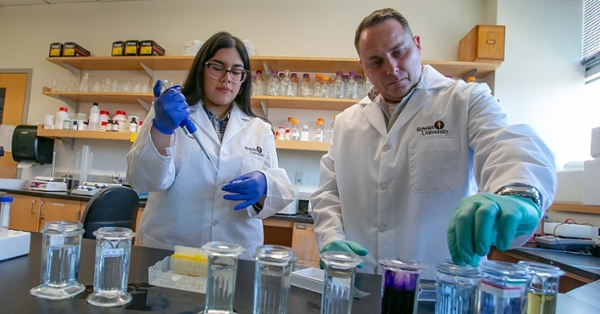 Biological sciences major Yesenia R. Flores prepares slides with her mentor, Dr. Benjamin Carone. Below, biochemistry major Maria Celeste Lopez Vasquez works in the lab of her mentor, Dr. Diana Martinez.
For underrepresented students in science, technology, engineering and math fields, the U-RISE program at Rowan University "fosters a sense of community and shared passion for discovery, both of which are vital for the collaborative aspect of science," said Yesenia R. Flores, part of the first cohort accepted to the program in spring 2021.
Through March 3, students can apply to receive the same comprehensive support to prepare them for a career in Ph.D.-level research as part of the third cohort of the National Institutes of Health-funded program. Five spots in the Undergraduate Research Training Initiative for Student Enhancement program are available.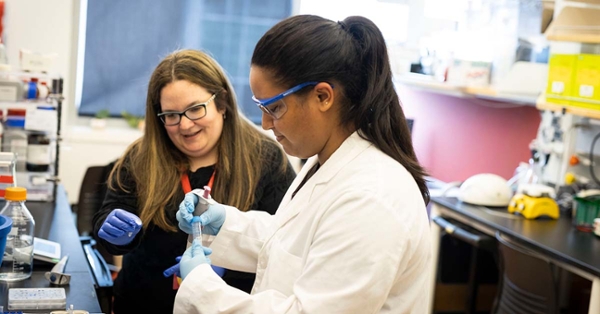 U-RISE provides specialized research training in Rowan laboratories, a stipend, a partial scholarship, workshops and access to several mentors. Students get multiple opportunities to learn from and network with internal and external scientists from academia and industry. Perhaps most impactful of all has been the community of peers and mentors the U-RISE program provides.
"It's truly a family away from family," said Maria Celeste Lopez Vasquez, a 19-year-old sophomore biochemistry major from Camden. Lopez Vasquez, part of the second cohort of U-RISE students, is an undergraduate student researcher in Dr. Diana Martinez's lab at Cooper Medical School of Rowan University. "Anytime I needed help, the U-RISE team was there to guide me." 
All STEM majors from underrepresented backgrounds (under NIH guidelines) are eligible to apply during the spring of their freshman year.
"Excitement, enthusiasm, and being ready to work are the most important requirements," said Dr. Nathaniel Nucci, program co-director. "This is not a program designed for the already privileged elite but instead for the students for whom the freedom to pursue research as undergraduates will matter most."
The program's external guest speaker events are open to the entire Rowan community, not only U-RISE fellows.
"The NIH invested in this program because a diverse workforce is more effective at a broad range of solutions," Nucci said. "In biomedical science specifically, making solutions to health problems more equitable requires the workforce to look like the American population—and it doesn't right now." 
As a case in point, Lopez Vasquez aspires to earn both a Ph.D. and M.D., so she can become a physician-scientist specializing in the research and treatment of HIV.
"HIV, like many other viruses and diseases, is impacting the medically underserved at disproportionately higher rates," Lopez Vasquez said.
Through the U-RISE program, students develop not only technical skills for scientific research but also leadership skills. 
"The multifaceted U-RISE program has equipped me with the skills necessary to become a successful future leader in my field," said Flores, a 20-year-old junior biological sciences major from Trenton, who works in Dr. Benjamin Carone's lab. "U-RISE at Rowan has provided me with the experience of a lifetime: falling in love with the hands-on and inquisitive nature of research."
To apply to join the third U-RISE cohort, students should fill out the easy online pre-application form on the U-RISE landing page by March 3.