Rowan on the rise: the nation's third fastest-growing public research institution
Rowan on the rise: the nation's third fastest-growing public research institution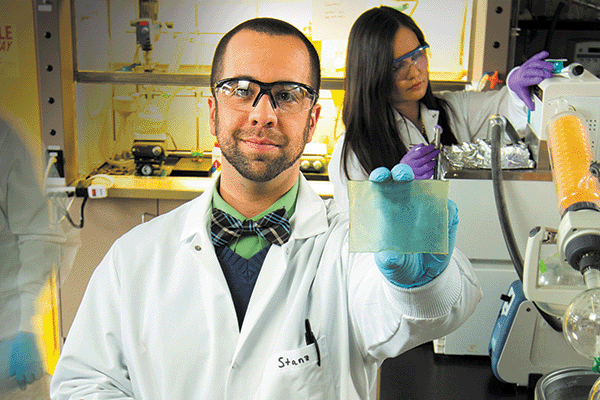 Dr. Joe Stanzione directs Rowan University's Advanced Materials & Manufacturing Institute.
Little more than a decade ago, Rowan University could describe itself as a well-regarded state university with a nationally ranked engineering program and a proud history as a teachers' college.
Today, Rowan is a dramatically different institution: an R2 public research university and a model for strategic change. Recognized as the nation's third fastest-growing public research university, Rowan has been ranked on The Chronicle of Higher Education growth list since 2018. Enrollment nearly doubled in the last decade. Ambitious growth plans to better serve the region have kept the institution focused on building high-quality degree programs designed to meet the needs of a fast-changing world. 
To get here, Rowan broke norms, operated like a business and maintained a laser focus on controlling costs—for both the University and its students. 
"Affordability is critical," said President Ali A. Houshmand, Ph.D. "As a state institution, we have the obligation to provide access, affordability and a quality education to everybody." 
Unique partnerships, creative thinking
Through creative partnerships with two community colleges, Rowan University forged new pathways toward a bachelor's degree at a significant cost savings for students, without sacrificing quality. 
In turn, Rowan shared its name and reputation with the independently operated colleges, now Rowan College of South Jersey and Rowan College of Burlington County. 
Creative thinking also fueled a public-private partnership between investors, Rowan University and Glassboro, home to the University's main campus. 
Out of 26 acres of single-family homes and college rental properties came Rowan Boulevard, a mixed-use cityscape that rapidly met the University's need for modern student housing and academic space, while attracting new businesses and visitors to a revitalized downtown. Today, that bold investment and public-private partnership has raised local tax revenues for that area from approximately $200,000 a year to more than $4 million—all through private investment.
In 2012, New Jersey passed legislation to restructure its medical and health sciences educational system, designating Rowan as its second comprehensive public research university. That summer, Rowan opened Cooper Medical School of Rowan University in Camden, the state's first new medical school in 35 years. 
Partnered with South Jersey's only Level 1 trauma center, the Camden medical school has been ranked among the top 10 most selective in the country, according to U.S. News & World Report. In 2019, the school won the prestigious Spencer Foreman Award for Outstanding Community Engagement from the Association of American Medical Colleges, the accrediting body for U.S. medical schools.
In 2013, Rowan University integrated the School of Osteopathic Medicine in Stratford, N.J. Today, Rowan is one of only four universities in the country offering both the M.D. and D.O. degrees, doing its part to address the looming physician shortage by producing more than 250 new physicians each year. 
Nurturing research
Spurred to further innovate, Rowan expanded its research division, attracting fast-rising faculty interested in solving real-world problems through applied research. Twelve Rowan researchers are recipients of the National Science Foundation's CAREER Award, among the country's most prestigious recognitions for early-career faculty. 
The Henry M. Rowan College of Engineering continues to rank among the nation's best engineering programs. In just three years, nine projects from engineering faculty earned federal funding from the NSF Innovation Corps program, designed to bring researchers' ideas to the marketplace. 
In 2018, Rowan received classification as a Carnegie R2 doctoral university with high research activity. Its academic programs now include 90 bachelor's, 48 master's, two professional and nine doctoral degree programs. More graduate programs are under development. 
Throughout Rowan's growth, according to Georgetown University's Beeck Center for Social Impact + Innovation, Rowan University never lost sight of its mission to prepare undergraduates for the workforce, particularly first-generation students. 
"By seeking new sources of revenue, affiliating with other colleges, and looking for ways to grow enrollment without taking on the added cost of building and maintaining more than it had to, Rowan was able to carefully manage the bottom line," the report concluded.
Leapfrogging and innovating
In the University's most-recent accreditation review, a team from the Middle States Commission on Higher Education called Rowan a "model for institutional transformation." Unsatisfied with incremental growth and change, the institution continues to press forward, leapfrogging traditional thinking and innovating higher education. 
During the 2021-2022 academic year alone, Rowan announced three significant initiatives that are rapidly reshaping its future. 
In partnership with South Jersey's largest health care system, Rowan established the Virtua Health College of Medicine & Life Sciences of Rowan University. Supported by Virtua's $85 million endowed gift, the second largest in the University's history, the college will advance health care, medical and nursing education and biomedical research. 
Within a decade, the college expects to recruit 50 new research faculty and build a five-story tower to house its translational biomedical engineering and sciences school on the University's West Campus.  
The research facility will rise alongside Rowan's new veterinary school, also under development. Once accredited, the school will offer New Jersey's first Doctor of Veterinary Medicine (DVM) degree, as well as related degree programs designed to shape the future of veterinary medicine and animal health care in the state.
With the addition of the School of Veterinary Medicine, Rowan University will be one of only two universities in the nation offering Doctor of Veterinary Medicine, Doctor of Medicine and Doctor of Osteopathic Medicine degrees.
Finally, Rowan has established a new School of Innovation & Entrepreneurship, which recently earned recognition for offering one of the top 50 programs in the nation. 
While planning for the future, the University remains ever mindful of its roots: an institution founded to prepare students for meaningful careers. As a top 100 public research university, Rowan is an economic driver in its region, focused on practical research and creating new pathways to fit students of every background—so that every student can obtain a higher education degree and an opportunity for a better future.