Examining depression and autism
Examining depression and autism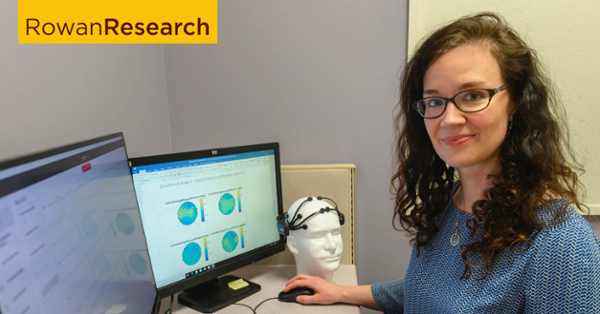 Dr. Kaite Gotham researches how repetitive thinking and social connectedness contribute to depression in autistic adults.
Depression is four times as prevalent in adults with autism spectrum disorder compared to the general population. Dr. Kaite Gotham, an assistant professor of psychology in the College of Science & Mathematics, is studying the underlying pathways to depression in autistic adults in the hopes of using that information to improve interventions for depression tailored to this population.
Gotham and her team are focused on two contributors to depression in autistic adults: repetitive thinking and social connectedness. Repetitive thinking is a known trait in autism and people with depression tend to have negative ruminations.
kaite gotham, Ph.D.
Psychologist
Areas of expertise:
autism spectrum, emotional health, adult outcomes, depressed mood, emotion processing
More information
"That's one of the biggest things we're working on right now," Gotham said, "looking at repetitive thinking in autism and asking, how do we best measure it? What features of repetitive thinking tend to be the most salient or applicable to the autistic adult community? And could some of those features act as targets for improving depression treatments?"
Gotham's lab has also looked at the positive effects of rumination. Undergraduate student researchers found that adults who reported a higher quality of life were more likely to say they savored, or ruminated over, positive events. Also, people who had repetitive thinking over a special interest, which is another marker of autism, but also engaged in that interest socially had a higher quality of life.
The other focus area of social motivation centers on the hypothesis that people who have a higher desire for social interaction but have fewer social opportunities might be at risk for developing depression.
Gotham often hears of mental health providers who say they don't have the expertise to accept patients with autism. One of her goals with her research is for clinicians to feel more comfortable working with the autistic community.
"For the most part, we see that depressed people with and without autism are more similar than different," Gotham said. "We definitely need to improve our interventions for autistic adults, but in the short term, they will likely benefit from having access to existing therapies, so it is our goal to spread this message to community mental health providers."
Rowan University researchers are passionate about what they do. Find more at Meet Our Researchers.