Acclaimed opera singer Denyce Graves entertains—and inspires
Acclaimed opera singer Denyce Graves entertains—and inspires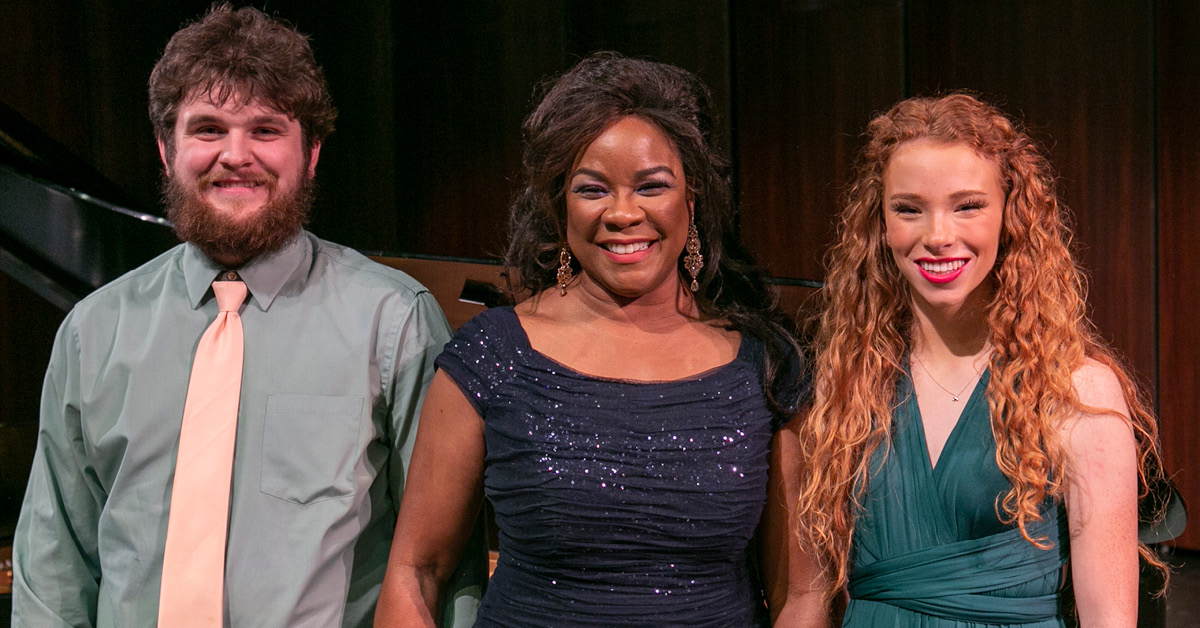 During her appearance at Rowan, internationally acclaimed opera singer Denyce Graves (center) presented a master class with senior vocal performance majors (from left) Michael Krasting and Lianna Johnson. Krasting and Johnson both have leads in the April production of "La Bohème."
Internationally acclaimed mezzo-soprano Denyce Graves got Michael Krasting—and his voice—to a place he'd never been.
"I felt restrained because I was so nervous. But when I let loose, it changed entirely. I made a sound I didn't know I had in me," Krasting said.
After presenting "A Celebration of America in Song," an invigorating, hour-long program before a crowd of 300 in Rowan University's Pfleeger Concert Hall on Feb. 18, Graves, an Emmy- and Grammy-winning American-born opera star, spent more than 90 minutes—twice as long as planned—working with two College of Performing Arts vocal performance majors in a master class.
Audience members stayed to watch the class as Graves—equal parts challenging and nurturing, funny and sincere—held court on stage with Krasting and Lianna Johnson. Both seniors, Krasting and Johnson are leads in the University's April production of Giacomo Puccini's 1896 opera "La Bohème." The opera is sung entirely in Italian.
A tenor, Krasting, of West Deptford, plays Rodolfo, a poor poet and a hopeless romantic. His Act I aria, "Che gelida manina" ("What a frozen little hand"), comes as Rodolfo is trying to woo a young woman. The aria, one of the most recorded ever by tenors, was famously sung by Luciano Pavarotti and Enrico Caruso, among many others.
Admittedly nervous, Krasting hit all the right notes and pronunciations in front of Graves and the audience. Then, Graves asked him to think more about Rodolfo.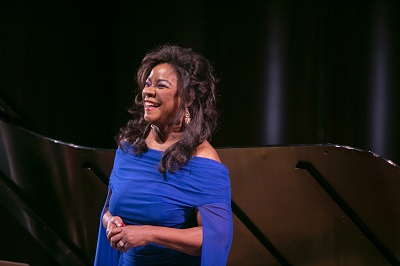 "It's important for you to show a little bit of the character. I want to get away from Michael, the singer, and see Rodolfo," Graves (at right) told Krasting, challenging him to make the story real to the audience.
"The vulnerability you have makes you unforgettable. It's the honesty in your heart. There's nobody in this world who has lived your life experiences," Graves continued, mentioning Pavarotti and others who sang the aria.
"We've seen these artists and loved them. We haven't heard you yet. Be who you are."
Krasting sang again, reaching deeper, he said. The audience—led by Graves—erupted.
"That's called legato singing, my love," Graves said. Legato refers to singing with smoothly connected notes. "This is hard, darling. But you were called to this moment."
"The class was less about music. It was more about the connection with the audience," Krasting said later. "It was fantastic. Not even for a second did I think I'd have this opportunity as an undergraduate. I'm very thankful she was so real with me."
'Let's see your inner diva come out'
A soprano, Johnson, of Port Murray, took the stage and sang "Quando me'n vo'" ("Musetta's Waltz") from Act II of "La Bohème." Johnson portrays Musetta, a beautiful, young woman trying to get the attention of a former flame.
Graves called on Johnson to embody the character, who Johnson described as "a gigantic personality."
"She's putting on a show to get his attention," Graves said. "The whole aria is for his benefit. Let's see your inner diva come out. Get him fired up.
"We see at the beginning of the opera that she's very, very generous. She has heart, but she has tremendous fire. This is where you have to live in your storytelling. Really lean into it. Really use the language."
Johnson embraced the challenge—to the delight of the audience.
"I was excited to get another take," said Johnson. "She was really kind of getting the diva out in me. This aria, which I love, is the biggest diva moment of the show.
"Ms. Graves was just so present, so open. She definitely took me to another level in terms of being brave enough to go to a place I've never been before with Musetta.
"There was so much to take away from this experience. I'm going to try to remember that feeling of when I was in the master class and the successes I had. I'm going to take that and build upon them to make the character come alive."
'It's beautiful music'
Professor of Music Marian Stieber, head of the vocal division and director of the Rowan Opera Company, said students regularly attend master classes with artists. But the session with Graves was "a high-profile experience for our students," Stieber said.
"Ms. Graves could tell that both of these students were in a place where they could reach a new level of understanding and performance," Stieber said. "She was very clear with them, very encouraging. She was so honed into every little nuance, asking them questions to make the characters their own."
It's rare, Stieber added, for undergraduate students to be in a stage production of "La Bohème." The Rowan production, which runs April 14-16, will be a fully staged version with English surtitles. Student artists will perform with the Rowan University Orchestra, conducted by Director of Orchestras Jiannan Cheng.
"A full opera in Italian is quite a feat for anyone of this age. It's a challenging production and there's a real layering of information…learning the notes, the rhythms, singing the melody, and then, on top of that, the Italian. It's beautiful music."
The appearance by Graves was sponsored by the New Jersey Garden City Alumnae Chapter of Delta Sigma Theta Sorority, Inc. and Rowan's Africana Studies Program. The event raised funds for scholarships for performing arts students.
Celebrating America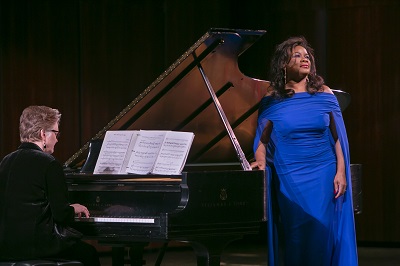 Accompanied by pianist Laura Ward (at left), Graves masterfully weaved through a set that included, among other songs, "America the Beautiful"; a collection of Gershwin tunes; "American Anthem," which she has sung many times, including at the memorial service for Supreme Court Justice Ruth Bader Ginsberg; and "If I Only Had a Brain" from "The Wizard of Oz."
She also paid homage to Black female performers and composers, including Carrie Jacobs-Bond and Mary Cardwell Dawson.
Jacobs-Bond formed her own music publishing company and was the first woman to sell a million copies of a song.
Cardwell Dawson was founder of the National Negro Opera Company and the National Opera House in Pittsburgh. Graves played the title role of Dawson in "The Passion of Mary Cardwell Dawson," an opera that premiered two years ago.
The philanthropic arm of The Denyce Graves Foundation has worked to raise awareness and funds to save the opera house, an important but long-neglected piece of American history.
About Denyce Graves
In a career spanning three decades, Graves has performed in major opera houses and concert halls across four continents. She has been a featured artist on National Public Television in everything from "Great Performances" to "Sesame Street."
A sought-after teacher at The Julliard School and Peabody Conservatory, among other institutions, Graves made her debut at the Metropolitan Opera in 1995. Her signature roles include the title roles in "Carmen" and "Samson et Dalila."
Graves also appeared many times on the children's television series "Between the Lions," where she used her talents to teach children the sounds of words.
The master class with Krasting and Johnson was educational for her as well, Graves said.
"I learn so much every time I have the great pleasure—and privilege—to work with young voices," she said.