Studying the effects of climate change on New Jersey landfills
Studying the effects of climate change on New Jersey landfills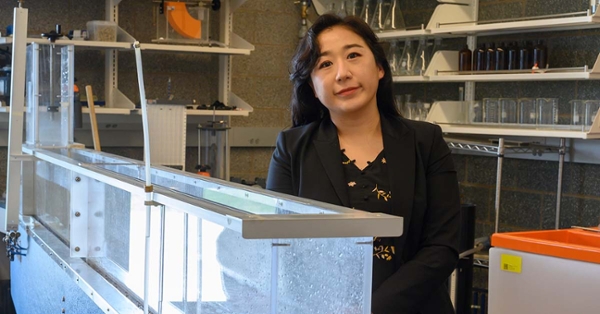 Dr. Jeong Eun Ahn is studying climate change threats to landfills to help communities prepare.
As scientists continue to study the impacts of climate change on the warming planet, a team of Rowan University engineers is looking at the effects of climate change on landfills. 
The U.S. Department of Agriculture has awarded Rowan University a $260,339 grant to build a virtual reality predictive analytics platform that uses artificial intelligence to simulate the behaviors of landfills under various environmental conditions exacerbated by climate change. This study will also utilize a watershed model to investigate the movement of water released from landfills and their impacts on water quality under various future scenarios.  
Environmental changes associated with the climate crisis, such as intense storms and warmer temperatures, may damage landfill liners, allowing for toxic landfill leachate to leak into watersheds. The ability to predict the conditions of landfills given these concerns may allow officials, community leaders, and landfill owners to more effectively assess risks and make decisions to preserve water quality.
"Predicting the landfill conditions under future storm events is crucial to protect the environment and public health, and could reduce environmental injustice with proper design and siting of infrastructure," said the project's principal investigator, Dr. Jeong Eun Ahn, an assistant professor in the department of Civil & Environmental Engineering in the Henry M. Rowan College of Engineering.
Researchers will identify South Jersey landfills in economically disadvantaged communities with a population of less than 2,500 low-income residents who are severely impacted by COVID-19. 
The research team will collect data from the landfills, including satellite imagery of the landfill, temperature and gas at various depths from wells drilled in the landfills, groundwater from nearby wells, and surface water measurements in the vicinity of the study area. Using this data, engineers will build artificial intelligence/machine learning and watershed models to predict how these measurements will change under different climate and weather conditions and how the landfill will react. 
The virtual reality component refers to the future simulations so community leaders "can understand and see what is occurring within a landfill during these different scenarios," Ahn said. "So leaders can see the imaginary situation that could happen."
Finally, the team will develop an analysis tool that will evaluate the threat to water resources from landfills should extreme flooding allow waste from the landfill to be released into water resources. 
"I want to understand the path of the leachate to other water resources or the natural environment and how those could impact the water quality," Ahn said.
Once the model is developed, researchers hope to train landfill staff in order to better maintain active landfills. 
The research team is composed of faculty and undergraduate and graduate students in the departments of Civil & Environmental, Mechanical, and Electrical & Computer Engineering at Rowan University. Rowan University's Machine & Artificial Intelligence Virtual Reality Center,  along with Dr. Ghulam Rasool, an expert in machine learning at the Moffit Cancer Center in Tampa, Florida, are integral to the success of this project.