With new grant, Rowan works to strengthen partnerships with community colleges
With new grant, Rowan works to strengthen partnerships with community colleges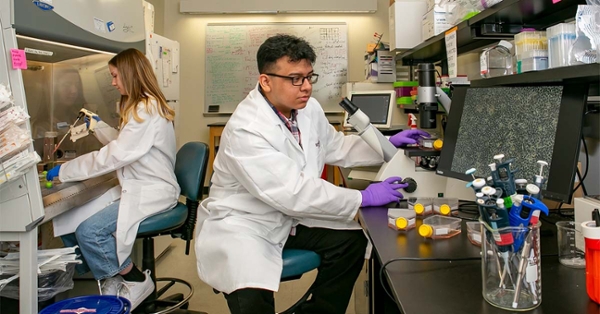 Jesus Calixto, a transfer student and fourth-year biological sciences major, works in the lab alongside Lauren Staman, a graduate student in pharmaceutical sciences. Calixto is applying to doctoral programs to pursue research in stem cell biology.
Many students benefit from going to community college first, but transferring from a two-year to a four-year college can be fraught with problems. With a six-year, $470,666 grant from the Howard Hughes Medical Institute's Inclusive Excellence 3 (IE3) initiative, Rowan University is part of a larger collaboration investigating ways to build genuine partnerships between two-year and four-year institutions.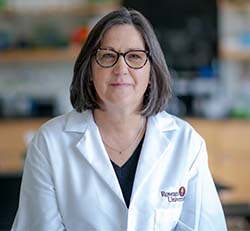 "This is an important and complex topic that spans many areas of inclusivity, including credit transfers, internship and research opportunities, access to financial aid and the needs of non-traditional students," said Dr. Alison Krufka, program director and associate professor in the Department of Biological & Biomedical Sciences at Rowan. 
Rowan and its collaborators are working to build meaningful partnerships to make higher education more inclusive for transfer students. Rowan will be directly involved in three projects focused on student peer mentoring, cross-campus meetings, and the development of cross-campus faculty and staff learning communities. 
Rowan will work with 14 partner schools and approximately 30 community colleges, including Rowan College of South Jersey and Rowan College at Burlington County. Together, they will address obstacles that have historically excluded some students from the sciences, while making higher education in the sciences more accessible.
These efforts are years in the making. The initiative challenged institutions across the country to propose collaborative projects that require schools to share resources, design experiments and share their findings. The institute awarded funding to Rowan University and 103 other institutions divided into seven "learning community clusters." 
All told, the institute awarded $8.8 million to Rowan and its learning community cluster.  
At every level of this project, collaboration is key. The Rowan Core Team comprises a diverse team of administrators, faculty and staff from across Rowan and its community college partners. 
Krufka played a major role in developing the IE3 project at Rowan, along with the program's co-director, Dr. Tabbetha Dobbins, who credited Deanne Farrell and Rowan's Division of University Advancement for helping the team secure the first grant from the institute.  
"Very often, students coming to us from a community college are overcoming obstacles in their efforts to earn a bachelor's degree," said Dobbins, vice president for research and dean of the Graduate School. "We value their experience and persistence—and we want them to succeed here at the university level. With this IE3 grant, we're working to create a more welcoming campus environment, one that lets transfer students know that they belong."