Rowan celebrates MLK Day with first Black woman in space, Dr. Mae Jemison
Rowan celebrates MLK Day with first Black woman in space, Dr. Mae Jemison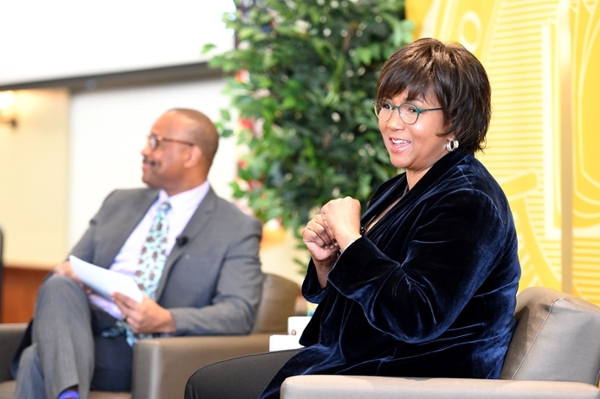 Dr. Mae Jemison, the first Black woman in space, led Rowan University's 37th annual Dr. Martin Luther King Jr. Scholarship Breakfast & Day of Service January 16 with an address that was both fully grounded and astronomical.
Jemison, an engineer and physician, joined NASA's astronaut corps in 1987 and served aboard the STS-47 mission in 1992, during which she orbited Earth as a mission specialist on the Space Shuttle Endeavour.
Rowan's annual MLK Jr. Scholarship Breakfast supports high achieving but economically challenged students through the William H. Myers Memorial Scholarship fund.
Delivering the program's keynote address, Jemison said as a child of the 1960s she was viscerally aware of the civil rights struggle that Dr. King led and ultimately gave his life for.
American life during that period was marked by "a world that was changing so rapidly," and in so many ways, Jemison said during an on-stage interview in Eynon Ballroom with 6ABC Action News anchor Rick Williams, the program's master of ceremonies.
It was an especially violent and unsettled period in the nation's history that ended brighter than it began, with greater opportunities for people of color and a feeling that, despite the many challenges of the day, America was changing for the better, the pioneering former astronaut said.
"This day means that we as a country have figured out some things collectively. It means we have a marker and know we can do better," Jemison said.
The meaning of leadership
Jemison dreamed of space travel as a young girl and said the first place she saw looking down from the shuttle was her home town, Chicago.
The youngest of three children, she said her mother, a teacher, and father, who worked in construction, challenged her to try new things and to follow her passions wherever they led – advice that inspired a career spanning such fields as space travel, medicine, engineering and dance.
"You don't have to do (just) one thing," she said. "The message I want to share is for adults. It's our behavior that makes a difference… Try to be the person that you'd like your child to be."
Jemison said the U.S.-Soviet space race fired her imagination to one day leave Earth's atmosphere herself but so did television, especially the popular series Star Trek. Following her own experience in space, she joined the cast of Star Trek: Next Generation for an episode in 1993.
A graduate of Stanford University (and the school's first Black woman president of the Student Union) and of Cornell University Medical School, Jemison said her greatest advice to students is not about what she did but rather what they feel driven to do.
"It's really important that you're not comparing yourself to others," she said.
In addition to the morning breakfast program, Jemison took part in an hourlong "Fireside Chat" with University students where one wanted to know what it felt like leaving Earth's bounds.
"It takes eight minutes to get into space going 17,000 miles per hour," she said. "The first thing I saw was Chicago, where I grew up, and I had a huge smile on my face."
Day of Service
In the spirit of Dr. King, Rowan encouraged attendees to take part in service activities on campus and off. Campus projects included filling gift bags with women's hygiene products for shelter residents, preparing sandwiches for clients of the Cathedral Kitchen in Camden, and making toys from old t-shirts for dogs awaiting adoption.
"For people who don't know when their next meal will be, this is very important," said Ariana Blake, a junior biological sciences major, of her group's sandwich making. "A lot of people don't know what food insecurity is but at Cathedral Kitchen people who don't have can get a good meal."