Celebrated Rowan film professor lands major funding for second feature-length project
Celebrated Rowan film professor lands major funding for second feature-length project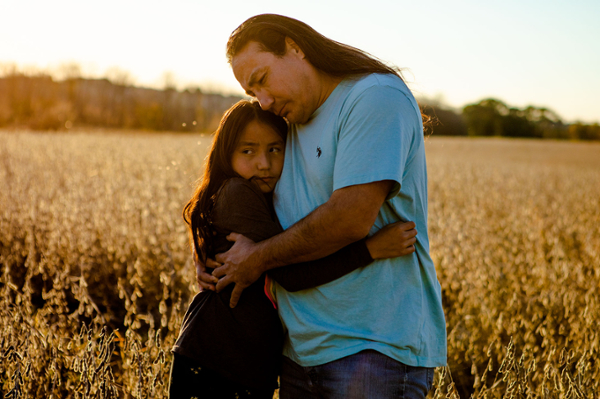 Delwin Fiddler and his daughter, Kassi.
Rowan University Professor Jonathan Olshefski, whose film "QUEST" garnered Emmy award nominations for Best Documentary and Best Social Issue Documentary, has received a major grant through JustFilms, a subsidiary of the prestigious Ford Foundation, to support his next project, a multi-generational story about a Native American family.
Olshefski shot "QUEST," the story of an African American family from North Philadelphia, in the true-life cinema verité style of filmmaking spanning more than 10 years. "QUEST" premiered at the Sundance Film Festival in 2017 and received widespread acclaim at film festivals across the U.S.
Olshefski, who teaches New Media and documentary filmmaking in the Ric Edelman College of Communication & Creative Arts, and a team of collaborators are now editing his second feature length documentary, tentatively named "Without Arrows," that's set between Philadelphia and the sprawling Lakota Sioux Nation in South Dakota.
As he did with the Rainey family in "QUEST," Olshefski immersed himself in the daily life of the Fiddler family for "Without Arrows," quietly capturing moments large and small to be weaved into a dramatic narrative.
"There's no shortcuts with it," Olshefski said of the verité style of filmmaking. "You have to just be there. When twists and turns happen, happy or sad, you're there. It's the family sharing their story."
"QUEST" followed the narrative of Christopher "Quest" Rainey and his family -- including the horrific moment when Christopher's beloved daughter, PJ, was hit by a stray bullet on her way home from the playground. PJ survived, but ultimately lost an eye, and the aftermath was all on film.
"Without Arrows" tells the story of Delwin Fiddler Jr., his parents, siblings and their children.
Olshefski met Fiddler, who was then living in Philadelphia, when he booked him to participate in a Q&A about Native American representation in media. Eventually, the two began working on a film about Fiddler and his family.
"As with the Raineys, the Fiddlers welcomed me into the family," Olshefski said. "They wanted to tell their story and saw me as a vehicle to tell it."
Challenges in shooting "Without Arrows" included the 1,500-mile difference between the Fiddlers' home in South Dakota and Olshefski's home, family and career around Philadelphia, as well as cultural differences between a white, eastern filmmaker and his Native American protagonists.
He said the film is intended for a Native American audience but believes non-native viewers will appreciate it too, connecting through such universal themes as family, personal struggles and the meaning of home.
Elizabeth Day, one of several Native American filmmakers on the project and its co-director, said perhaps the biggest challenge in making the film is time – paring down 12 years of footage into roughly 86 minutes.
"I think there are a lot of parallels that resonate throughout Indian country that the Fiddlers experience," said Day, who is Ojibwe and lives in Minneapolis, home to a large Native American population. "A lot of it is humor and the use of humor. Comedy is huge in native culture."
She also said the Fiddlers' experience in some ways represents that of many native people, including Delwin Fiddler Jr.'s decision to leave the reservation and move east initially.
"Delwin was removed as a child and sent to a boarding school at six or seven years old," Day said. "We touch on the generational trauma of removal, which is an underlying theme in so many families, as well as the theme of finding home, finding a place of belonging."
Most important, she said, are the themes of resistance and resilience, that despite hundreds of years of oppression and forced relocation of Native Americans, "we are still here. We're still alive and we're thriving."