Rowan professor wins statewide award for Camden stormwater management plan
Rowan professor wins statewide award for Camden stormwater management plan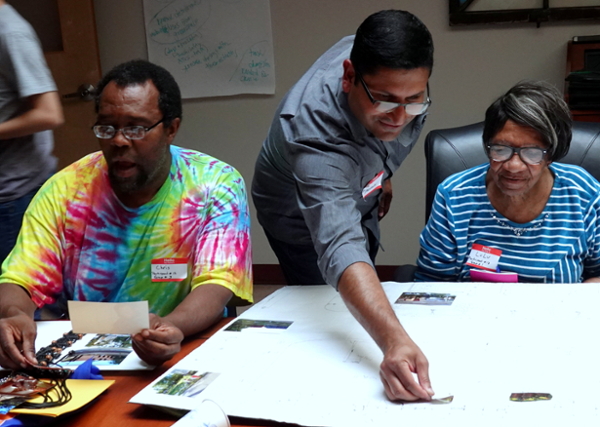 Meenar, center, and colleagues worked with community members to develop the award-winning stormwater management plan.
The New Jersey Chapter of the American Planning Association this week will present Dr. Mahbubur Meenar, an associate professor in the department of Geography, Planning and Sustainability (GPS) within Rowan University's School of Earth & Environment, with its Outstanding Community Engagement and Education Award.
The award recognizes Meenar's work for a multi-year project, "Greening Waterfront South," that he led to address flooding and stormwater runoff in Camden's Waterfront South neighborhood. The project included 10 community engagement and education activities such as photovoice, a technique for capturing community input through images, photo collages, design workshops and focus groups.
Meenar developed the plan with GPS colleagues Dr. Megan Bucknum, Dr. Ted Howell and Dr. Jennifer Kitson, along with environmental consultant Cerulean and community partner organizations Heart of Camden and Camden Fireworks.
Once implemented, the plan would address decades-long stormwater management and flooding issues in the neighborhood, much of it the result of an aging and overstressed combined sewer system and the paving of large swaths of green space that forces stormwater runoff to overfill drainage capacity and swamp parts of the city.
Meenar, who is also director of Rowan's Community Planning + Visualization Lab, said a number of issues must be addressed to ease Waterfront South flooding.
"We talked about green infrastructure (such as increasing park space and urban agriculture) but the main focus was stormwater management," he said. "The community now has a neighborhood plan that was adopted by the City Council."
Meenar credited the Camden County Municipal Utilities Authority for supporting the plan but said, as with all major capital improvement projects, further funding is required to implement it. (A community organization, Center for Environmental Transformation, recently secured a $500,000 National Fish and Wildlife Foundation grant to implement some of the projects outlined in the "Greening Waterfront South" plan.)
"This award gives us encouragement to do similar types of work in even better ways," Meenar said. "The current project I'm working on is related to parks and open spaces and the emotional connection people have with them."
Through the stormwater management plan, "we tell policy makers what the community is telling us," he said. "We convey their message to people who can make the change."
The New Jersey Chapter of the American Planning Association, an independent, not-for profit organization, holds its 2022 Planning Excellence awards program Dec. 15 in the South Orange Performing Arts Center.