Top of her game: Accolades pour in for Division III Player of the Year Kristiina Castagnola
Top of her game: Accolades pour in for Division III Player of the Year Kristiina Castagnola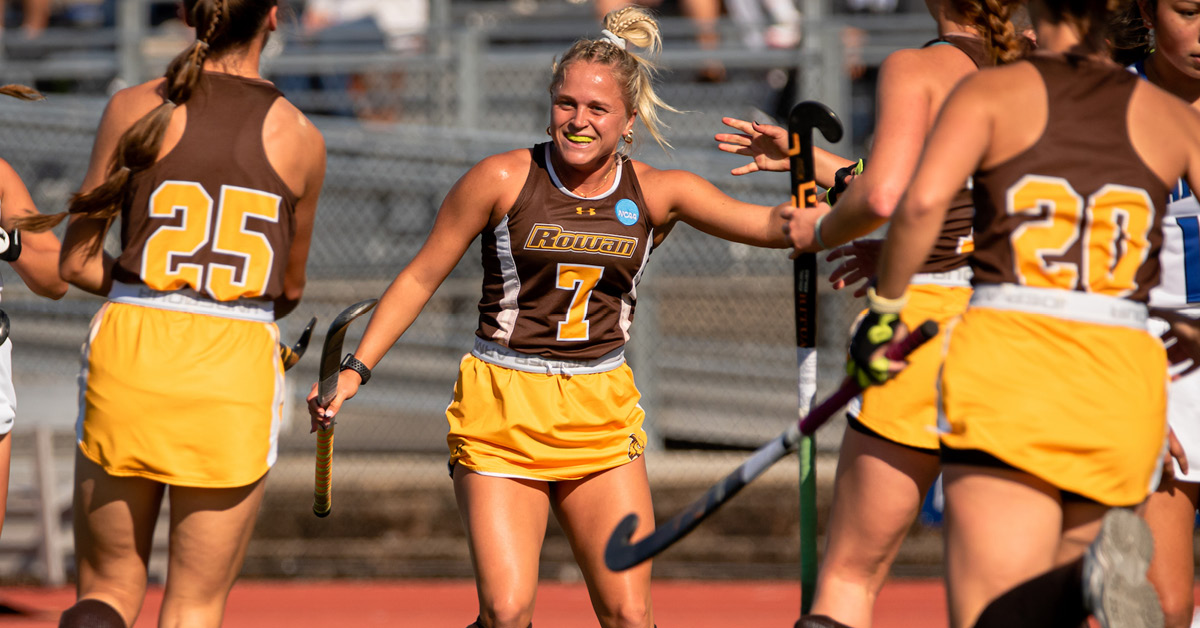 "The pride I have for Rowan and for the field hockey program is just oozing out of me," says Kristiina Castagnola. She is the first female athlete at Rowan to earn Division III Player of the Year honors.
The memories—of big stages and big games and big victories…of teammates and coaches…of drills and practices and hard work…of goals set and achieved—will stay with Kristiina Castagnola forever, she says.
But she'll also have a lot of heavy duty hardware to help her remember her historic field hockey career at Rowan University.
"The pride I have for Rowan and for the field hockey program is just oozing out of me," says Castagnola. "Over my time here, I've learned how fun it can be when you're with the people you love…doing the things you love."
Now that she has played her final field hockey game for the Brown and Gold, awards are streaming in for the senior co-captain, who, with a talented group of eight seniors, led Rowan University to a phenomenal 21-2 record and a second straight appearance in the NCAA Division III Final Four.
Player of the Year, Honda Athlete of the Year finalist
One of the most decorated student athletes ever at Rowan, Castagnola, a midfielder, made history when she was named the Division III Player of the Year by the National Field Hockey Coaches Association (NFHCA). She is the first female—and only the second Rowan athlete ever—to earn Player of the Year honors.
Additionally, Castagnola was named a finalist for the prestigious DIII Honda Athlete of the Year. She is one of 11 finalists from Division III sports across the nation to be considered for the honor. The recipient will be announced in June after voting is conducted among 1,000 member schools who are part of The Collegiate Women Sports Awards (CWSA) program.
For 47 years, the CWSA has honored the nation's top NCAA female athletes for their superior athletic skills, leadership, academic excellence, and community service. Honorees from both Division III and Division II are recognized in 11 NCAA-sanctioned sports, including cross country, basketball, field hockey, golf, lacrosse, soccer, swimming and diving, tennis, volleyball and track and field.
The recipients from each division will be named during a live telecast on CBS Sports Network in June in Los Angeles.
"I call that award the big kahuna," Castagnola chuckles. "It's an incredible honor and a privilege to be recognized for the Honda Award for field hockey. It's 100 percent shocking to be put into the mix with other sports for an award that is voted on by senior women sports administrators."
Rowan's all-time leading scorer
From the time she transferred to Rowan—she redshirted her freshman year at Division I Penn State—Castagnola was intent on making a difference for the Profs. She's done that…and a lot more.
Rowan's all-time leading scorer with 163 points (66 goals, 31 assists), Castagnola is a two-time NFHCA First-Team All-American. She was named to the second team in 2019.
Moreover, she is a four-time First Team All-New Jersey Conference honoree and has won NJAC Midfielder of the Year for two straight years. Castagnola ranks third among current Division III players in career points, fourth in career goals and tied for fifth in career assists.
Altogether during her time with the team, Castagnola has been on three NJAC championship teams and three squads that have gone to the Final Four, upholding Rowan's rich field hockey tradition. The Profs won the national championship in 2002.
'What a legacy'
A graduate student in higher education who will graduate in May, Castagnola earned her bachelor's degree in communication studies in 2021. Redshirting as a freshman, coupled with a year off in 2017 and a lost season due to COVID-19 in 2020, meant that, at 24, she could play her final season this year for the Profs.
After last year's Final Four, which ended in a loss to Middlebury, Castagnola decided she would return for her final year of eligibility.
It was an autumn for the record books, both for the Profs and for Castagnola. Coach Michelle Andre's team was ranked the top DIII squad in the country for part of the season and amassed the second most wins in school history. The Profs won their second straight NJAC title and advanced to the NCAA semifinals before losing to eventual champion Middlebury.
"Last year after we lost, I said to myself, 'I can't be done. I'll be back next year.' If I had not let myself play, I would have missed everything this year…the NJAC championship, the Final Four, the awards. I would have thrown away the sport I love," Castagnola says.
Yet, Castagnola says she would give up every award she has earned in exchange for a national title.
"I'd be fine if nobody knew who I was and we had that national championship," she says.
When Castagnola transferred to Rowan in 2018, her motto was "Go big or go home." That's what she did in every aspect…from her work ethic to her play to her studies, Andre says.
"I knew she would make an impact," Andre says. "She had that kind of extra edge that buoyed our upperclassmen. I could just tell she would be an All-American.
"She played with so much joy, but she was an absolute competitor. She was our engine. She came to Rowan and became an impact player, growing up in front of our eyes. Now, she's one of the top 11 athletes in Division III in any sport. I'm just so happy for her.
"She deserves it. She epitomizes what it means to be a student athlete and a national athlete. And she's one of the kindest people you'll ever meet. What a representation for our University. What a legacy."
Eyeing a career in coaching
Castagnola's passion for the game is infectious, according to Andre. She just can't help herself, Castagnola says.
"I just love how creative you can be with the sport," says Castagnola, who played a bevy of sports before focusing on field hockey. "I love the challenges, the competitiveness. I love the way the ball hits the stick, the way the ball hits the backboard. Field hockey is just gorgeous to me."
Her Rowan studies almost complete and her collegiate field hockey career now over, Castagnola has no intention of moving on from the sport.  
"I'd love to be a head field hockey coach," says Castagnola, who is a coach for Uprise Field Hockey Club.
"Playing the game has been such a great experience for me. I have nothing but great memories. I'm a field hockey head. I want to give back to the sport."