Engineering secures $1.5 million NSF grant to boost inclusivity
Engineering secures $1.5 million NSF grant to boost inclusivity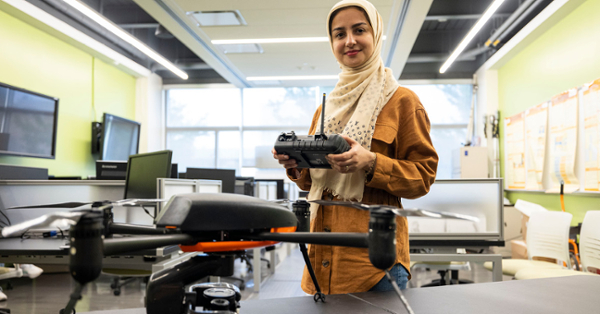 Persistence in engineering goes hand-in-hand with inclusion.
STEM education access is important for all, but too many students face obstacles to affording college or sticking with a difficult program of study. Through a program funded by the National Science Foundation Scholarships in Science, Technology, Engineering and Mathematics (S-STEM) grant, the Henry M. Rowan College of Engineering is implementing a three-tiered initiative to make engineering education more inclusive and students more likely to graduate.
"This grant will touch every single engineering student who comes through Rowan," said Dr. Kaitlin Mallouk, associate professor in the Department of Experiential Engineering Education (ExEEd). The six-year, $1.5-million grant runs through Oct. 31, 2028, and funds scholarships for low-income students, as well as activities for all engineering students.
The financial scholarship tier of the program will award funding of up to $10,000 per year for four years to a minimum of eight students per cohort. New cohorts will begin during the fall semesters of 2023, 2024 and 2025. Students from all engineering majors who demonstrate strong academic performance may apply for this need-based scholarship.
"This scholarship will hopefully eliminate low-income students' need to work during the semester so they can focus on their engineering studies," Mallouk said. "Cost shouldn't prevent talented students from getting a STEM education."
A critical part of the program is placing incoming first-year students, particularly the scholarship recipients, in the college's Engineering Learning Community. Through this living-learning community, first-year engineering students live in the same dorm, participate in study groups and activities and take their first-semester engineering clinic and calculus classes together, all under the mentorship of junior and senior engineering majors and engineering faculty members.
"There's good data that students who participate in a learning community are more likely to persist and graduate because they have a built-in safety net of peer and faculty mentors to catch them if they are struggling," Mallouk said. While participation in the engineering learning community is embedded into this scholarship program, the community is available to any first-year student entering the Henry M. Rowan College of Engineering.
Persistence in engineering education goes hand-in-hand with inclusion—another need the interventions of this program will address.
"When students feel they belong, they're more likely to stick around and persist," Mallouk said.
All engineering students will complete a revamped diversity, equity and inclusion (DEI) curriculum in their first-year clinics. Scholarship recipients will also engage in DEI leadership training to empower them to push engineering communities, classrooms and the workforce to be more inclusive.
A lack of inclusiveness doesn't only hold talented students back from becoming engineers. It also limits engineering as a field.
"We know that having different perspectives when solving problems is beneficial, and that's what engineering is—solving problems," Mallouk said. "We want to bring DEI into everyone's consciousness and train members of the groups that traditionally make up the majority of engineers as allies who buy into the value of creating a more inclusive engineering environment at Rowan and beyond."
Mallouk will work with Dr. Juan Cruz, another faculty member in ExEEd, to evaluate the educational interventions to understand which parts of the program are most successful in helping students graduate on time. They plan to share their findings of the interventions that make the biggest difference in student persistence and inclusion with colleges of engineering across the country.
Incoming first-year students can visit the Engineering Learning Community page for more information and to express interest in the scholarship program. Mallouk expects to open the application portal in early 2023 and will notify students who expressed interest as soon as the portal is available.