Advancing the science of chemical analysis
Advancing the science of chemical analysis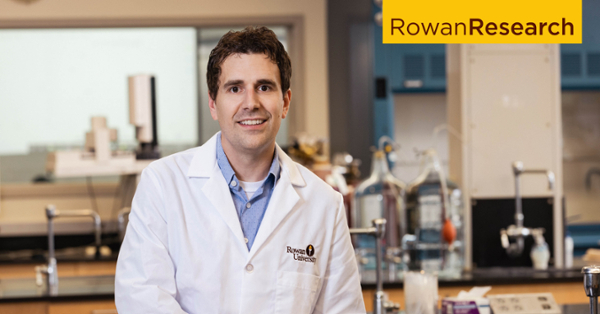 Dr. James Grinias is developing new, cutting-edge liquid chromatography techniques.
For even the most ambitious researchers, opportunities for innovation hinge on the kind of research techniques available. When their methodologies are inefficient, wasteful, or unaffordable, scientists can't do their best work. 
Dr. James Grinias, an associate professor in the Department of Chemistry & Biochemistry in the College of Science & Mathematics, is exploring new, two-dimensional liquid chromatography techniques to advance the way scientists separate molecules found in chemical mixtures.
JAMES Grinias, Ph.D.
Chemist
Areas of expertise:
A
nalytical chemistry, liquid chromatography, microfluidics
More information
In short, Grinias said, "it's a more powerful technology that allows you to accommodate more complex samples, increase the throughput of tests, and produce less chemical waste."
Liquid chromatography as a whole is, Grinias explained, one of the most widely used techniques in chemistry—but there's always room for improvement. In fact, because the technique is so crucial to research in all areas of chemical analysis, the gains Grinias makes have the potential to resonate across the field of chemistry. 
To analyze complex chemical samples, like biopharmaceutical drugs, researchers run a lot of tests, one analysis at a time. What if they could use a higher powered, more complex method of separation to run these analyses in parallel, while also automating the process? The new type of two-dimensional liquid chromatography Grinias is working on will let researchers do just that.
What sets Grinias and his team's efforts apart is the implementation of small-diameter capillary columns.
"Using capillary columns reduces the amount of chemical solvents needed for testing by thousands of times" compared to conventional methods, Grinias said. Using smaller amounts of chemicals lowers risk to the environment, while lowering handling and disposal costs for industry. 
One might expect cutting-edge research methodologies to be as expensive as they are sophisticated, but that doesn't have to be the case. 
"One goal of our research lab is accessibility," Grinias explained. "We try to use low-cost materials—like 3D-printed parts and single-board computers—to share what we develop as much as we can."  
Rowan University researchers are passionate about what they do. Find more at Meet Our Researchers.