The room where it happened: Discussing Johnson, Kosygin—and Cold War diplomacy—in a class at Hollybush
The room where it happened: Discussing Johnson, Kosygin—and Cold War diplomacy—in a class at Hollybush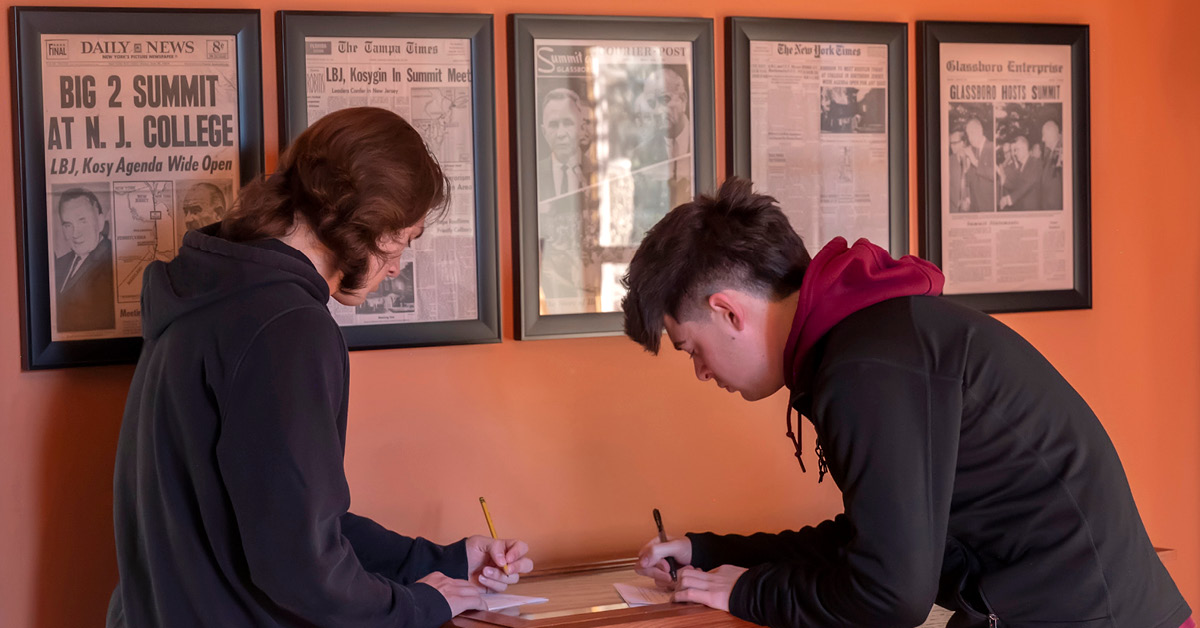 Students (from left) Andrew O'Dell and Ian Parker explore the library at Hollybush Mansion, site of the historic 1967 summit between President Lyndon B. Johnson and Soviet Premier Alexei Kosygin on Rowan University's campus. Their history class met at the mansion, giving students the chance to explore primary resources related to the summit...and to be in the same rooms where the leaders of the world's superpowers attempted to ease Cold War tensions.
Fifty-nine years to the day that Lyndon B. Johnson took the oath of office, Sara Clayton and her classmates sat at the same table in the same historic building where, in 1967, the nation's 36th president held important Cold War talks with Russian Premier Alexei Kosygin.
That that building—Hollybush Mansion—is on Rowan University's Glassboro campus is a source of pride for Clayton. Impressive to her, too, was having the opportunity to attend a class inside the mansion, site of the Summit at Hollybush.
But what really resonated with Clayton was that the summit was a peaceful discussion among the leaders of the world's two super powers at the height of the Cold War. Her primary source research demonstrated that to her, she said.
"Before this, I didn't know there were times during the Cold War when they were actually cordial," said Clayton, an elementary education and American Studies major from Ketchum, Idaho. "I feel like the summit was a step in the right direction to slowly ease tensions between the two countries. It wasn't always hostile."
 Glassboro Summit Collection
In preparation for the class, held the Tuesday during Thanksgiving Week, history adjunct Jonathan Wilson required his students in the "U.S. History Since 1865" course to research primary sources related to the summit.
With guidance from Michael Benson, coordinator of the Digital Scholarship Center at Rowan Libraries, students accessed photographs, documents, audio visual sources and other items housed in the Glassboro Summit Collection. Before attending class at the mansion, students wrote about three sources they accessed—an audiovisual source, a photograph and another item of their choosing.
Clayton listened to a taped phone conversation in which Johnson briefed former President Dwight D. Eisenhower on the summit talks.
"Hearing Johnson and Eisenhower actually talk…wow. You know of them, but when you hear them talk, you realize they were actual people. They seemed like they were homies," Clayton said.
Easing Cold War tensions
During their discussions, Johnson and Kosygin met for nearly 10 hours over two days in the library of Hollybush, the 19th century building that was the home of then-Glassboro State College President Thomas E. Robinson and his family. Their talks centered on their opposing views of the Arab-Israeli Six-Day War, as well as the nuclear arms race and escalating conflicts in Southeast Asia.
While Johnson and Kosygin signed no formal agreement, they acknowledged that the summit helped to ease Cold War tensions. The men met quietly and straightforwardly, engaging in "direct, face-to-face exchanges between leaders with heavy responsibilities," Johnson said at the time.
"It does help a lot to sit down and look a man in the eye all day long and try to reason with him…particularly if he is trying to reason with you. And that's why we went to Hollybush this morning. And reasoning together throughout the day was the spirit of Hollybush," Johnson said.
"We may have differences and difficulties ahead, but I think they will be lessened, not increased, by our new knowledge of each other," the president added.
Glassboro was chosen for the summit site because it was a halfway point between Washington D.C. and New York City, where Kosygin was addressing the United Nations. The institution and community had a scant 16 hours to prepare for the summit.
Johnson returned to Glassboro the following year to give the 1968 Commencement address. A plaque on Bunce Hall commemorates his address.
"The town of Glassboro—and this wonderful college campus—will always be associated with the goal of leaving this world a little more orderly than we found it," Johnson said at Commencement.
Layers of history
In class discussion and in their exploration of Hollybush's first floor, Wilson challenged his students, 21 in all, to think about the building's history—as both a summit location and as a key building for the Borough of Glassboro.
Students gathered in the same dining room where, more than five decades ago, Johnson and Kosygin dined on a crabmeat salad ring, broiled lamb chops, parsley potatoes and stuffed eggplant.
It was there that Johnson offered a toast. The United States and Russia, he said, had "a special responsibility placed upon our two countries because of our strength and our resources. This demands that the relations between our two countries be as reasonable and as constructive as we know how to make them. It is also our obligation that we make it possible for other countries to live in peace with each other if this can be done. And that is why today we have here discussed with you some questions affecting the peace of the entire human family of three billion people."
An Italianate villa, Hollybush is on the National and New Jersey Registers of Historic Places. The mansion was built in 1849 by Thomas Whitney of the Whitney Brothers Glassworks, the largest and most successful of South Jersey glass houses. The property stayed in the Whitney family until the early 1900s and became part of the college in 1923, the year the University was founded.
Over the years, it served as a women's dormitory and a presidential residence for four University presidents. Currently a venue for special University events, Hollybush is available for tours of the first floor by appointment.
"Try to imagine the different layers of history while you're here," Wilson told his students. "As Glassboro evolved, this building is what was at the heart of it. An event like the summit was special. What does being in this room make you think about?"
 Accessing primary sources 
Sophomore Radio/Television/Film major James Miller said he was impressed by the spirit of the summit talks.
"The summit itself was kind of peaceful. It seemed friendly," Miller said. "It's cool that we have physical history right here on campus. The president stood where I'm standing right now."
Wilson's goal in holding a class at Hollybush, which he began planning last summer and coordinated with the Office of University Events, was to impress upon his students the importance of accessing primary sources for their research. The Digital Scholarship Center is a valuable, accessible resource for students, scholars and community members, he noted. He encouraged his students to think about how the summit made an impact locally and globally.
"When we came together as a full class to compare notes, my students' responses suggested to me that this project did help them conceptualize the Cold War in new ways," Wilson said.
"Just as importantly, it brought home the larger fact that history is not some distant thing—that one's own backyard can be the focus of world events. I almost never get to do things quite like this…an on-campus event with global influence."