Great expectations: Rowan teams get set for winter sports seasons
Great expectations: Rowan teams get set for winter sports seasons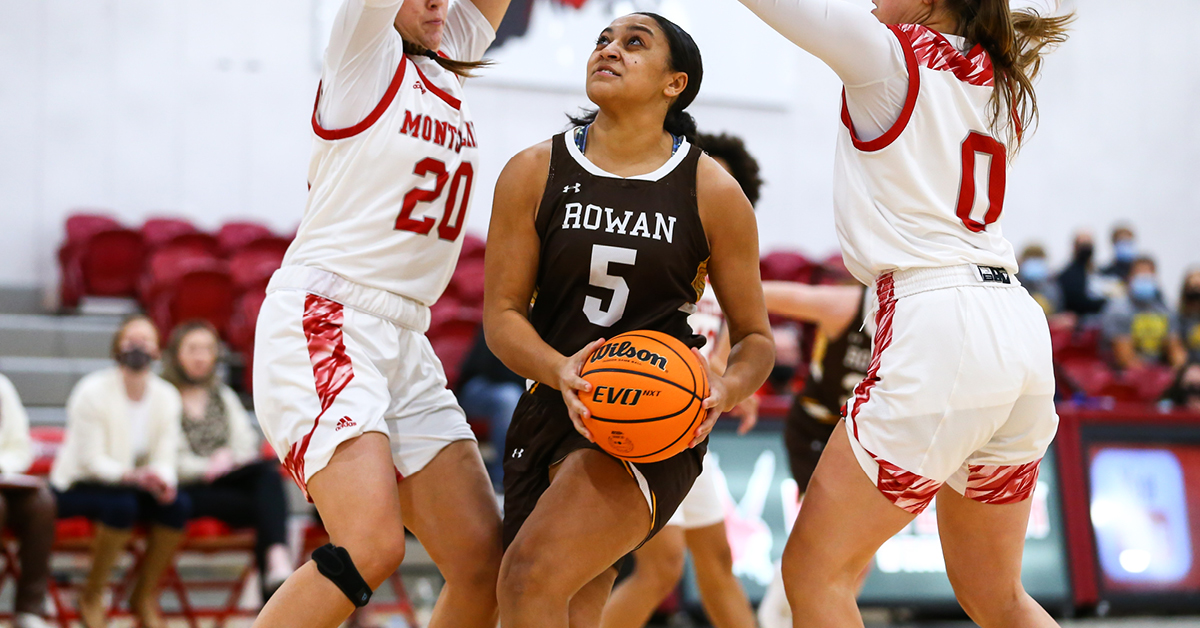 Senior guard Nicole Mallard, a psychology major and Rowan Scholar Athlete of Distinction, is expected to provide leadership for the Rowan women's basketball team this season. From basketball to indoor track to swimming and diving, the winter sports season is a time for big expectations for Rowan athletic teams.
The winter sports season is a time of excitement—and great expectations—as Rowan University athletics teams begin new campaigns.
Here's a team-by-team look at the Profs:
Coach Joe Crispin is brimming with excitement as his Profs gear up for the season.
A year ago, Rowan finished at 23-6, the team's best record under Crispin. The Profs ended the season with a loss to Susquehanna in the NCAA Division III tournament.
This year, the Profs have a solid squad that's looking to claim the New Jersey Athletic Conference title and go further into the NCAA tourney.
"I have high expectations for our team this season," says Crispin, now in his seventh season at the helm. "We return a lot of experience from last season and have a ton of motivation after failing to advance last year in the NCAA Tournament.
"Our group is motivated and has done a great job preparing for the season. We play a challenging schedule, so we have an opportunity to find out how good we can be this season. It should be fun."
Rowan will welcome back all-conference performers Marcellus Ross, a 6-3 guard, and Andrew Seager, a 6-7 forward. Rounding out the squad are forward Stretch Hawkins and guards Connor Dickerson, D'Andre Vilmar, Damian Smith, and Josh Wright.
Crispin expects solid contributions from Ja'zere Noel, Ahmad Bickley, Ryan Ems and Tim Myarick, all of whom are transfers this year.
The Profs hosted Swarthmore on Tuesday, Nov. 8, to open the season.
Last year, the Profs finished 17-9 with a semifinal loss in the NJAC tournament.
This year, Coach Demetrius Poles is looking to some strong leaders—and some talented transfers—to propel the Profs.
"We have a lot of size, mixed with speed, which makes us a dynamic group," says Poles, head coach of the Profs since the 2019-'20 season. "We are a work in progress thus far. Our season will depend on how far our returning players take us."
Seniors Grace Marshall (guard), Nicole Mallard (guard), and Eliana Santana (guard/forward), all of whom have NJAC Championship experience, return for the Profs, as do seniors Dakota Adams (guard/forward) and Ayanna Johnson (forward). Johnson led the nation in blocked shots and defensive rebounding two years ago.
Poles expects immediate contributions from transfers Danielle McCurdy and Shayla Johnson.
The Profs opened their season on Friday, Nov. 11, against Springfield in the Amherst Tip-Off Tournament.
Coach Brad Bowser's squad has won five of the last six NJAC titles. In preseason rankings, the Profs were ranked 17th nationally and third in the northeast-south region by the College Swimming & Diving Coaches Association of America.
Additionally, the team was selected second in the NJAC Men's Swimming & Diving Preseason Coaches Poll.
With the graduation of All-American Kevin Gillooly, national champion in the 50 freestyle, the team will look to a solid group of experienced upperclassmen to make another NJAC title run.
All-conference swimmer Alex Volin, who was All-America in the 400 freestyle a year ago, returns as do Tobias Cahnbley, who earned the NJAC title in the 500 freestyle and earned all-conference honors in three events; Kevin Yanagisawa, who won the conference title in the 200 butterfly; and Joe Rucci, who picked up three all-conference honors last year.
The squad began the season on Oct. 22.
Reigning NJAC champions, the women's swim team was predicted to repeat as conference champions in a preseason poll of conference coaches. Additionally, the Profs were ranked eighth in preseason regional rankings by the College Swimming & Diving Coaches Association of America.
Coach Elise Fisher returns a solid group from the NJAC Championship team, including a handful of all-conference honorees. The Profs are led by senior Jordan McChesney and sophomore Bella Stefanowicz, both of whom formerly won NJAC Rookie of the Year.
Last year, McChesney picked up seven all-conference honors, including first team All-NJAC honors in the 100 freestyle and 800 free relay. Stefanowicz earned five all-conference honors last season, including a first team nod in the 100 breaststroke.
The Profs expect big seasons from two sophomores. They include: Emma Padros, who won the NJAC title in the 1650 freestyle and was an all-conference honoree in the 200 backstroke; and Natalina Baldinazzo, who placed in the top six of the NJAC in the 200 and 400 individual medleys and in the 200 breaststroke.
Rowan opened competition on Oct. 22 against New York University.
Women's indoor track and field
Coach Derick "Ringo" Adamson will look to key returnees with experience to lead the Profs this season.
Sophomore Molly Lodge was on the winning 4x400 meter NJAC indoor relay team and also placed second in the 60-meter dash, fourth in the 200 meters and sixth in the 60-meter hurdles.
Meanwhile, sophomore sprinter Nevaeh Lorjuste, who Adamson says is one of the best returning 400-meter runners in the NJAC, returns for the Profs along with sophomore distance runner Anna Sasse. Sasse is coming off solid cross country and outdoor spring track seasons, according to Adamson.
Newcomers of note include: transfer Emily Galvin, who placed fifth in the Big East Championship competing in the hammer for Villanova last spring; freshman throwers Comfort Adesina and Alexa Bey, both of whom were state qualifiers last year; freshman Abby Churchill, who placed fourth in the steeplechase in the Adidas National High School Championship last year; and freshman Gabriella Pagano, a middle distance/distance runner who set personal records while competing in cross country in the fall.
The Profs open their season in December.
Five NCAA Division III champions and a host of All-Americans return from last year's squad for Coach Dustin Dimit.
The Profs are seeking to capture their eighth straight NJAC championship and to vie for NCAA and All-Atlantic Region Track and Field Conference titles.
"We are very excited as we return all of our NCAA qualifiers from last year's indoor season," says Dimit. "Having so many returning All Americans and NCAA champions has the team's goals for the season focused on winning NJAC, AARTFC and NCAA championships."
NCAA champions returning for the Profs include juniors Marquise Young and Jah'mere Beasley and sophomores Nana Agyemang and Amara Conte, who won the 4x400 last year. All four earned All-America status last year, as did junior Charlie Serrano (mid-distance) and senior Ahmir Johnson (triple jump).
Additionally, junior hurdles/mid-distance competitors Jake Kolodziej and Joe DeVito, both of whom were All-Americans in 2020, will contribute for the Profs.
Coming off terrific outdoor seasons in the spring and expecting to make contributions will be John Owens and Treshan Stevenson, while a promising class of freshmen and transfers includes Evan Corcoran, Kwaku Asante Nkrumah, Anais Hughes, Josh Caudill and Ola Porbeni.
Dimit's squad opens competition in December.