With outreach and education, New Jersey's family leave program can assist even more workers, study finds
With outreach and education, New Jersey's family leave program can assist even more workers, study finds
In a nation where paid family leave with job protection is not universal, New Jersey leads the way in offering benefits to workers who must miss work to care for a loved one, to welcome a new baby or to recover from an incident of domestic violence.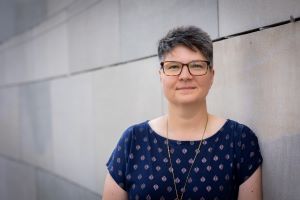 But more needs to be done to educate workers, particularly those in low-wage hourly jobs, about the Family Leave Insurance (FLI) Program, according to Elaine Zundl (at right), a lecturer in political science and economics at Rowan University.
In a study by The Shift Project at Harvard University's Malcom Wiener Center for Social Policy, researchers surveyed 1,185 New Jersey service sector workers last fall. Zundl, who joined Rowan this fall, was the research project manager at The Shift Project for the study at Harvard's Kennedy School. The research was funded by the Robert Wood Johnson Foundation.
Researchers found that while New Jersey's FLI Program replaces workers' wages up to 85 percent of their salary at an amount capped at $993 per week, utilization of the program is uneven and unequal.
According to survey data, 32 percent—nearly one third—of workers experienced a qualifying leave event covered by FLI in the past year. But only a little over half of those workers who needed and wanted leave utilized the program, according to Zundl.
Retail, food service, hospitality
Workers most affected by the lack of paid access to leave include hourly service sector employees, such as those working in retail, food service and hospitality.
The study showed that a large majority of workers—94 percent—who had a New Jersey paid leave event didn't take the leave or enough leave that they needed. Additionally, about a quarter of workers—26 percent—wanted to take leave, but could not, according to the study.
The major impediments to accessing FLI leave included lack of knowledge of the program, confusion about applying, financial hardship and fear of losing a job by missing work, according to the researchers.
"Lack of awareness and confusion around eligibility appear to be the major barriers," says Zundl.
Additionally, says Zundl, "financially fragile low-wage workers often need more income than the FLI program provides."
The program pays 85 percent of base wages, but reduced pay can exacerbate a family's economic instability, she notes.
"Nearly half of workers who used FLI—51 percent—reported that they would have taken more leave but could not afford it."
Fear of retaliation
Among those who used FLI, many respondents in the study said they returned to work sooner than planned because they feared losing their job (40 percent) or felt pressure from their employer or coworkers (26 percent and 38 percent respectively), according to Zundl.
The study's findings "suggest that FLI is a lifeline for financially fragile households, but more could be done to ensure economically vulnerable workers have adequate wage replacement while on leave."
"The fear of retaliation is particularly salient for hourly workers in a sector characterized by high turnover and managers who can control much of workers' jobs," the study notes. "Managers can punish workers who take leave by assigning them poor shifts or cutting their hours."
Overall, according to Zundl, most workers were unware of the FLI program and others had difficulty with the application, an indication that greater education and outreach efforts are needed. Most workers look to their employer for information about leave and job protection, so outreach to employers would also benefit workers, Zundl notes
Moreover, while workers generally are aware about leaves for the birth or adoption of a child, fewer realize they can take paid leave to be caregivers for a loved one with a severe illness, the study notes.
More than a quality of life issue
Hourly service sector workers, who provided essential services throughout the pandemic, fulfill jobs with unpredictable schedules, low wages, high turnover and few employer-provided benefits, according to Zundl. Without supports for them, their job conditions contribute to economic insecurity and poor health outcomes for both workers and their children, studies show.
Even with the challenges of FLI, which was passed in 2009 and expanded in 2020, New Jersey is ahead of the nation in providing paid family leave, according to Zundl.
"While the U.S. is one of only a few industrialized countries that does not offer paid leave with job protection to its citizens, New Jersey has been at the vanguard of providing this valuable benefit so that workers can afford to take off the time they need," Zundl says.
Research demonstrates, she adds, "that access to leave, especially paid leave, is much more than a quality of life issue.
"Paid leave programs bestow gains in economic security, health, and well-being to the workers who successfully access their benefits."
Zundl, who is the coordinator of the Master of Public Policy Program in Rowan's College of Humanities & Social Sciences, collaborated on the study with Shift Project co-directors Daniel Schneider, professor of public policy and of sociology at Harvard, and Kristen Harknett, professor of sociology at the University of California, San Francisco.