Rowan inventors receive Edison Patent Award for chronic back pain treatment
Rowan inventors receive Edison Patent Award for chronic back pain treatment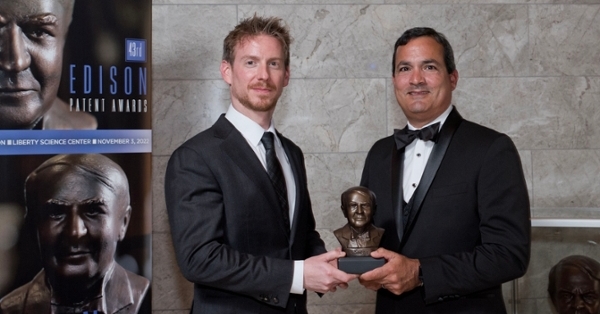 Dr. Erik Brewer (left) and Dr. Anthony Lowman receive the 2022 Edison Patent Award in Biomaterials at the R&D Council of New Jersey's annual award ceremony.
Two Rowan University inventors recently received the Research & Development Council of New Jersey's 2022 Edison Patent Award in Biomaterials for devising a new, minimally invasive treatment for chronic back pain. 
Anthony Lowman, Ph.D., provost and senior vice president for Academic Affairs, and Erik Brewer, Ph.D., a senior lecturer in the Henry M. Rowan College of Engineering, won the prestigious award for their U.S. patent, "Cross-Linked Hydrogels and Methods of Making the Same." In recent clinical trials, patients reported their chronic pain levels decreased by more than 80% at three months. 
The Edison Patent Award recognizes exceptional inventors and researchers across the state. R&D Council researchers selected nominated patents in 14 categories "based on the significance of the problem addressed, its utility/socioeconomic value, novelty and commercial impact." The 2022 winners were honored during the 43rd annual Edison Patent Award ceremony on Nov. 3 at Liberty Science Center in Jersey City.
"We are incredibly honored for our work to be recognized by an Edison Patent Award," said Lowman. "Developing this technology has been a journey, and seeing the success of clinical trials to date encourages us to move forward knowing we can make a difference in people's lives."
The Rowan researchers' patent relates to using hydrogels and their safe injection into patients for repairing and supplementing the soft, central portion of a spinal disc to treat degenerative disc disease and lower back pain. Lowman and Brewer are part of a team of academic researchers and medical industry executives leading ReGelTec, Inc., a medical device company founded in 2016. 
Using this patented technology, ReGelTec, Inc., developed HYDRAFIL™, a hydrogel that is heated and injected into a disc using a fine gauge needle during a minimally-invasive outpatient procedure. Spinal discs have a soft inner core and a rigid outer wall, allowing them to act as shock absorbers between the spine's vertebrae. With age, discs start to dehydrate and break down due to the stress of everyday movements. The injected hydrogel pumps the disc back up and fills in cracks and tears to help restore natural biomechanical properties while preserving spinal motion and relieving pain. 
Lowman's research of polymers before his tenure at Rowan led to the development of the hydrogel. Brewer formulated and designed the final product and device in the company's facilities at the South Jersey Technology Park of Rowan University. 
ReGelTec, Inc., is one of several enterprising startups that has received funding from the Rowan Innovation Venture Fund, which launched in 2014 to support visionary ideas from within and outside the Rowan community. 
In 2020, ReGelTec, Inc. received breakthrough device designation for its HYDRAFIL™ technology from the Center for Devices and Radiological Health of the Food and Drug Administration (FDA). The FDA program accelerates patient access to treatment technologies and provides ReGelTec, Inc., with priority review of device development and clinical trial protocols. 
"HYDRAFIL™is a powerful example of biomedical research being successfully patented and developed into an application with real-world value," said Dr. Yatin Karpe, director of the Office of Technology Commercialization (OTC) and Rowan Innovations at Rowan University. "We are so proud of Drs. Lowman and Brewer. The recognition of their invention and the success of ReGelTec demonstrate the ingenuity of Rowan's research and the importance of the idea-to-market support the Rowan Innovation Venture Fund and Rowan's Office of Technology Commercialization provide to the community."