Chemical engineering professor receives national early career award
Chemical engineering professor receives national early career award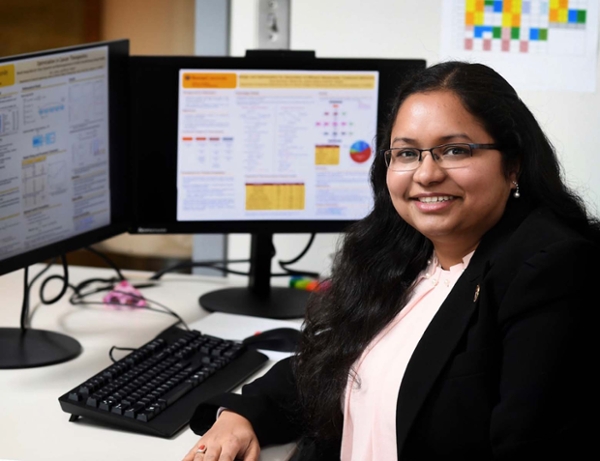 Dr. Kirti Yenkie, Department of Chemical Engineering
Dr. Kirti M. Yenkie, an assistant professor in the Department of Chemical Engineering in the Henry M. Rowan College of Engineering, is the recipient of the 2022 Environmental Division Early Career Award of the American Institute of Chemical Engineers (AIChE). The award honors professionals with fewer than 12 years of service who have made outstanding contributions to the field of environmental chemical engineering. Yenkie received the award at the Environmental Division Awards and Honors Session at the 2022 AIChE Annual Meeting in Phoenix, Arizona, held from November 13 to 18.
"Rowan is one of the fastest-growing universities and having recognition from these well-known professional organizations, such as the American Institute of Chemical Engineers, puts us in the list of top-performing universities," Yenkie said. "That was the most important validation."
Yenkie joined Rowan in 2017 and has dedicated her research to process systems engineering principles in the areas of environmental sustainability and health care. Using mathematical modeling and forecasting, Yenkie and her collaborators are able to answer difficult questions in regard to topics like wastewater treatment, waste management and cancer diagnostics.
"Since joining Rowan University, Dr. Yenkie has built an impressive research and professional career," said Dr. Giuseppe R. Palmese, dean of the Henry M. Rowan College of Engineering. "She has made important research contributions as an individual and through her collaborations with Rowan faculty and external academic, federal and industry partners. She is also an award-winning educator and mentor who is passionate about engaging undergraduate students in research. We are exceedingly proud of Dr. Yenkie and her accomplishments."
Recently, Yenkie was awarded a grant from the U.S. Environmental Protection Agency to determine still-unknown properties of novel chemicals to evaluate whether they are safer and more eco-friendly substitutes for commonly used chemicals. The $315,000 funding is one of the first pollution-prevention grants awarded under the Bipartisan Infrastructure Law. 
"Dr. Yenkie and her team's research and outreach in the area of environment and sustainability are important for the growth and future of our department and the chemical engineering profession at large," said Dr. Ken Lau, head of Rowan's Department of Chemical Engineering, "and so we are very happy that she has been recognized for her efforts."
At the AIChE Annual Meeting, Yenkie will present her findings on solvent waste. She will speak about the Solvent Recovery Framework, a cost-effective methodology for reducing harmful emissions into the environment. 
"This project is complete, so I thought presenting this as a talk and showing how this project has enhanced the overall training for our graduate and undergraduate students—as well as its multiple aspects of mathematical modeling, programming, cost and sustainability assessment, as well as a user-friendly software tool—would demonstrate our capabilities to solve a real-world and pressing environmental problem," Yenkie said.
Yenkie is an active member of AIChE and serves as director of the AIChE-Environmental Division, secretary of the AIChE-Sustainable Engineering Forum, and Academic Subcommittee member of the AIChE-Delaware Valley Section.