Service. Science. Supper. With 20,000 pounds donated, West Campus Farm nourishes the community
Service. Science. Supper. With 20,000 pounds donated, West Campus Farm nourishes the community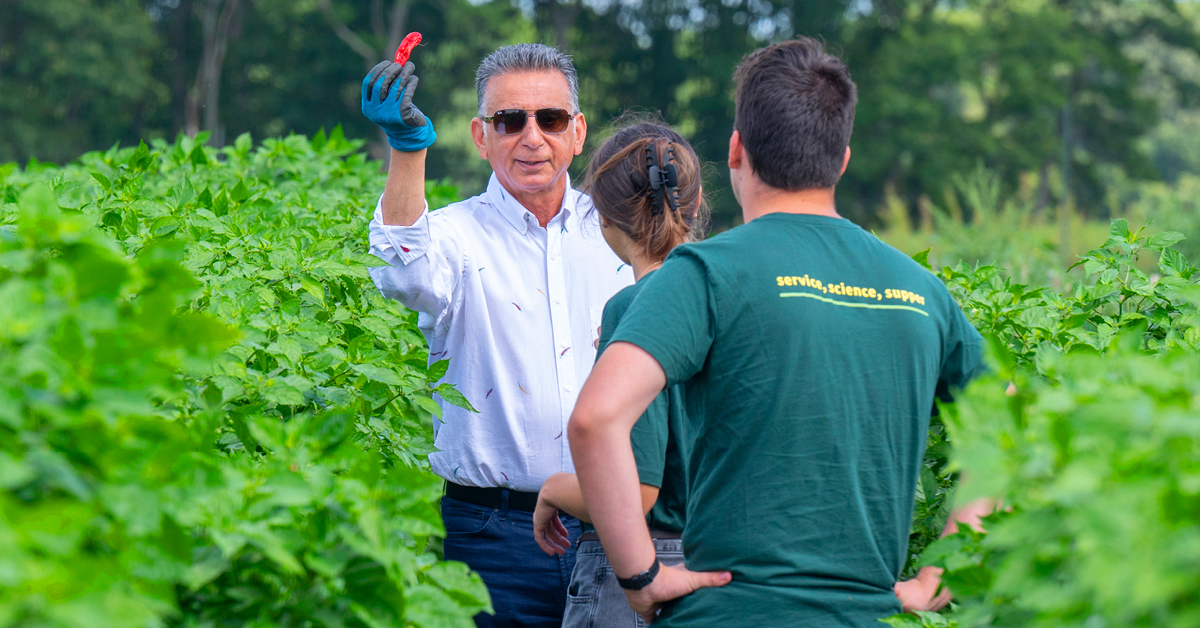 Rowan President Ali A. Houshmand shows students (from left) Rebecca Green and Zayne Pino a freshly picked pepper from the West Campus Farm.
Brendan Bermingham thinks of the peppers, cucumbers, squash, eggplant, tomatoes and melons as his children.
Really.
"I have almost too much pride," laughs Bermingham, a junior geographic information systems and environmental and sustainability studies major at Rowan University.
"It gives me great joy to put them in someone's trunk and to tell them, 'We just picked this an hour ago.' It's just an indescribable feeling."
Bermingham is one of eight students who plant, grow and pick crops at Rowan's West Campus Farm.
Working alongside Rowan President Ali A. Houshmand—"He's unstoppable," Bermingham says—the farm has donated nearly 20,000 pounds of produce to community groups this year. Among them: Philabundance's Fresh for All Program; the Pitman Food Pantry; the Boys & Girls Clubs of Gloucester County; and The SHOP, Rowan's resource center for students.
The farm was Houshmand's idea, a pride point for a president who, in a decade as the University's leader, boasts a stellar list of accomplishments.
"This is the greatest thing I can do," says Houshmand, who grew up poor in Iran, one of 10 children. "I honestly believe farmers are the greatest human beings."
Students who work on the farm hand deliver the produce to community groups. During the week, they work side by side Houshmand learning about farming…and so much more, says Bermingham.
Houshmand is at the farm daily. Students work three days a week, tending to the crops. James Rambo, a fourth-generation farmer from Glassboro, also contributes to the effort, lending expertise and technical skills.
"Throughout the summer, they brought a lot of produce…tomatoes, squash, cantaloupe, cucumbers, watermelon," says Antoine Sabb, center director of the Boys & Girls Clubs of Glassboro. "I was totally blown away by it. And they boxed it up for us weekly."
According to Sabb, before the West Campus Farm donations, the club had not given fresh fruits or vegetables to the 65 families it serves.
Team effort
The West Campus Farm also supplies the peppers used to create Houshmand's Hazardous Hot Sauce. All proceeds from sales of the hot sauce, made from the president's recipe, support Rowan students in need. Since its launch five years ago, millions in sales and support have gone to the Rowan University Student Emergency Fund.
Students help make the hot sauce, bottle it, and sell it at community events.
"The most important thing I've learned is the ability to work together as a team," says Bermingham, the West Campus Farm Team Lead who aspires to work as a conservation scientist for the Pinelands Commission. "If you can break a sweat together, you're bonded."
Freshman history major Zayne Pino can attest to that. He joined the farm team in July, intrigued by the opportunity to see the fruits of his efforts.
"The tomatoes are challenging. They're so heavy and they can squish when you put them in a box. But they are tasty.
"It's interesting to be the one growing everything…to see how it's all grown," continues Pino, who would like to become a history professor. "Most of human civilization was built upon agriculture."
Fueling the curriculum
Beyond the farm, Rowan is moving to make food systems part of the University curriculum. A certificate of graduate studies in food systems planning already is offered in the Department of Geography, Planning and Sustainability in the School of Earth & Environment.
A bachelor's degree program in Regenerative Food Systems also is on the horizon. The program, which, pending approvals, is expected to launch next fall, will focus on innovation, equity and sustainability practices for growing, processing and distributing responsibly produced, nutrient-dense food.
"We live in the Garden State," Houshmand says. "We need to find ways where we can teach a new generation about modern agriculture. Rowan has a responsibility to do that."