With pins and a pledge, education majors commit to teaching
With pins and a pledge, education majors commit to teaching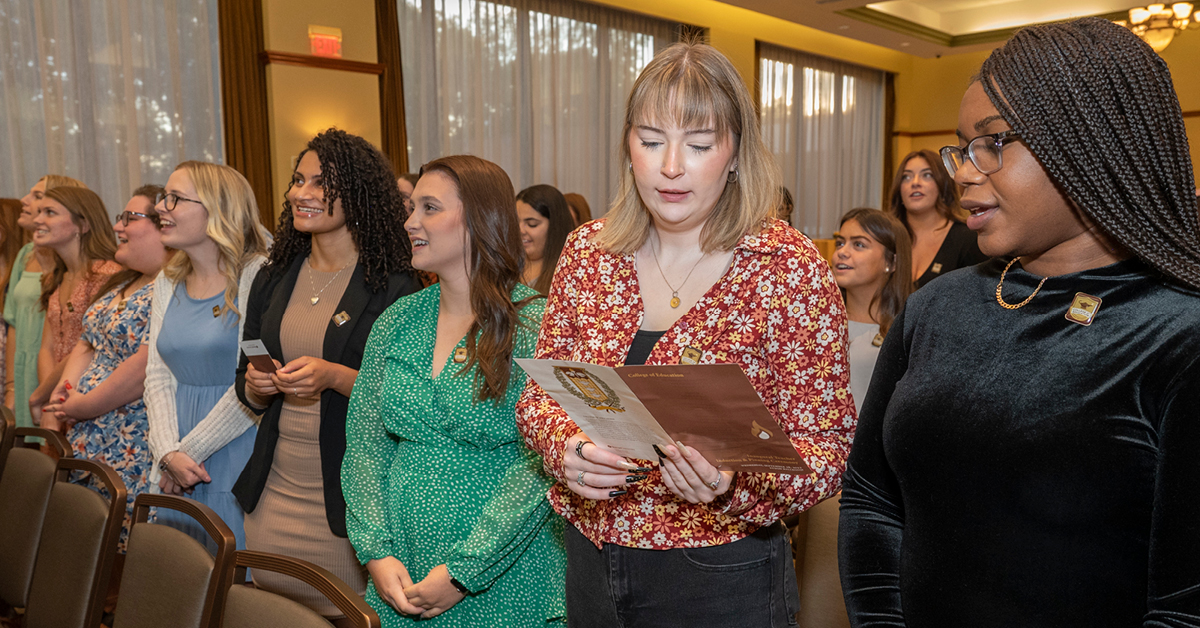 Undergraduate education majors join together to recite an affirmation committing themselves to the field of teaching during the first-ever Induction and Pinning Ceremony, presented by Rowan's College of Education.
Savannah O'Connor recited the words with reverence and conviction.
"I commit myself," she said, "to the advancement of my own learning and to cultivate my own character, for I know I must model in my own life what I promote to others."
Then it hit her.
"I thought, 'Oh my gosh. This is real.' That line about furthering my education…I know I'm going to be learning from my students every single day," O'Connor said.
A junior elementary and inclusive education major, O'Connor was among 100 education majors who were lauded—and applauded—at the first-ever Teacher Induction and Pinning Ceremony, presented by Rowan University's College of Education.
During the event, led by Dean Gaëtane Jean-Marie, future teachers who have successfully reached the midpoint of their studies were welcomed into the teaching profession. Each aspiring teacher proceeded across the stage to receive a special College of Education pin from Jean-Marie. After pinning themselves, the students, in unison, recited an affirmation dedicating themselves to the teaching profession.
Words of affirmation
With big—and sometimes nervous—smiles, the students, led by Language, Literacy and Sociocultural Education Professor Valarie Lee, recited the following:
"Today I begin the process of becoming an educator.  I take the first step into this profession, laying a foundation for succeeding generations to build their lives. 
"I dedicate myself to the advancement of learning, giving our successors both the vision and power to build well.  I dedicate myself to the cultivation of character, providing the opportunity to flourish with courage, compassion, honesty and trust. 
"I commit myself to the advancement of my own learning, and to cultivate my own character, for I know I must model in my own life what I promote to others. 
"In the presence of this gathering, I dedicate and commit myself."
"I felt like this was a really big boost to my teaching career," said O'Connor. "The message to us was, 'You can do it. You are moving forward. Rowan is proud of you and is here to support you.' It made me feel happy about my dream of becoming a teacher."
Commitment to professionalism
To be eligible to join the ceremony, students must have completed important transition points toward becoming teachers. That includes passing Praxis Core, a state basic skills assessment, and maintaining a 3.0 grade point average. Altogether, than 300 College of Education students have reached those benchmarks this year.
"Your hard work to attain this goal is a symbol of your continued commitment to the high level of professionalism that characterizes the successful teacher," said Jean-Marie, who was joined on the stage by Provost Tony Lowman, College of Education faculty members, deans from various colleges at Rowan and the University's community college partners, and Glassboro Superintendent of Schools Mark Silverstein, who gave the keynote address.
"I know that many of your teachers inspired you to pursue this profession and many more will serve as your mentors and guides throughout our program," Jean-Marie added.
National statistics outlined by Education Week, a national publication focusing on K-12 education, estimate that there are more than 36,500 teacher vacancies in the nation. The teaching field has been much maligned, particularly in the wake of COVID-19, Silverstein said in his message.
"Education in this country, unfortunately, is under attack," said Silverstein. But, he added, "There is no greater calling" than teaching.
"Your success will not be determined by the salary you earn, but by the lives you touch," he continued. "You don't need to be a CEO or a president to change the world. In teaching, you do that one child at a time."
'A real step forward'
Lowman congratulated the future teachers for their perseverance and dedication. Celebrating the occasion, all platform guests were clad in academic regalia.
"I applaud you for your courage to join this field," Lowman said. "You're halfway there. We're excited for you. And we certainly are very proud of you."
Junior health and physical education major Emilano Andujar said he could feel that.
"It does feel like an accomplishment," said Andujar, who was inspired to enter teaching by a middle school teacher. "It felt like a real step forward."
A first-generation college student and the first in his family to pursue teaching, Andujar was supported—and cheered—by his mom, Lisa Marie Olsen.
"I recorded the ceremony so that I could soak it in," Olsen beamed. "He's paving his own way."
It took a while for early childhood education major Brielle Ciancaglini, 32, to figure out her path. She worked in the medical field for five years before realizing teaching is for her, she said.
"You want to wake up and love your job," said Ciancaglini, who wants to teach kindergarten. "Today was a little boost of confidence for me."
Currently, more than 1,650 students are pursuing their undergraduate degrees in Rowan's College of Education. The college, Rowan's oldest, boasts more than 41,000 alumni.