Rowan, Virtua host first brainstorming session for scientists and physicians
Rowan, Virtua host first brainstorming session for scientists and physicians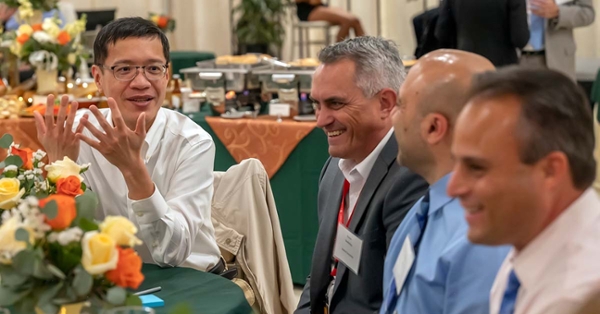 Virtua Health cardiologists, surgeons, transplant specialists and other physicians met with biomedical engineers and scientists at an evening gathering hosted by Rowan University on Tuesday, Sept. 27, at its Stratford campus. 
The event offered the first networking opportunity for the new School of Translational Biomedical Engineering & Sciences, part of the Virtua Health College of Medicine & Life Sciences of Rowan University. 
Nearly 100 people attended to discuss collaborative research possibilities for the new medical college and the first steps toward distinguishing South Jersey as a regional hub for innovation, research and clinical discovery. Their discussion centered on projects related to cardiovascular medicine, transplantation and regenerative medicine, and health equity.
The partnership has led to an $85 million gift from Virtua Health and a $125 million commitment from Rowan University to establish the new college and its initiatives. The new school plans to hire 50 new faculty researchers within the next decade, and build a research center on Rowan's West Campus in Harrison Township.  
The Rowan Foundation recently expanded $25 million Venture Fund will also provide researchers an opportunity to commercialize their new discoveries.
Virtua Health's investment "is going to do for this college what Henry Rowan did for Rowan University," said Rowan University Provost Tony Lowman. "We're building an academic health partnership to educate and train tomorrow's doctors, nurses and health care professionals—one that will quickly become a leading source of innovation and clinical discovery." 
"Cross-discipline collaboration is one of the core principles guiding Virtua Health's academic affiliation with Rowan University," said Dr. Reg Blaber, executive vice president and chief clinical officer for Virtua Health. "We stand to learn and gain so much from one another, and that will ultimately translate to enhanced care and improved experiences for the communities that we serve."