Neurodiversity Center open house celebrates first year of operations
Neurodiversity Center open house celebrates first year of operations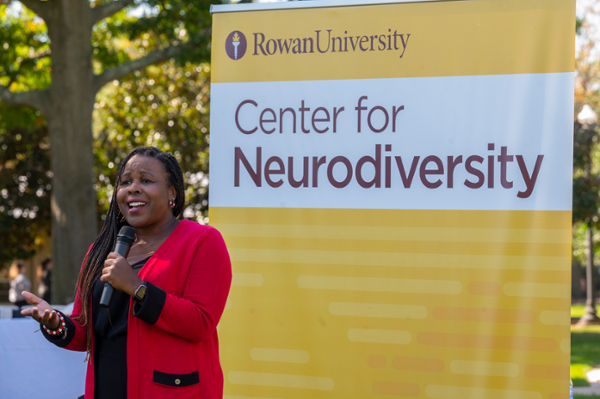 Dr. Monika Williams Shealey welcomes guests to the Neurodiversity Center.
Rowan University's Center for Neurodiversity celebrated its first year of operations Oct. 7 with an open house in Laurel Hall, tours of the facility and information about services that students, faculty and staff can find there.
The center, in Laurel 111-120, opened last October with a wide range of services for people who often have one or more neurological conditions like Attention-Deficit/Hyperactivity Disorder, Obsessive-Compulsive Disorder, Dyslexia or Autism Spectrum Disorder.
Experts say such conditions are simply differences in how the human brain works, not disabilities.
Built under the umbrella of Rowan's Division of Diversity, Equity and Inclusion (DEI), the Center for Neurodiversity provides programming, events and professional development through a strengths-based lens with a focus on education and social justice.
"When we think about diversity we often think about traditional markers, but ever since our division founded in 2019 we've also focused on invisible diversity," said Dr. Monika Williams Shealey, senior vice president for DEI. "This facility focuses on research, education and programming and serves as a cultural center."
Ultimately, she said, the center was founded as one more way Rowan seeks to be inclusive.
"Simply put, this center allows you to be you," she said.
Rowan President Ali Houshmand last year said the center's goal, along with all of the programming created to complement it, is to support neurodiverse students in college and ready them for careers after they graduate.
Speaking during the open house, Provost Tony Lowman said the Neurodiversity Center and its associated programs have come a long way in fulfilling Houshmand's goal.
"We're supporting students and preparing them for success," Lowman said.
The center is a central hub featuring programming and support, a climate-controlled sensory-friendly room for study and relaxation, educational materials, a conference room and staff offices.
Led by Dr. Amy Accardo in its first year, the Center for 2022-23 is led by co-directors John Woodruff and Chiara Latimer.
Woodruff said more than 170 Rowan students identify on the autism spectrum and those students, plus many more, will benefit from the Center's offerings. They include a student Neurodiversity Club as well as a neurodiversity affinity group for faculty and staff who wish to support neurodiverse students.
Sevan Fuscellaro, a senior biology major from Washington Township who identifies as autistic, said the Neurodiversity Center, with its support, programs and quiet space, is something of an oasis on a busy campus.
"It's quiet and not overwhelming," she said. "It's reassuring that it's here."