MBA with a focus in Combat Systems Engineering—a career boost for engineering managers
MBA with a focus in Combat Systems Engineering—a career boost for engineering managers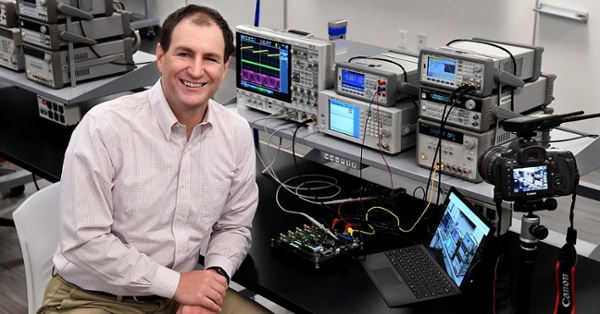 The program's courses are quite popular, says Dr. Robi Polikar, head of the Department of Electrical & Computer Engineering.
College graduates interested in expanding their career opportunities in the defense industry can earn a unique Combat Systems Engineering Certificate of Graduate Study available through the Henry M. Rowan College of Engineering and—for the first time—the Rohrer College of Business.
Beginning this fall, students interested in earning a Master of Business Administration can use the Combat Systems Engineering certificate program to satisfy elective credits in Rowan University's MBA curriculum. Exclusively licensed from Lockheed Martin, the certificate program's advanced courses are taught by highly qualified faculty and experienced defense industry experts through Rowan's Department of Electrical & Computer Engineering. 
"This option would be especially of interest to program managers who are responsible for day-to-day operations, such as the development and fielding of a new combat system," said Jennifer Maden, assistant dean and director of graduate studies for the Rohrer College of Business. "They often are engineers who decided to leave the development side and work more on the operations side. Most have extensive engineering backgrounds, but would pursue an MBA versus a master's in engineering as they are now managing a product instead of developing one."
The program's courses have been quite popular over the last few years, said Dr. Robi Polikar, professor and head of the Department of Electrical & Computer Engineering. 
"Anyone working in the area of engineering and management in the global security and aerospace industry will benefit from this tailor-made program," Polikar said. "Now, our students can stack this valuable certificate toward an MBA or a Master of Science in engineering, giving them more flexibility as they seek to advance their careers."
While Lockheed Martin invites all qualified prospective students to pair the Combat Systems Engineering certificate with the MBA program, it has carved out especially appealing options for its employees. Through its partnership with Rowan University, which includes a streamlined application process and a robust tuition assistance program, Lockheed Martin encourages its employees to continue their education and build their professional skills, noted Robert C. Regensburger, project principal of Lockheed Martin Rotary and Mission Systems.  
"This exclusive set of graduate business program offerings is an exciting next step for our long-standing partnership with Rowan University," Regensburger said. "Our employees now have a unique opportunity to combine Rowan University's accredited MBA program with the Combat Systems Engineering Certificate program that Lockheed Martin itself developed."   
For detailed information, visit go.rowan.edu/combatsystems