Dancing on home: With ribbon cutting and performances, new dance studios open in Wilson Hall
Dancing on home: With ribbon cutting and performances, new dance studios open in Wilson Hall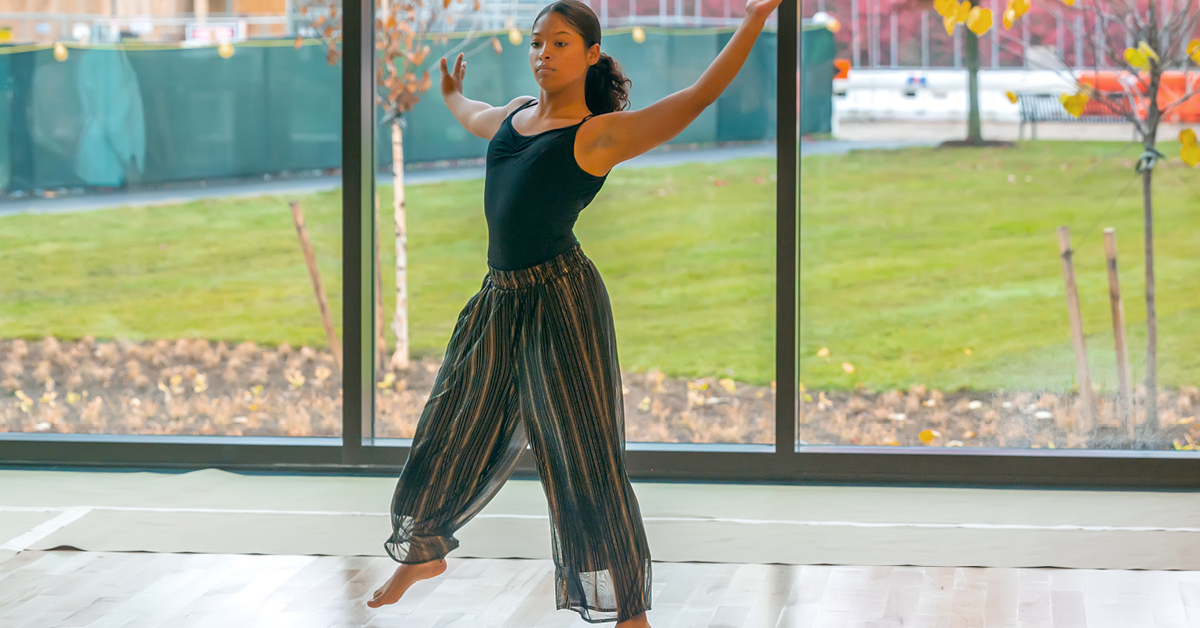 Junior dance major Amanda Drayton performs a solo in the new studio.
First steps are always an important milestone.
This week, Rowan University officials, design and construction partners and special guests joined the College of Performing arts community to celebrate opening of new dance studios in Wilson Hall with a ceremonial ribbon cutting.
"Our dance program will be transformed. We now have spaces that not only match the caliber of our wonderful faculty, but will inspire our great students," said College of Performing Arts Dean Rick Dammers. "These studios are proof that these aspirations and institutional commitment extend to all corners of the campus."
The new addition centralizes the dance program in the College of Performing Arts' main academic building for the first time in the program's 53-year history. From its inception, Rowan hosted its dance students and faculty in Memorial Hall, across campus in a renovated dining hall at then-Glassboro State College.
"Rowan University cares for arts, culture, humanities, and social sciences," said Dr. Ali Houshmand, Rowan University President. Houshmand remarked the studios symbolize the strength, persistence, intelligence and class of the College of Performing Arts at Rowan. 
The 7,500 square-foot addition features two dance studios, faculty offices and student spaces, allowing the dance program to continue its growth and fulfill accreditation standards from the National Association of Schools of Dance. The project was forged through the tireless efforts of Rowan's facilities team, Ogren Construction and design partner FIFTEEN Architecture in what Dammers called "a master class in teamwork and professionalism."
Following the ceremony, Rowan Dance students performed their first steps in the new studios. Led by Turner, junior dance majors Amanda Drayton and Gregory Williams shared solos with guests. Both students and several of their classmates looked up in awe at the two-story ceilings and shiny new floors, eager to wear them in with their dancing shoes.
 The program's milestone celebration continues through the weekend as the College hosts the inaugural Rowan Dance Festival, a three-day program of master classes and receptions to celebrate the past, present and future of dance at Rowan. The Gala Performance on Saturday, October 29 will feature performances from alumni-affiliated studios, Rowan's Dance Extensions, as well as a special performance from the legendary Urban Bush Women, culminating in a dance party for all guests.
Rowan's Dance program serves more than 300 students each semester and boasts more than 250 alumni.
 "The dance that will be brought forth from these studios will have transformative effects for decades to come in a world that, quite frankly, needs all the dance, music and theatre it can get," Dammers said.