With fanfare and traditions, largest class ever joins Rowan
With fanfare and traditions, largest class ever joins Rowan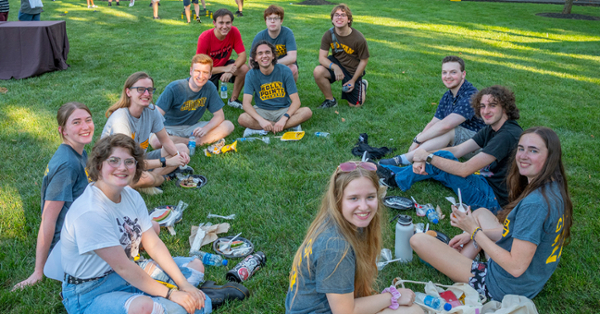 A picnic, a presidential welcome, plenty of proud parents and tons of Rowan pride.
That was the scene Sept. 2-4 as Rowan University welcomed students back to campus for the 2022-23 school year.
Arriving amid Dr. Ali Houshmand's 10th year as president, the class of approximately 2,760 students is the University's largest first-year cohort.
Also arriving for the 2022-23 academic year are an estimated 2,000 transfer and international students including attendees from 22 states and 14 countries (with the furthest, from the Philippines, travelling 8,559 miles).
Always one of the most joyous weekends of the year, students came to campus at a pivotal point in the University's history.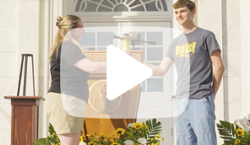 In just the past year, the Chronicle of Higher Education named Rowan the third fastest growing public research university in America; Rowan entered into a dynamic and transformational partnership with Virtua Health, South Jersey's largest healthcare provider, to expand education and research through the Virtua Health College of Medicine & Life Sciences of Rowan University; and the University announced plans to create the School of Veterinary Medicine, the first in New Jersey.
"Two other firsts occurred this year," Houshmand said of the incoming class. "With more than 20,000 applicants, we had the most ever apply, and, with 2,700 students beginning this fall, it's our largest first-year class ever."
Houshmand noted that "more than ever, families are closely evaluating quality and affordability. The pandemic and the nation's subsequent economic downturn led to more families looking in-state rather than attending school out-of-state. People are excited by the incredible transformation we have experienced over the past decade and see the many opportunities available to them."
Fast growing and high-achieving
The Chronicle noted that between 2010 and 2020, Rowan's enrollment jumped from 11,300 students to 19,678, a 74.1% increase. For the 2021-22 school year, nearly 23,000 unique students attended.
With the start of classes, Rowan has 19,601 students this semester, a figure that could fluctuate over the first few weeks.
Importantly, students whose families earn less than $65,000 will attend for free.
"We are growing every day," Houshmand told students on Sunday, Sept. 4. "You have chosen a great school and will see so many changes."
Among changes on the Glassboro campus is the fast-evolving Chamberlain Student Center, a beloved central feature in the midst of a $30 million upgrade.
Under Houshmand's leadership, Rowan this year will also open the long-awaited Wilson Hall Dance Studio and, next summer, the $73 million Jean & Ric Edelman Fossil Park Museum in Mantua Township.
Also in the past year, Rowan:
benefitted from an endowment of its Honors College by John H. Martinson, a longtime friend of the University;
received international acclaim for the discovery of Revolutionary War remains during research headed by historian Dr. Jennifer Janofsky;
researchers secured a record number of federal, state and private grants for a wide field of study including the health sciences, transportation infrastructure, the environment and more.
Joyous and organized move-in
About 500 volunteers, including students, faculty and staff, helped assure an organized and orderly move-in throughout the weekend.
Though he commutes from Washington Township, senior education and history major Raymond Wos felt compelled to help some of the new students settle in.
"It's not always easy," Wos said outside Holly Pointe Commons, Rowan's largest residence hall. "I'm here to help students move in, meet people and start to bond on campus."
For first-year student Lia Napoli of Havertown, Pa., arrival on campus was a family affair as her mother, sister, step-father and step-grandfather helped move her in.
"I'm most excited to meet people, work hard and make new friends," Napoli said.
Alumna Katie Senia '14, who came out with her husband, a Henry M. Rowan College of Engineering alumnus, their new baby and her parents to help her brother Ben settle in at Holly Pointe, said she hardly recognized the University.
"So much has changed," Senia said.
Holly Pointe opened in 2016 and other new campus landmarks since her graduation include Business Hall, which opened in 2017, and Discovery Hall, in 2021.
Her brother, Ben Zink of Marlton, said he was eager to start both campus life and his studies in psychology.
"I'm super excited," Zink said. "This place has so many opportunities and I'm looking forward to jumping right in."
Tradition and fun on the University Green
After a busy move-in weekend, the class had the opportunity to celebrate together at the President's Welcome & Picnic, a Rowan tradition.
Led by Vice President of Student Life/Dean of Students Kevin Koett, Student Government Association President Paige Bathurst, freshman Jude Vernamonti, and a powerful drum line, students paraded through Bunce Arch and onto iconic University Green.
There, they were greeted by Houshmand, Koett and Bathurst, who passed the University's Torch of Knowledge to Vernamonti. The Torch of Knowledge is one of Rowan's longest traditions. Each year, the torch is passed from the SGA president to a member of the freshman class. The torch's flame represents the passion for education new students will need to be successful at Rowan and in the future.
Also during the ceremony, Bathurst thanked Houshmand for his leadership, commemorating his 10th year as president with a special Rowan shirt.
"You've led our University with extraordinary vision and an entrepreneurial approach," Bathurst said. "Most importantly, you've always put the needs and challenges facing Rowan students foremost in your mind…and in your decision making."
In addressing the new class, Bathurst told them they will have support as they attend Rowan. She urged them to get involved.
"This University is a vibrant, groundbreaking institution," Bathurst said. "You are joining a community full of supportive and dedicated administrators, faculty, staff and students. It's a community that wants you to thrive."
Freshman Despoina Pesiridou, a finance major, said she felt that right away. She volunteered to help her classmates move in and also was one of four students to volunteer to sample three levels of Houshmand's Hazardous Hot Sauce at the picnic. The president's signature hot sauce raises funds for students in need.
"When I attended an open house in April, I got chills. It felt like home," Pesiridou said. "People at Rowan have been really welcoming and very kind."
Move-in and the President's Welcome & Picnic led off robust Welcome Week programming at Rowan. For a look at the week, click here.