Rowan University developing less invasive treatment options for pediatric cancer
Rowan University developing less invasive treatment options for pediatric cancer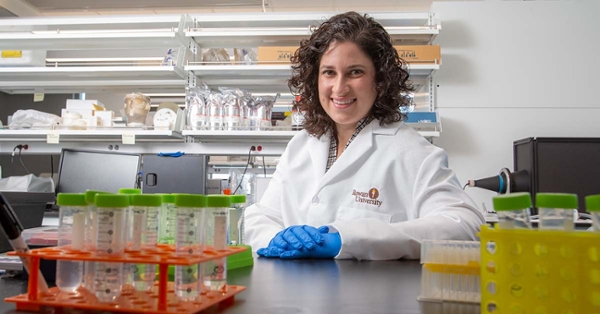 Dr. Rachel Riley and her team are working to develop personalized treatments for pediatric cancer.
Many cancer treatments, like chemotherapy and bone marrow transplants, are invasive and can have severe adverse side effects. A recent $500,000 grant awarded by the N.J. Commission on Cancer Research in the New Jersey Department of Health will support research at Rowan University to develop less invasive and more personalized treatment options for pediatric acute myelogenous leukemia (AML). The project will be led by Rachel Riley, Ph.D., an assistant professor in the Department of Biomedical Engineering. 
The goal of the research is to develop lipid nanoparticles as vaccine platforms to treat pediatric AML, the second most common type of pediatric cancer. Lipid nanoparticles (which are ultra small, spheroid particles made up of fatty acids) have been used as drug delivery platforms for gene therapies and vaccines, most recently—and notably—in the Moderna and Pfizer COVID-19 vaccines. Thus, the development of lipid nanoparticles for pediatric cancer is at the forefront of translational biomedical research.
"You're basically training the body's own immune system to recognize the abnormal cells," Riley said.
In this approach, the lipid nanoparticles are used to deliver messenger RNA. Messenger RNA carries genetic information that cells use to produce proteins called antigens. These antigens are then recognized by the immune cells to train the immune system to recognize the desired antigens specific to AML. Then, immune cells are able to identify the antigen on cancer cells to subsequently kill them. 
In the future, Riley's team is interested in exploring this technology as a standalone therapy and in combination with chemotherapy. Particularly notable is Riley's cutting-edge efforts to make each treatment personalized to each patient. 
"We can essentially find mutations in the genes of these cancer cells and try to target those," Riley said. "Then, we can load the nanoparticles with mRNA specific to antigens for a particular patient. This can ultimately allow a personalized approach in that the antigen will only recognize cancer cells and not healthy cells."
The research will be among the earliest projects undertaken in the new Virtua Health School of Translational Biomedical Engineering & Sciences of Rowan University by Riley, who has a dual appointment in the school and in the Henry M. Rowan College of Engineering.
In 2021, Virtua Health and Rowan University signed an affiliation agreement to create the Virtua Health College of Medicine & Life Sciences, a new academic health partnership that will further distinguish South Jersey as a regional hub for innovation, research and clinical discovery. In addition to the biomedical engineering and sciences school, the Virtua Health College of Medicine & Life Sciences also includes the state's only osteopathic medical school; an expanded school of nursing and health professions; multiple new research institutes; and aligned clinical practices to improve patient care and train the workforce of the future.
The partnership promises to expand Rowan's faculty in biomedical research and will build closer collaborations between scientists, clinicians and medical school faculty, said Dr. Mark Byrne, founding dean of the new school and founding head of the Department of Biomedical Engineering at Rowan. 
"Developed through our partnership with Virtua Health, our new school focusing on translational biomedical research at Rowan was created to support and augment research like Dr. Riley's," Byrne said. "It is our mission to lead the nation in efficiently and effectively translating next-generation treatments to patients." 
"This innovative partnership will spur the further growth of Rowan's biomedical engineering program and related disciplines in the Henry M. Rowan College of Engineering," said Dr. Giuseppe Palmese, dean of the engineering college. 
Riley's research team includes graduate and undergraduate students in the Department of Biomedical Engineering and collaborators within the Virtua Health College of Medicine & Life Sciences and Cooper Medical School of Rowan University. 
The first stage of the research will be to engineer and test a library of lipid nanoparticles to identify those that are most effective at delivering the vaccine. Then, Riley and her team will evaluate the immune response to the vaccine platform.
By the end of the three-year grant, Riley hopes "to have our nanoparticle platform established in our lab and demonstrate that we can deliver mRNA vaccines that elicit the desired immune response in preclinical studies."