Resolving inflammation in sepsis
Resolving inflammation in sepsis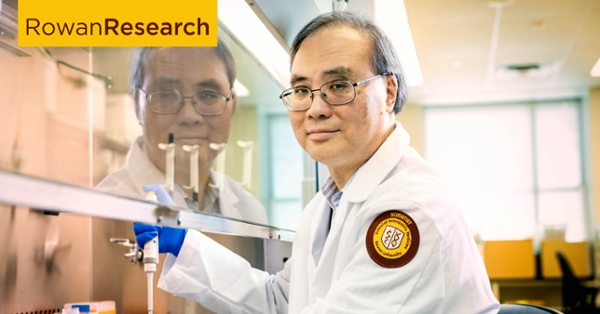 Dr. Kingsley Yin, pharmacologist and immunologist, is researching ways to control harmful inflammation from severe infections.
Severe infections can lead to massive and potentially deadly inflammatory responses, like sepsis, that can harm many different organs. Dr. Kingsley Yin, associate professor in the Department of Cell Biology & Neuroscience at Rowan University School of Osteopathic Medicine, is researching a solution. 
"Many patients don't die of the infection but instead because of the massive inflammatory response that leads to organ failure," Yin explained. "The main thrust of my research is looking at the resolution of inflammation using compounds called resolvins and lipoxins."
kingsley yin, Ph.D.
Pharmacologist and immunologist
Areas of expertise:
 Inflammation, animal models of infection, resolution of inflammation
More information
Resolvins are lipids produced naturally by the body from omega-3 fatty acids in nutritional sources such as fish oils. Resolvins can stop the inflammation that follows a severe infection without leaving patients susceptible to secondary infections. The compounds used in Yin's lab are made by Drs. Bernd W. Spur and Ana R. Rodriguez at RowanSOM.
Similar to resolvins, lipoxins can resolve inflammation without compromising the immune system and are also produced by the body. Yin recently became the first researcher to discover that lipoxin can affect the bacterial virulence of the infection, as well as the inflammatory response it produces. Now, Yin is exploring how compounds reduce the inflammatory activity of white blood cells while still killing bacteria.
Besides the potential for treating sepsis and a variety of infections, including COVID-19, other researchers are conducting clinical trials using resolvins and lipoxins for the treatment of conditions like dry-eye disease and gingivitis.
Yin's lab is funded through a grant from the National Institute of Allergies and Infectious Diseases. He is also collaborating with Drexel University's Dr. Joris Beld to isolate the active component in the probiotic Lactobacillus acidophilus that proved capable of killing bad bacteria and stimulating immune cells in a prior research endeavor funded by the New Jersey Health Foundation.
"I am indebted to my lab," Yin said. "I want to acknowledge that my graduate students and technician are the ones who do the heavy lifting."
Rowan University researchers are passionate about what they do. Find more at Meet Our Researchers.