Researcher to examine whether yoga might help college athletes combat post-pandemic stress
Researcher to examine whether yoga might help college athletes combat post-pandemic stress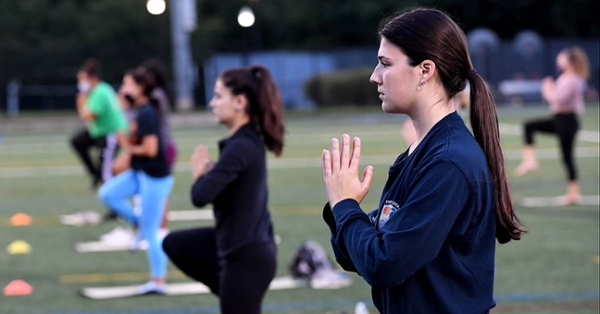 In this file photo, Rowan University students participate in a socially distanced yoga session hosted by Campus Recreation. Below, Dr. JoAnne Bullard
A Rowan University research project to teach college athletes yoga and strategies for improving mental health is among five programs nationwide that will receive support from this year's NCAA Innovations in Research and Practice Grant Program. 
During the 2022-2023 academic year, five research teams representing all three NCAA divisions will receive a total of $100,000 to conduct pilot projects designed to enhance college athletes' psychosocial well-being and mental health. Rowan University was the only Division III school to receive a grant through this year's program.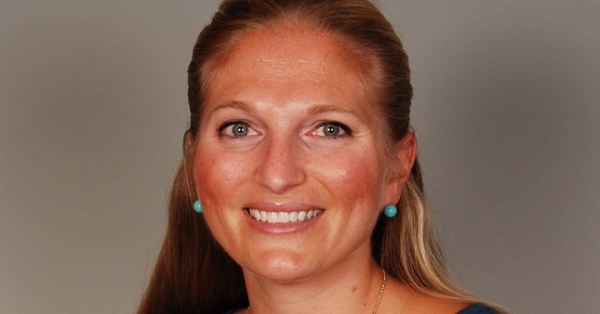 Dr. JoAnne Bullard, assistant professor of health and exercise science in the Virtua Health School of Nursing & Health Professions, is leading Rowan's study, along with Dr. SoJung Kim, assistant professor of exercise science; Dr. Amy Hoch, associate director of The Wellness Center; and June Solow, a yoga instructor and medical student at Rowan University School of Osteopathic Medicine.
The pilot project is built on Bullard's previous research conducted in April 2020, which found student-athletes faced the pandemic's emotional fallout: increased levels of anxiety, depression, sadness, worry, fear and anger.      
"Since the pandemic, student athletes and college students are still having mental health and well-being concerns," Bullard said. "The purpose of this project is to educate them, not just on mental health and well-being, but to get them active while they're being educated."
Set to begin this fall, Rowan's project will offer participants six sessions over 12 weeks, featuring 20 minutes of yoga, followed by 20 minutes of instruction. The educational topics will include sessions on mindfulness and self-awareness, stress management techniques, strategies for handling mental exhaustion, time management, understanding emotional responses and developing healthy coping mechanisms. 
Data will be collected before, midway and after the project to assess the program's effectiveness. The goal is to use existing university resources to teach students evidence-based techniques to manage stress, anxiety and depression.
The study's findings will be shared with NCAA members, so that other colleges and universities can adopt the programs for use on their campuses or adapt to fit their needs.