Talking politics, careers: Political interns come together for summit at Rowan
Talking politics, careers: Political interns come together for summit at Rowan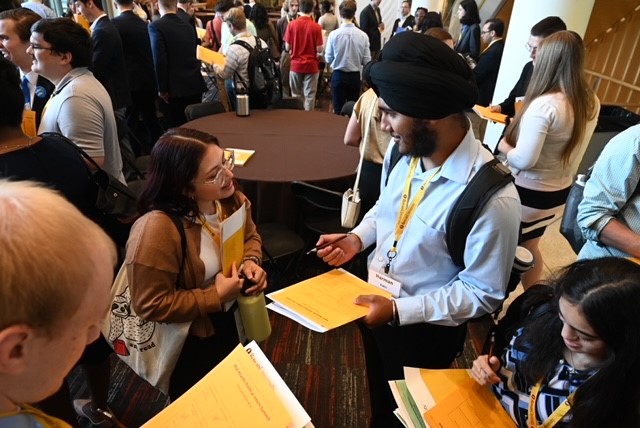 Political interns work to improve their networking skills during the fifth annual Mid-Atlantic Political Intern Summit at Rowan University. The summit included 130 students serving internships in six different states.
In the morning, they were encouraged to use their gifts and talents to positively impact a nation that has become increasingly politically polarized.
In the afternoon, they learned how to do just that from a bevy of distinguished political leaders and heavyweights.
In between, they talked about the future of the Republican and Democratic parties, built their networking skills, learned how to turn their internships into jobs, and got advice on driving social change.
Welcome to the fifth annual Mid-Atlantic Political Intern Summit (MAPIS), presented by the Rowan Institute for Public Policy & Citizenship (RIPPAC) on August 4. Altogether, nearly 130 students interning this summer in politics, government and issue advocacy descended upon Rowan University's Business Hall for a day-long summit designed to sharpen their skills as they pursue careers in politics, leadership and government.
"In a time of hyper-partisanship and broad public cynicism with politics, MAPIS stands out as a place where students from across the political spectrum can come together for political discussions, leadership training and networking," said Ben Dworkin, founding director of RIPPAC.
"These are many of the sharpest, most committed, and ambitious members of their generation.  Within the next decade or so, we will absolutely see elected officials, top-level bureaucrats, and elite political operatives emerging from the students who joined us at MAPIS."
Currently serving internships in six different states (New Jersey, Pennsylvania, Delaware, New York, Maryland and Washington D.C.), the students attend 48 different colleges and universities, as well as nine different high schools, in 13 states.
During the summit's morning sessions, interns heard from Congressman Donald Norcross (NJ-1) and Matt Denn, former attorney general of Delaware, who gave the keynote address, "The Challenges Facing America and Why Young People Need to be Involved."
A spirited networking session—"Your network is worth its weight in gold," Dworkin told the interns as he encouraged them to connect with each other—was followed by breakout sessions focusing on topics ranging from the future of the Democratic and Republican parties to finding a job in Washington, D.C. to lobbying to the art of disagreeing without being disagreeable.
A career networking lunch, in which interns got to "talk shop" and get career advice from 16 different presenters, was followed by three presentations featuring:
MAD Global Strategy founder Mike DuHaime, who formerly served as political director of the Republican National Committee ("From Intern to Managing a Presidential Campaign: Lessons for Success In Political Life");
Demos President Tafia Smith Butler, formerly of the Georgia Budget and Policy Institute ("Driving Social Change");
And Dworkin ("What's Next? Turning Your Internship Into A Job.")
Additional presenters included, among many others: Mary Campbell Cruz, chief of staff for Norcross; Neil Eicher, a noted health care expert and lobbyist; Brendan Gill, an influential political strategist, who managed statewide campaigns for NJ Gov. Phil Murphy and Senator Cory Booker; Seth Hahn, executive director of the NJ Assembly Majority Office; and veteran political strategist Stacy Schuster, founding executive director of Women for a Stronger New Jersey.
Dworkin noted that DuHaime "started off as an intern and, 13 years later, he was running a national presidential campaign." DuHaime has held senior campaign positions for President George W. Bush, Senator John McCain and many others.
The same could happen to interns attending the summit, Dworkin told the group.
"In 12 years, one of you is going to be in elected office," Dworkin said, adding that statistics show interns get hired for jobs 60 percent of the time.
"Your internship is one long job interview."
A signature event for RIPPAC, MAPIS is an example of the institute's mission in action.
"We are committed to workforce development for democracy and this is a shining example of how we pursue that goal," he said.