Climate scientist predicts increasing, worsening hurricanes along East Coast
Climate scientist predicts increasing, worsening hurricanes along East Coast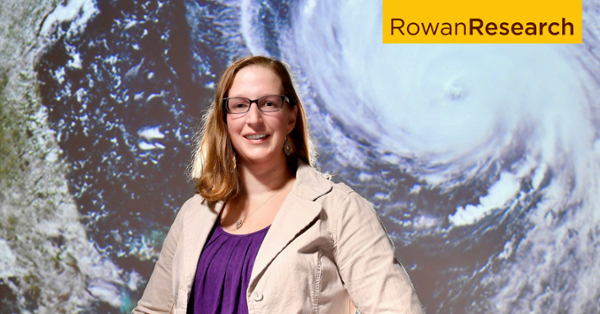 Dr. Andra Garner is an assistant professor in Rowan University's School of Earth & Environment.
Adding to the body of increasing scientific evidence indicating human activity is causing climate change, Dr. Andra Garner researches the effects of fast-rising temperatures and worsening hurricane outcomes along the East Coast.
In a November 2021 article published in Earth's Future, Garner presented widely reported findings on evolving tropical cyclone patterns based on some 35,000 computer-modeled hurricanes. The study concluded that barring urgent action to reverse climate change, more tropical cyclones will travel along the East Coast, seriously threatening millions of residents. In addition, East Coast cities will see reduced hurricane warning times and longer-lasting storms, resulting in a greater likelihood of damage. The characteristics of hurricanes, which vary from pre-industrial to modern times, will continue to change due to human-made emissions. Consequential damaging effects will rise.
Andra garner, Ph.D.
Climate scientist
Areas of expertise:
 natural hazards related to climate change, sea-level rise, tsunamis, evolving nature of tropical cyclones
More information
An assistant professor in Rowan University's School of Earth & Environment, Garner based her findings on reported storm data beginning in the pre-industrial era and projected through 2100.
"My general focus is on how natural hazards are impacted by changing climate," Garner said. "More specifically, how coastal areas are impacted."
Garner said her work extends to how the threat of sea level rise is addressed – or isn't – in public policy.
Already, she said, sea level rise is exacerbating East Coast storm surges and flooding and that's been especially clear during major storms like Hurricane Sandy in 2012.
"Sandy was close to nine feet above the norm," she said. "Before 1800, that kind of flood would have occurred from a hurricane once every 500 years. From 1970 to 2005, it's occurred every 25 years."
Rowan University researchers are passionate about what they do. Find more at Meet Our Researchers.