Kids flock to Rowan University for pre-college programs
Kids flock to Rowan University for pre-college programs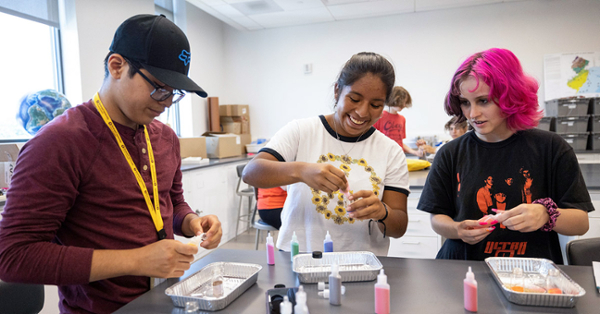 High school students in the STEAM Academy create their own stratigraphic columns with sand to represent geologic layers, during a for-credit class titled "The Dynamic Earth," taught by Samantha Cribbs, lecturer in the Department of Geology.
They've learned about careers in everything from medicine and biomedical research to engineering, teaching, social work and beyond. They've gained an understanding about what it takes to be successful in college–and many got a jump start by earning college credits.
They've honed their entrepreneurial skills. They've told stories. They've made music. And they've explored critical ethical questions facing our world.
Moreover, they've grown individually and collectively, learning from each other–and from Rowan University students and faculty dedicated to helping them nurture and discover their passions. 
Indeed, for middle and high school students, summer on Rowan's campuses has meant days and weeks of intellectual challenges, career exploration…and fun. Here are a few highlights:
 Gearing up for college
Based in Camden, Rowan's long-running CHAMP/GEAR-UP program aims to increase the number of graduating middle and high school students prepared to enter college.
About 90 Camden City School District students are involved with this summer's six-week program, including 14 in a residential cohort on Rowan's Glassboro campus. The program runs through August 5.
"They're getting hands-on college experience," said Winona Wigfall, director of Rowan's CHAMP/GEAR-UP program. "They're taking a for-credit college course as well as enrichment classes like public speaking, an SAT prep class and a dance class with a Rowan professor."
In addition to the summer component of CHAMP/GEAR-UP, the network of pre-college programming supports more than 400 students throughout the year with after-school tutoring, mentoring, leadership activities, college application and financial aid assistance, scholarships and more.
Telling stories
New this summer, the Storytellers Camp in the Ric Edelman College of Communication & Creative Arts was a creative media arts program that provided upper elementary, middle school and high school students learning experiences to better share stories. 
The camp immersed students in a variety of media to become storytellers across creative fields like art, advertising and public relations, photojournalism, creative writing and sports communication.
Understanding ethics
On Aug. 3, high school students will explore ethical challenges to help prepare for college during a one-day Ethics and College Skills Workshop.
Presented by the Department of Philosophy & World Religions in the College of Humanities & Social Sciences, the workshop will include 30 high school sophomores, juniors and seniors working on case studies and activities in such topics as environmental and business ethics, censorship, free speech, social media, social justice and equality. The free workshop is funded in part by a grant from the American Philosophical Association.
Exploring careers
One hundred high school students from six South Jersey districts are spending two weeks on campus for the first R.O.P.E.S Summer Institute.
Promoting opportunities for student success and workforce readiness in careers like teaching, computer science, engineering, the music business and social services, the institute is funded through a $1.5 million grant from the Office of the Secretary of Higher Education and the U.S. Department of Education. 
Offered year round, R.O.P.E.S. (Rowan University Opportunity for Postsecondary Excellence & Success) is a collaboration between the College of Education, the College of Humanities & Social Sciences, the Henry M. Rowan College of Engineering and the College of Performing Arts.
Going full STEAM ahead
Twenty-nine high school students and 19 middle schoolers went full STEAM ahead this summer with programs focused on personal development, academic achievement, college readiness and leadership. 
The STEAM Academy offered courses in physics, environmental science and video arts, as well as workshops on SAT preparation, wellness, leadership and career counseling.
Students were able to earn three college credits for the program, which included learning-based experiences like a trip to the Jean & Ric Edelman Fossil Park of Rowan University and special evening activities.
Making music
The College of Performing Arts this summer offered six distinctive camps for students in grades 7-12. The String Camp accepted students starting in seventh grade, while Band Camp, Vocal Camp, Composition Camp, Jazz Camp and Music Technology and Business Camp served students in grades 9-12.
The camps are coordinated by the Rowan Community Music School and led by CPA faculty and area teachers and performers.
Preparing for medicine
Cooper Medical School of Rowan University's four-week summer day program introduced rising 11th and 12th graders to the rigors of medical school. Students gained exposure to four medical specialties—pathology, cardiopulmonology, gastroenterology and neurology—and participated in lectures, demonstrations, case-based learning activities and clinical simulations. This summer's program featured two sections, MEDacademy and the advanced MEDacademy Master's, with roughly 60 students enrolled.
Educating future biomedical scholars
The High School Biomedical Scholars Program at the Rowan University School of Osteopathic Medicine in Stratford gives students an early taste of careers in biomedical research and medicine. An immersive, two-week learning experience, the program enables students to observe and perform laboratory techniques and experiments in biomedical research with guidance from faculty and student mentors. Up to 20 students were expected to participate in 2022.
Promoting entrepreneurial thinking
The Rohrer College of Business this summer hosted its sixth annual Think Like an Entrepreneur summer academy, a free program that provides transferable college credits to every high school student who completes it. This summer, the program awarded its 1,000th free credit hour, as 62 students not only completed the course but did so by thinking and acting in ways that could benefit humanity.
Teaching RISE-ing engineers
For kids and high schoolers who like to tinker, Rowan's Introduction for Students to Engineering (RISE) programs are a great way to explore new skills. Offered by the Henry M. Rowan College of Engineering and sponsored by PSEG, these summer workshops spark students' interest in engineering with fun, hands-on projects. The college offered three programs for 2022: RISE Jr., for students in fourth- and fifth grades; RISE MS for middle schoolers; and RISE for high school students. 
Performing in-person biomedical research
This summer, the RISER (Research Immersion in Biomedical Science and Engineering at Rowan) Program hosted 11 South Jersey high school students in nine biomedical engineering and biomedical science laboratories for in-person research. To date, 39 students have participated in RISER, which culminates with a symposium consisting of high school student presentations in front of host lab personnel, RISER Scholar family members and nominating high school teachers.
Virtual biomedical engineering education
The BEAM (BioEngineering And Me) Summer Program is a free, two-week virtual program for high school students nationwide with a goal of increasing literacy and interest in biomedical engineering. At least 30 high school students are expected to participate in Rowan's program this summer.