Celebrating the growth of the School of Osteopathic Medicine
Celebrating the growth of the School of Osteopathic Medicine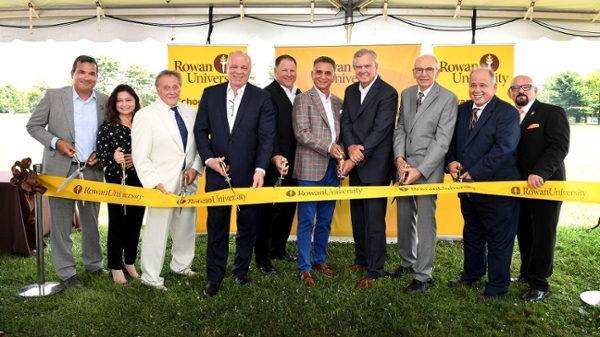 Officials welcomed the first class of 72 medical students to the new campus with a traditional ribbon-cutting ceremony.
County, health care and Rowan University officials gathered today, July 21, to celebrate the historic opening of the Sewell campus of the Virtua Health College of Health Medicine and Health Sciences of Rowan University's School of Osteopathic Medicine (SOM). Following remarks to an assembled crowd of students, staff, faculty and special guests, the officials welcomed the first class of 72 medical students to the new campus with a traditional ribbon cutting ceremony. Located on the campus of Rowan College of South Jersey (RCSJ), the new Sewell campus represents SOM's largest expansion since the medical school opened 45 years ago.
In his opening remarks, Dr. Thomas Cavalieri, Dean, School of Osteopathic Medicine, congratulated the  students and thanked those involved for their continued partnership, including RCSJ President Dr. Fred Keating, the Gloucester County Commissioners and members of the Boards of Trustees.
"This has been a true team effort, involving individuals throughout our university and of our partners' organizations," Dr. Cavalieri said. "Today, we celebrate not only the beginning of the medical careers of our students, but also the beginning of expanded access to health care for thousands of South Jersey residents."
This marks the first time in New Jersey's history that a four-year medical school has been located on the campus of a community college. This extraordinary collaboration among Rowan, RCSJ, and local, state and county officials provides unparalleled educational opportunities for New Jersey residents. The medical students and other nursing and allied health profession students from the Virtua College of Medicine and Health Sciences will be able to gain valuable clinical experience in the Rowan Medicine offices.
"Too often, people dismiss an idea, saying it can't or shouldn't be done, just because it's never been done before," said former New Jersey Senate President Steve Sweeney. "We are here, today, to celebrate what can be accomplished when parties come together, find their mutual interests, and decide to work together to accomplish something for the benefit of others." Sweeney currently chairs the Steve Sweeney Center for Public Policy at Rowan University.
The Sewell location completes a "one school, two campus" vision for the school. Located on the second floor of the 56,454 square foot Rowan Medicine building, the new campus includes classrooms, a library, problem-based learning and conference rooms, a wet lab, an osteopathic manipulative medicine lab and administrative offices. Student instruction during the first two years will be through SOM's innovative problem-based learning curriculum, followed by two years of clinical skills training, often occurring in Rowan Medicine's clinical offices on the building's first floor.
The new campus continues the historic growth of the School and University over the past decade and serves as a building block of the new College as it rises to help meet the challenge of the physician shortage facing the nation and to expand access to health care and to health care education in South Jersey.
"This is truly the beginning of a new era in opportunity and access," said Rowan University President Dr. Ali Houshmand. "You have taken an idea and created a legacy. As we continue to grow through our new partnership with Virtua Health, we can see beyond the horizon to a new era in health care, research and discovery."  
A powerful new partnership
With its increasing student population, its rich research component and many highly valued affiliations with New Jersey hospital systems, SOM is rapidly establishing a reputation as the premier osteopathic medical school in the nation. That reputation was greatly enhanced in January of this year with the announcement of an historic partnership between Rowan and Virtua Health to advance patient care and train the workforce of the future.
Supported by a generous investment from Virtua Health, South Jersey's largest health system, the new Virtua Health College of Medicine and Health Sciences of Rowan University was established to support medical and health sciences education along with translational research in biomedical engineering and sciences. The new College encompasses SOM; the Virtua Health School of Nursing and Health Professions; the new School of Translational Biomedical Engineering and Sciences; multiple research institutes; and aligned clinical practices.